Panasonic AU-EVA1
5.7K Super 35 Handheld Cinema Camera, 4K 60p / 2K up to 240p
Part #: 0605-7093 Mfr #: AUEVA1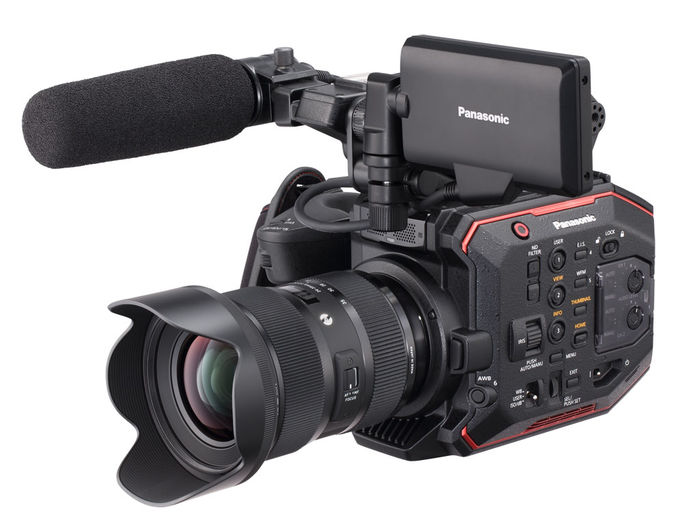 Panasonic AU-EVA1
Features
5.7K Super 35 Handheld Cinema Camera
5.7K Super 35 Sensor
EF Lens Mount
4K 60p / 2K up to 240p
Dual Native ISO 800/2500
14 Stops of Dynamic Range
4:2:2 10-bit
SD Card Recording
V-Log / V-Gamut
Up to 400 Mbps Recording (future update)
5.7K Raw Output (future update)
In Stock w/Limited Availability

The EVA-lution of the Panasonic Cinema Camera Line-Up


Compact and lightweight, the AU-EVA1 is tailor-made for handheld shooting, but also well suited for documentaries, events, commercials, and music videos.

5.7K Super 35mm Sensor

The newly-designed EVA1 sensor is Super 35 sized (24.60mm x 12.97mm) with 5.7K resolution. With an active resolution of 5720 x 3016, the EVA1 delivers more than 17.25 million photosites, nearly double the 8.8 million for 4K DCI (4096 x 2160). By starting at a higher native resolution, the 5.7K sensor yields a higher resolving image when down-sampled to 4K, UHD, 2K, or even 720p. Additionally, the increased color information results in a finer, more accurate finished image.
Dual Native ISO

A key feature of the VariCam cameras, Dual Native ISO utilizes a process that allows the sensor to be read in a fundamentally different way, extracting more information without degrading the image. This results in a camera that can switch from a standard sensitivity to a high sensitivity with almost no increase in noise or other artifacts. Dual Native ISO has allowed cinematographers a greater variety of artistic choices as well as the ability to use less light on set, saving time and money. The EVA1's Dual Native ISOs are 800 and 2,500, which will allow cinematographers to shoot in almost any lighting environment.
Dynamic Range

Dynamic range measures the luminance range that a digital camera can capture. The EVA1 delivers 14-stops of Dynamic Range, enabling fine gradation in exposure from bright to dark.
,

EF-Mount Lenses

For lensing, the camera utilizes a native EF-mount, giving shooters access to the broad EF lens ecosystem, including dozens of cinema-style prime and zoom lenses from numerous manufacturers. There will be full Iris Control, One-Push Auto Focus, and Lens Data.