Roland V-1HD

HD Video Mixer and Switcher, 4-Input
Item #0615-0135
Model #V1HD
Features
The V-1HD makes it easy to connect and switch video cameras, smart phones, computers, tablets, Blu-ray players and other HDMI video sources with a simple push of a button or slide of the T-Fader. It supports professional compositing effects such as picture-in-picture and keying allowing for graphic insets, titling or even "green screen" ideal for news broadcast or corporate training productions.
Support for video cameras, action cameras, smart phones, tablet computers and other HDMI devices
4 HDMI inputs
Supports up to Full HD 1080p
Easy to Use Interface
Picture-in-picture and split functions
Two EFFECTS knobs deliver genuine visual performance
Full 12 Channel Audio Mixer Included
Easy to Operate with Hardware Controls
Two HDMI Outputs
Remote Control via USB or MIDI Connection
Software Control using V-1HD RCS Application for Mac, PC and iPad
Detailed Features
Inputs

The V-1HD has 4 HDMI input connectors compatible with a variety of equipment. The V-1HD supports 1080p/1080i/720p video resolutions. Devices outputting the same resolution can be input regardless of what type of device they are. Both progressive and interlace signals can be input allowing for both 1080i and 1080p signals to be used at the same time. Video signals input from a PC are accurately displayed thanks to progressive signal processing. HDCP is supported for input of copy protected content from devices such as Blu-ray disc players.
Professional Switching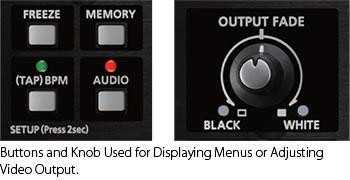 The V-1HD has large back-lit buttons for intuitive video switching even in low light conditions. Red lit buttons indicate the current source being output and green lit buttons indicate the video that will be output on the next transition. The V-1HD even lets you know which inputs have sources connected by illuminating the buttons of the inputs with connected sources. The V-1HD features broadcast style Preview/Program switching for professional results. The TRANSFORMER buttons can be used for instantly switching the video or applying effects. Three transition selection buttons permit quick change of mixing style to match style changes in a performance or broadcast. Transition effects include CUT, MIX (4 types) and WIPE (30 types). The auto scan function switches the video automatically across the four video inputs. By using the T-Fader and BPM SYNC button, you can deliver visuals synced to a music performance. Use the FREEZE button to temporarily pause the incoming video. The output fade function makes the output video fade to black or white.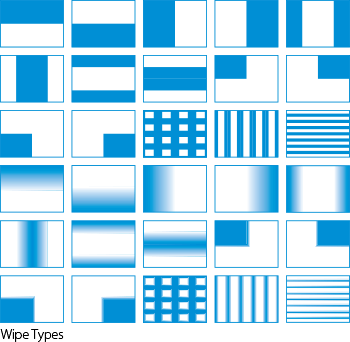 Effects
Compositing Effects

Compositing two videos in one screen using Picture in Picture or the split function is ideal for seminars and presentations. The V-1HD also supports chroma key and luminance key which ideal for creating professional looking broadcasts using green screen backgrounds or for overlaying computer generated titles on top of video sources.
Filter effects with real-time visual performance control.

Many of the visual performance functions made popular by the V-4EX and V-8 are included. Use the knob A and knob B to apply and adjust effects to the A bus and B bus respectively. Nine types of filter effects including silhouette, colorpass, negative and findedge are possible. Effects can also be triggered using the TRANSFORMER buttons for even more interactive visual performance possibilities.
Audio Mixing

Included is a 12 channel digital audio mixer. The V-1HD can mix 4 stereo audio inputs from the HDMI ports, the stereo line level input and a mic level input. Every channel is equipped with a delay function* to synchronize the video and the audio. Audio follow function enables the audio to transition along with the video. Reverb function and mastering function used for adjusting sound quality and volume are also supported. The final audio mix is both embedded in the HDMI output along with the video signal and is also output to the stereo audio output jacks for sending the audio mix to a PA system or recording it on an external device.
*The maximum delay time is 500ms.

Menus and Settings

The on-screen menu display appears on the preview screen and is easy to operate with hardware controls. Making adjustments to parameters and operating the audio mixer can be made by simple operation of the buttons and the T-Fader on the unit.
Preview Output

The four-way multi-view preview screen shows all four input sources on a single display for confident monitoring. A red border shows the video currently being output and a green one indicates the video to be output next. There are three types of view modes available for the preview output which are Multi-view, Output (as a secondary program output) and Preview. The on-screen display can be turned on or off.
Software Control

Remote control is possible with the dedicated V-1HD RCS application on a PC, Mac or an iPad connected via a USB cable. The application offers a detailed view of the connected V-1HD and can be used to switch video, mix audio or change settings. You can control the unit from a music instrument or a sequencer via the MIDI input connector via MIDI. The V-1HD also transmits MIDI over USB and its controls can be mapped to popular visual performance software applications.
* For more information on the dedicated application, see the Roland website.
* Please use the iPad camera connection kit to connect an iPad to the V-1HD.
Block Diagram
Video Block Diagram

Audio Block Diagram