Roland V-1SDI-W
3G-SDI Video Mixer/Switcher, USB3 Streaming Bundle
Part #: 0615-0138 Mfr #: V1SDIW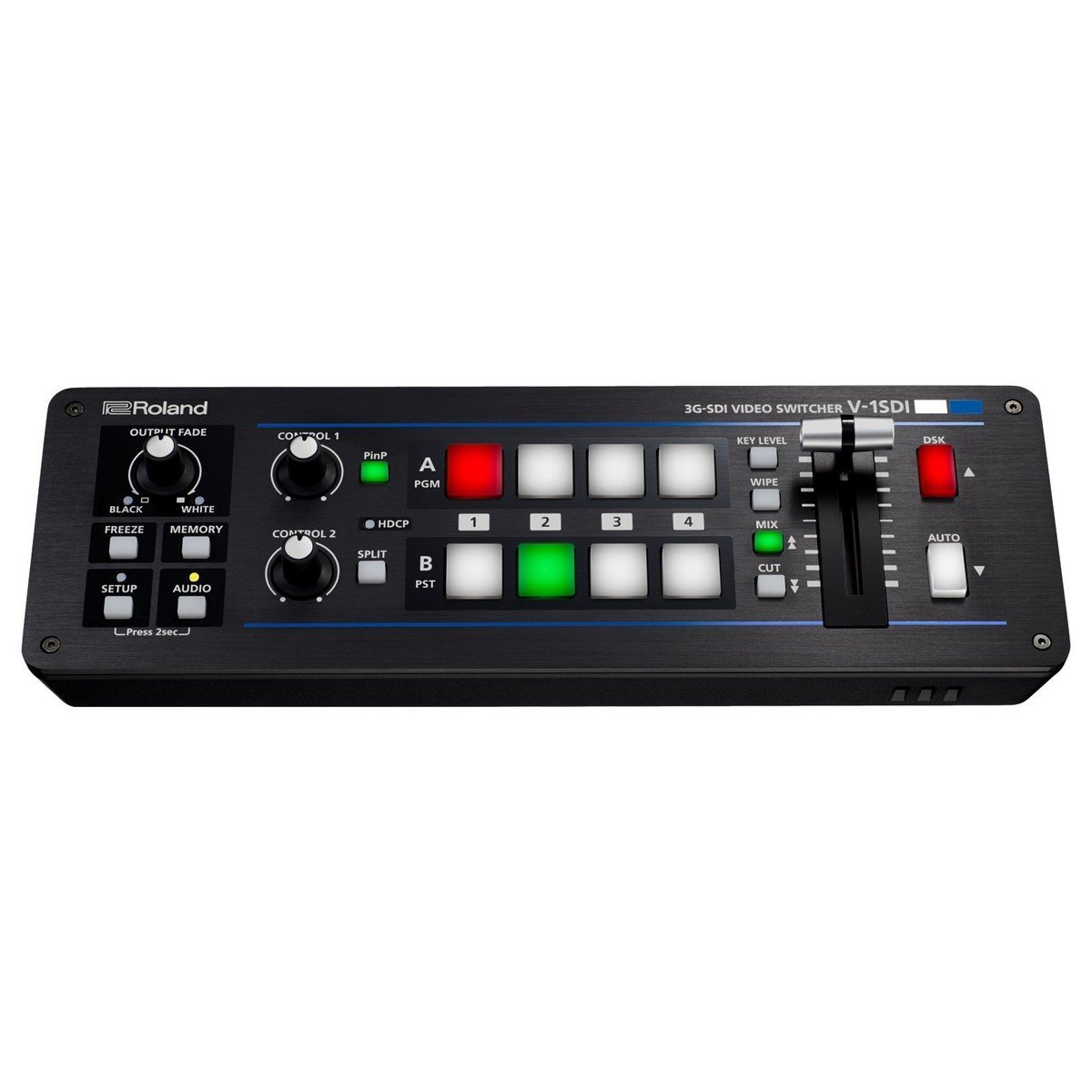 Features
Professional SDI Video Switching that you can take anywhere
V-1SDI-W is a flexible and versatile video switcher that makes it easy to connect and switch professional 3G SDI cameras and playback sources along with HDMI sources including cameras, smart phones, computers, tablets, Blu-ray players.
Compact and portable, the V-1SDI-W delivers professional switching results with its easy to use hardware interface complete with T-Fader and easy-to-see backlit buttons.
With support for 3G-SDI, the V-1SDI-W can operate at full 1080p.
Includes an SDI to USB converter for input to a computer running streaming video software.
Main Features:
Supports up to Full HD 1080p
Inputs: 3 x 3G-SDI and 2 x HDMI with HDCP compliance
Outputs: 2 x 3G-SDI and 1 x HDMI with HDCP compliance
Input 4's scaler now supports a wider range of video and VESA resolutions (EDID Emulation).
Quad input multi-viewer with source labeling and audio metering
Composition effects including DSK (Downstream Keyer), picture-in-picture etc.
Capturing a still Image from Input Video on channel 4
Full 14 channel audio mixer included
Software control using V-1SDI RCS application for Mac and PC and remote control via RS-232 connection
Sending a still image to the V-1SDI by V-1SDI RCS
Connection Examples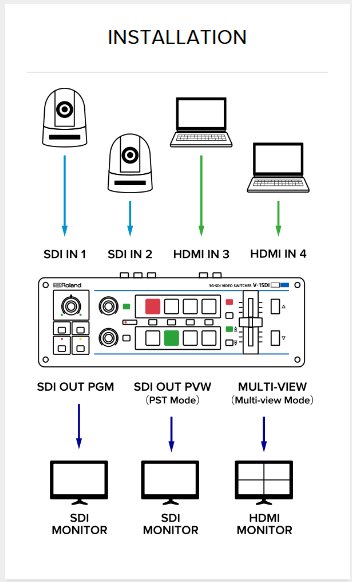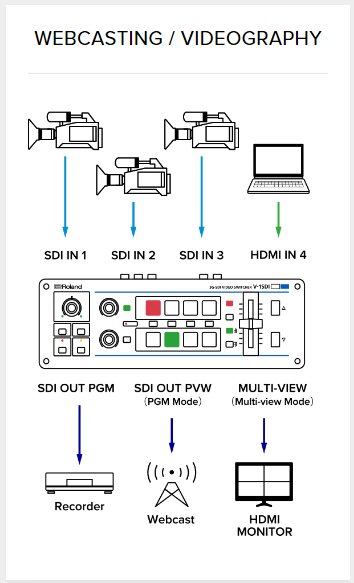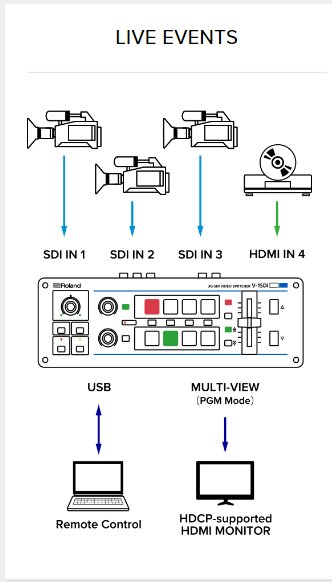 Block Diagram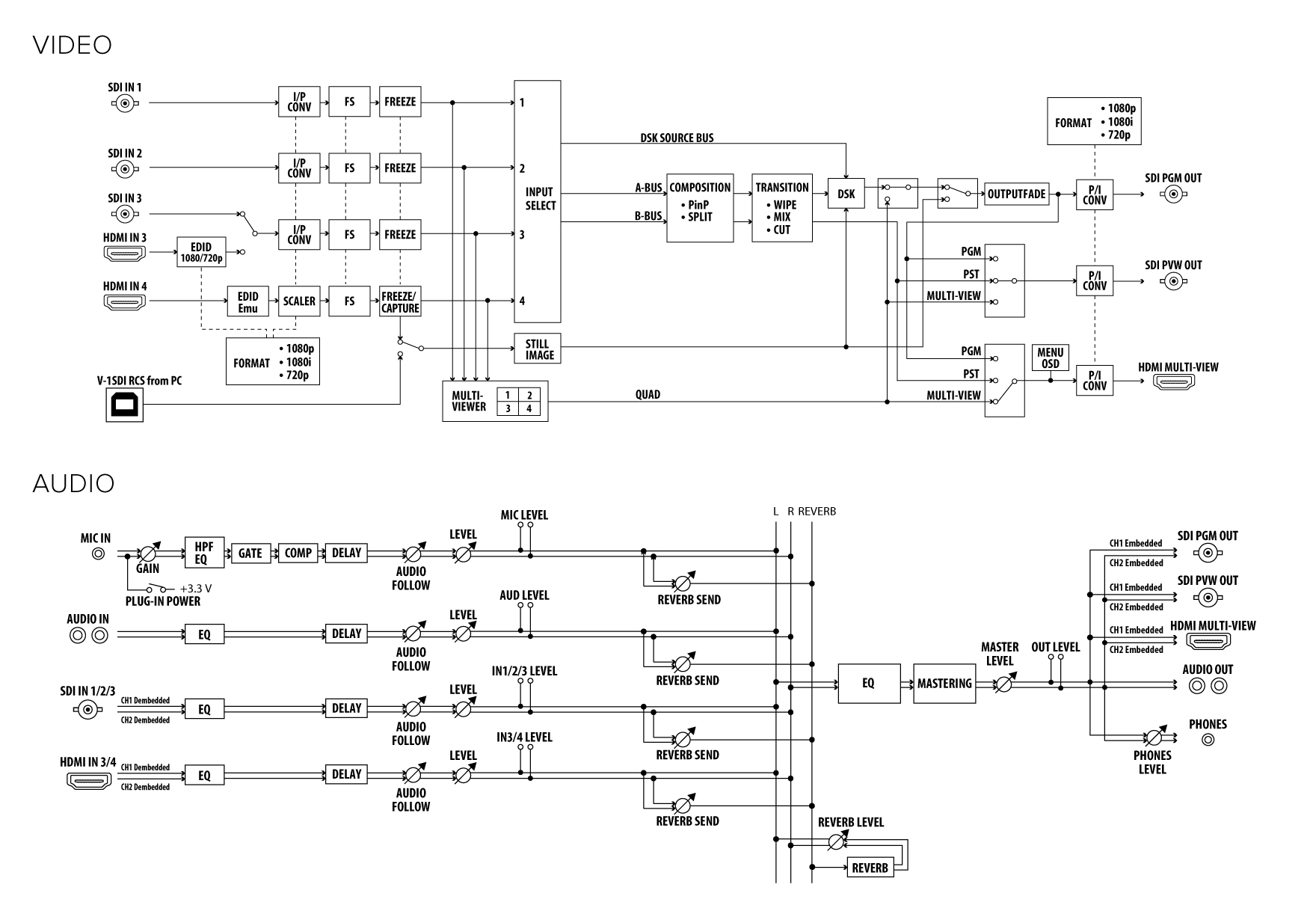 Specifications
VIDEO
Video Processing
4:2:2 (Y/Pb/Pr), 8-bit
Input Connectors
SDI INPUT 1--3: BNC x 3
* Conforms to SMPTE 424M (SMPTE 425M-AB), 292M
HDMI INPUT 3--4: Type A (19 pins) x 2
* HDCP Supported
* INPUT 3: SDI or HDMI selected.
Output Connectors
SDI OUT PGM: BNC x 1
SDI OUT PVW: BNC x 1
* Conforms to SMPTE 424M (SMPTE 425M-AB), 292M
HDMI OUT MULTI-VIEW: Type A (19 pins) x 1
* HDCP Supported
Input Formats
SDI INPUT 1-3 Conforms to SMPTE 296M, SMPTE 274M
HDMI INPUT 3
720/59.94p, 720/50p SMPTE 296M(FORMAT switch = 720p)
1080/59.94i, 1080/50i, 1080/59.94p, 1080/50p SMPTE 274M(FORMAT switch = 1080i or 1080p)
* The input interlaced video signal is converted to progressive video signal by internal processing.
* The video signal frame rate can be selected at the SETUP menu (59.94 or 50).

HDMI INPUT 4
480/59.94i, 576/50i, 480/59.94p, 576/50p, 720/59.94p, 720/50p, 1080/59.94i, 1080/50i, 1080/59.94p, 1080/50p

VGA (640 x 480/60 Hz), SVGA (800 x 600/60 Hz), XGA (1024 x 768/60 Hz)

WXGA (1280 x 768/60 Hz), SXGA (1280 x 1024/60 Hz)

FWXGA (1366 x 768/60 Hz), SXGA+ (1400 x 1050/60 Hz)

UXGA (1600 x 1200/60 Hz), WUXGA (1920 x 1200/60 Hz)
* The refresh rate is the maximum value of each resolution.
* Conforms to VESA DMT Version 1.0 Revision 11.
* 1920 x 1200/60 Hz: Reduced blanking.
* The input interlaced video signal is converted to progressive video signal by internal processing.
* The video signal frame rate can be selected at the SETUP menu (59.94 or 50).
Output formats
SDI OUT(PGM/PVW) Conforms to SMPTE 296M, 274M
HDMI OUT MULTI-VIEW
720/59.94p, 720/50p SMPTE 296M(FORMAT switch = 720p)
1080/59.94i, 1080/50i SMPTE 274M(FORMAT switch = 1080i)
1080/59.94p, 1080/50p SMPTE 274M(FORMAT switch = 1080p)
* The video signal frame rate can be selected at the SETUP menu (59.94 or 50).
Video Effects
Transition: CUT, MIX (DISSOLVE/FAM/NAM/MOSAIC), WIPE (30 types)
Composition: PinP, SPLIT, QUAD, DSK (Luminance Key, Chroma Key)
AUDIO
Audio Processing
Sampling rate: 24 bits/48 kHz
Audio Formats
SDI: Linear PCM, 24 bits/48 kHz, 2ch Conforms to SMPTE 299M
HDMI: Linear PCM, 24 bits/48 kHz, 2ch
Input Connectors
Digital: SDI INPUT 1--3 (BNC) x 3 SMPTE 299M
HDMI INPUT 3--4 (HDMI Type A 19 pins) x 2

Analog: AUDIO IN (RCA phono type)
MIC (Stereo mini type, plug-in power supported)
Output Connectors
Digital: SDI OUT PGM: BNC x 1 SMPTE 299M
SDI OUT PVW: BNC x 1 SMPTE 299M
HDMI OUT MULTI-VIEW: Type A (19 pins) x 1

Analog: AUDIO OUT (RCA phono type)
PHONES (Stereo mini type)
Input Level
AUDIO IN: -10 dBu (Maximum: +8 dBu)
MIC: -41-- -13 dBu (Maximum: -1 dBu)
Input Impedance
AUDIO IN: 15 k ohms
MIC: 10 k ohms
Output Level
AUDIO OUT: -10 dBu (Maximum: +8 dBu)
PHONES: 92 mW + 92 mW (32 ohms)
Output Impedance
AUDIO OUT: 1 k ohm
PHONES: 10 ohms
Audio Effects
EQ, Delay, Compressor, HPF, Gate, Reverb, Mastering effect
GENERAL
Other Connectors
USB: B Type (for remote control from PC)
RS-232: DB-9 type
Other Functions
MEMORY (8 types)
FREEZE (input video captured)
OUTPUT FADE (Audio, Video: WHITE or BLACK)
Power Supply
AC Adaptor
Current Draw
2.1 A
Power Consumption
25 W
Operating Temperature
+0 to +40 degrees Celsius
+32 to +104 degrees Fahrenheit
Dimensions
313 (W) x 108 (D) x 59 (H) mm
12-1/3 (W) x 4-1/4 (D) x 2-1/3 (H) inches
Weight (excluding AC adaptor)
1.2 kg
2 lbs 10-2/5 oz
Included Accessories
Owner's manual
AC adaptor
Power cord
Cord hook
Downloads