Roland V-02HD
Multi Format HDMI Micro Switcher
Part #: 0615-0139 Mfr #: V02HD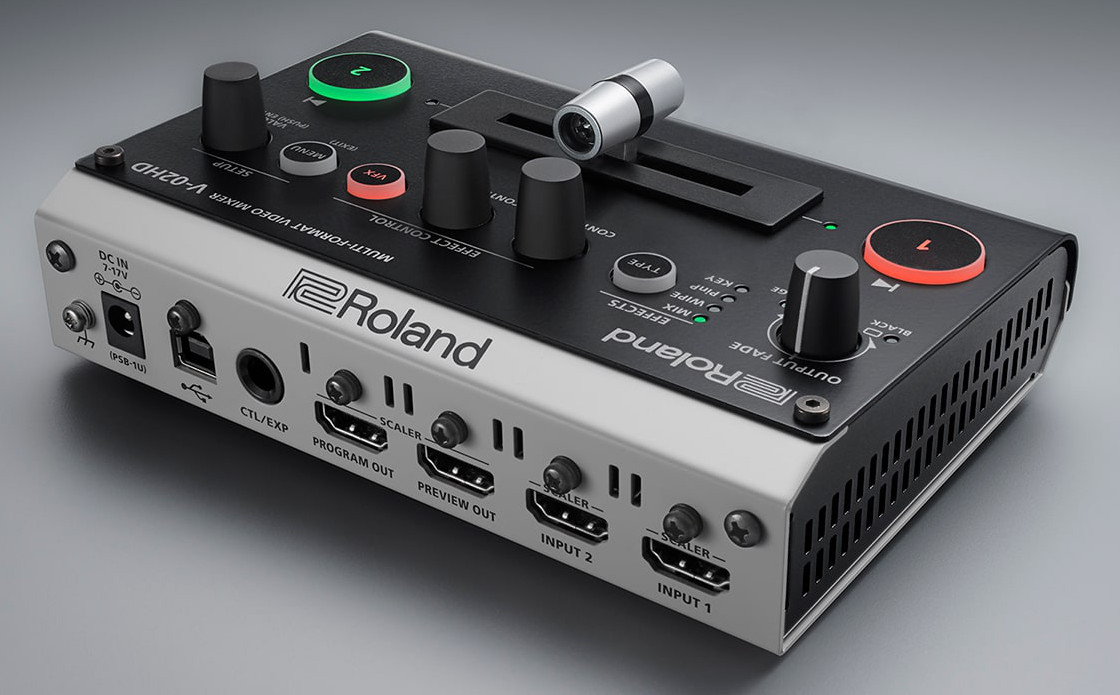 Roland V-02HD
Overview
Roland V-02HD
Multi-Format Video Mixer and HDMI Micro Switcher
Events or productions often bring serious challenges that are easily solved — if you have the right equipment. Roland's versatile V-02HD multi-format video mixer replaces several standalone units: a simple switcher, high-quality scaler, input expander, audio solution, and inline video effects/composition.
With the v1.20 update, the V-02HD receives technology-assisted automatic switching mode, while shared input lets you capture a wide shot and close up with a single camera. More input/output resolutions and frame rates, including the popular 1080/24p, are now available.
The V-02HD is a "micro switcher" that's small enough to fit into equipment cases and camera bags. Designed to integrate with typical video production workflows, the V-02HD has a screw tap for standard video mounts and conveniently attaches onto a tripod to stay out of the way. Its lightweight design makes it ideal for mobile video applications too, especially when hooked up to third-party battery packs for longer location-based shoots.
V-02HD — The video production problem-solver
Save on space and headaches by packing a V-02HD, the portable-yet-powerful device that lets you concentrate on producing your event or shooting your scenes, rather than trouble-shooting your gear.
Features
Dual camera/single operator productions:

transforms a two-camera shoot into a small one-person production studio, for reliable recording or live-streaming, even with minimal resources.
Simple, seamless switching: ensures a professional cross-dissolve switchover between computers and screens, maintaining hi-res "pixel-accurate" display resolution with deep 10-bit 4:4:4 color space.
Input/output matchmaker: takes SD, HD, and computer resolutions, resizes them to fit the display, then outputs in a new resolution that's compatible with the receiving device, thanks to both input and output scalers.
Ability to both embed and de-embed: lets you embed analog audio into an HDMI signal — for recording or live streaming — as well as extract the audio from an HDMI signal to send over to a larger dedicated audio mixer.
Onboard toolkit for fixing your audio (including inline HDMI signals): offers three-band EQ and dynamics onboard, to immediately optimize your audio without sending to an external mixing desk.

A built-in effects library is packed with presets for common production scenarios including interviews, ambient sound recording, and eliminating wind noise when filming outdoors.
Lets you add one more input: With two extremely low latency inputs, the V-02HD provides that prized additional connection without adding any perceptible delay to camera inputs. And with high-resolution 10-bit 4:4:4 color space, there's no signal degradation.
Time-saving, professional-looking effects: incorporates 14 visual effects that can be applied in real-time (such as blurring a person's face) with adjustable parameters to fine-tune the results. In addition, 5 composition effects let you add titles, use a green screen with the Key effect, or create a separate inset window with the PinP capability.
Emergency still image: can load a still image to be displayed in an emergency, such as input source failure or presenter delays.
Dedicated remote control app: turns your iPad into a gorgeous touch interface for the V-02HD, letting you access its switching functions, mixing audio with virtual faders, changing settings and effect parameters quickly, and creating up to 8 custom scenes for fast setup changes using preset memories. You can also save and restore V-02HD system settings using the Remote Control Utility.
Specifications
VIDEO

Video Processing

4:4:4 (Y/Pb/Pr), 10-bit

Input Connectors

INPUT 1--2: HDMI type A x 2




* HDCP Supported




* Multi-format Supported

Output Connectors

PROGRAM OUT: HDMI type A




PREVIEW OUT: HDMI type A




* HDCP Supported




* Multi-format Supported

Input Formats

480/59.94i, 480/59.94p, 720/59.94p, 1080/59.94i, 1080/59.94p, 1080/60p, 1080/29.97p, 1080/30p *¹




576/50i, 576/50p, 720/50p, 1080/50i, 1080/50p, 1080/25p *²




1080/23.98p, 1080/24p




VGA (640 x 480/60Hz), SVGA (800 x 600/60Hz), XGA (1024 x 768/60Hz)




WXGA (1280 x 800/60Hz), SXGA (1280 x 1024/60Hz)




FWXGA (1366 x 768/60Hz), SXGA+ (1400 x 1050/60Hz)




UXGA (1600 x 1200/60Hz), WUXGA (1920 x 1200/60Hz)




* The refresh rate is the maximum value of each resolution.




* Conforms to CEA-861-E,VESA DMT Version 1.0 Revision 11.




* 1920 x 1200/60 Hz: Reduced blanking




* The input interlaced video signal is converted to progressive video signal by internal processing.




*¹ FRAME RATE = 59.94 Hz




*² FRAME RATE = 50 Hz

Output Formats

480/59.94p, 720/59.94p, 1080/59.94i, 1080/59.94p *¹




576/50p, 720/50p, 1080/50i, 1080/50p *²




SVGA (800 x 600/60 Hz), XGA (1024 x 768/60 Hz)




WXGA (1280 x 800/60 Hz), FWXGA (1366 x 768/60 Hz)




SXGA (1280 x 1024/60 Hz), SXGA+ (1400 x 1050/60 Hz)




UXGA (1600 x 1200/60 Hz), WUXGA (1920 x 1200/60 Hz)




HD (1280 x 720/60 Hz), FHD (1920 x 1080/60 Hz)




* Conforms to VESA DMT Version 1.0 Revision 11.




* The output refresh rates of 800 x 600--1400 x 1050 are 75 Hz when the unit's frame rate setting is 50 Hz.




* 1920 x 1200/60 Hz: Reduced blanking




*¹ FRAME RATE = 59.94 Hz




*² FRAME RATE = 50 Hz

Video Effects

Transition: CUT, MIX (DISSOLVE), WIPE (9 types)
Composition: PinP (RECTANGLE, CIRCLE, DIAMOND), KEY (Luminance Key, Chroma Key)
Visual Effects (14 types): MOSAIC, WAVE, RGB REPLACE, COLORPASS, NEGATIVE, COLORIZE, POSTERIZE, SILHOUETTE, EMBOSS, FIND EDGES, MONOCOLOR, HUE OFFSET, SATURATION OFFSET, VALUE OFFSET
Others: Flip horizontal, Flip vertical, Still Image Capture, Still Image Playback, Output fade (Audio, Video: WHITE or BLACK), Test pattern output
AUDIO

Audio Processing

Sampling rate: 24 bits/48 kHz

Audio formats

Linear PCM, 24 bits/48 kHz, 2 ch

Input Connectors

INPUT 1--2: HDMI Type A x 2




AUDIO IN: Stereo miniature type

Output Connectors

PROGRAM OUT: HDMI type A




PREVIEW OUT: HDMI type A




PHONES: Stereo miniature type

Input Level

AUDIO IN: -10 dBu (Maximum: +8 dBu)

Input Impedance

AUDIO IN: 45 k ohms

Output Level

PHONES: 92 mW + 92 mW (32 ohms)

Output Impedance

PHONES: 10 ohms

Audio Effects

Delay, High pass filter, Compressor, Noise gate, Equalizer, Multi-band compressor, Limiter, Test tone output

OTHERS

Other Connectors

USB: USB B Type (for backup from PC, for remote control from iPad)




CTL/EXP: 1/4-inch TRS phone type

Other Functions

Preset Memory (8 types)




Panel lock function




EDID Emulator




Auto Switching




Auto Input Detect

Power Supply

AC Adaptor

Current Draw

1.1 A

Power Consumption

10.0 W

Operation Temperature

+0 to +40 degrees Celsius




+32 to +104 degrees Fahrenheit

Dimensions

160 (W) x 108 (D) x 51 (H) mm




6-5/16 (W) x 4-1/4 (D) x 2-1/16 (H) inches

Weight (excluding AC adaptor)

0.6 kg




1 lbs 6 oz

Accessories

Startup Guide




AC adaptor




Power cord




Cord hook

Options (sold separately)

Foot switch: BOSS FS-5U, FS-6, FS-7




Expression Pedal: EV-5, BOSS FV-500L, FV-500H
Downloads