Optoma OPCWM1100
Dual Stud Ultra Short Throw Wall Mount, 15.6"-30.3" Telescopic Arm, includes 16" stud adaptor plate, White
Part #: 7611-2001 Mfr #: OPCWM1100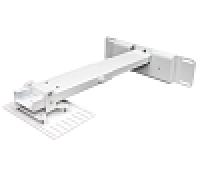 Optoma OPCWM1100
Features
Dual-Stud, Ultra Short Throw, Telescoping Wall Mount
Key Features of

OPCWM1100
Dual stud mount (includes 16" stud adaptor plate)
Telescopic deign extends between 15.6" to 30.3"
Simple design for easy installation
Cable management to avoid cable clutter
Compatible with: TW675UST-3D, TW675UTi-3D, TW675UTiM-3D, TX665UST-3D, TX665UTi-3D, TX665UTiM-3D, TX565UT-3D, TW695UT-3D, TW695UTi-3D, W307UST, W307USTi
The OPCWM1100 projector wall mount for the Optoma ultra short throw projector features a high quality telescopic arm and adjustable mounting plate for perfect installation with a screen or interactive whiteboard in education or corporate environments.
EASY INSTALLATION: A single installer is able to attach the wall mount to the wall to ensure a safe and secure installation for the projector.
SCREEN SIZE: Ideally suited to the Optoma ultra short throw projector giving a maximum projected image of 100".
FLEXIBILITY: To fit a variety of different screen sizes using the telescopic mount with multiple locking points. Universal mounting plate provides the flexibility for the mount to fit other brands of ultra short throw projectors.
ADJUSTMENT: The mounting plate can be adjusted horizontally and vertically for fine adjustment for projection on to a screen or interactive whiteboard.
CABLE MANAGEMENT: Cleverly designed to ensure cables are concealed to ensure a neat, tamper proof installation.
INSTALLATION REMINDER: This mount is designed to connect directly to your Optoma projector without the use of extra hardware or mounting arms. The extension arms included in the box should only be used to mount 3rd party, non-Optoma projectors. Please see the mounting instructions included with the mount for more details.