AV Stumpfl Monoblox 64® Projection Screens
Monoblox® is the mobile projection screen choice of the world's leading rental & staging companies. Lowest total cost of ownership, European manufacturing precision, best picture quality and 5 years of warranty. Simplify your way of projecting.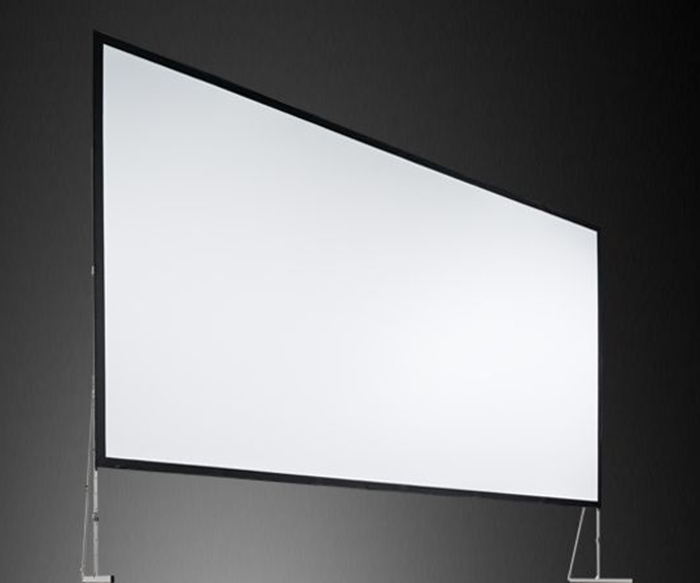 Have you ever thought of a large display that is lightweight, fits into a small carrying case, has no loose parts or cables and can be intuitively set up by a single person? Mobile projection screens are featuring easier handling, quicker setup, lower acquisition and operating costs and nevertheless a higher resolution image quality over fixed display solutions. Feedback from our customers and partners in combination with our passion for ultra high precision development and manufacturing in Austria has brought Monoblox® to where it is today: The mobile projection screen reference.
Monoblox® has revolutionized the world's rental & staging industry from the first day but we will never stop improving our product.
Boasting similar features to our Monoblox System 32 frame, the heavy duty System 64 frame includes Flash-Fold® locking hinges with a simple 4 piece frame assembly. This extra strong Flash-Fold® frame with modular aluminum vertical segments is optimized for ease of transport and setup.
Frame. High precision extruded aluminum profiles and snap joints define the skeleton of the projection screen. The entire frame block unfolds and the snap joints lock automatically. No parts can get lost and set up is intuitive. Our unique combination of in house development, sophisticated CNC machinery and handpicked materials as well as quality control enables us to achieve the least tolerances and the longest part life times on the market.
Surface. Have you ever seen a projection screen with virtually invisible snaps on the border? We have it! Our PVC surfaces can be stretched easily and attached to the frame with snaps. The surface has to be perfect mat, seamless and fit accurately to the projected image. Like all other AV Stumpfl projection screens Monoblox® ships with a variety of different surface types. We are proud that only our proprietary materials meet the global standards of the critical rental & staging industry.
Legs. We do offer different types of legs and other mounting options for our projection screens to perfectly meet our customer requirements. Our projection screen legs feature the same precision and life time like our frames. No surprise: They are made out of the same components using the same manufacturing techniques.
Set Up. Setting up a Monoblox® projection screen is as simple as it sounds even for low utilization users.
Transport. How will you stock Monoblox® in your warehouse, how will it be transported to the venue and where will the packing materials go? We have carefully thought about this which is why we can come up with the perfect solutions for stocking and transport.
Accessories. Did you ever fly a projection screen above the stage or do you want to professionalize the appearance of your projection screen with a Drape Kit? Do you wish to ease your life when attaching the legs to the frame or do you want to use the same screen in different aspect ratios? We will take care of all these wishes.

We can provide expert advice on the products we sell and we also offer free technical support to our customers.
---
Audio General Incorporated • 1-866-866-2600