Sony VPL-FHZ101LW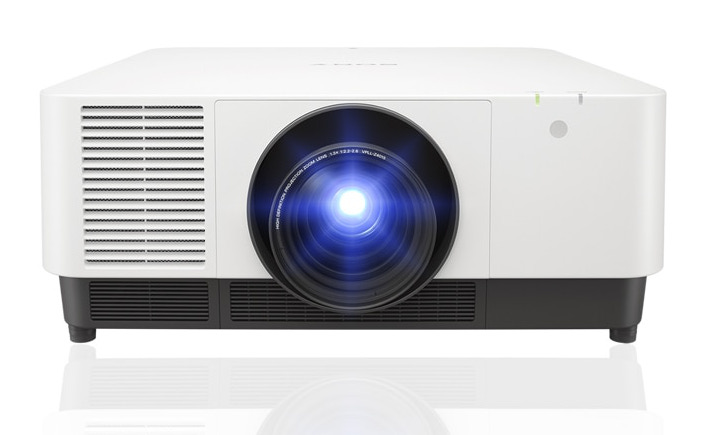 Laser LCD Projector, WUXGA, 10,000 Lumen, H&V Lens Shift, No Lens, White, 5 year warranty
Item #0600-2070
Model #VPLFHZ101LW
Overview
Sony VPL-FHZ101LW
10,000 lumens (10,400 center lumens) laser light source projector
Combining spectacular image quality with easy setup and minimal maintenance needs, this high-brightness 3LCD laser projector is ideal for installation in larger spaces.
Captivate your audience in conference halls, lecture theaters, galleries, museums, visitor attractions and other large spaces. A high light output of 10,000 lumens ensures big-screen presentations with extra presence, even in brightly lit rooms.
Impressive picture quality is boosted by Sony's unique super resolution Reality Creation technology. This uses a powerful pattern-matching database to optimize lower resolution images, enhancing clarity without increasing digital picture noise.
Save time with Sony's Intelligent Setting function that simplifies installation with presets to optimize brightness, cooling, color and other projector settings. You'll be rewarded with great pictures in every environment, including meeting/classrooms, museums, entertainment venues and multi-screen setups.
You'll appreciate an industry-leading lens shift adjustment range and a wide choice of interchangeable lenses, giving more options to install the projector in any space, including classrooms and halls with high ceilings. For extra flexibility, the VPLL-Z4107 short-throw lens is ideal when positioning the projector close to the screen to avoid ceiling-mounted obstructions.
Note: The VPL-FHZ101LW is a white projector. For the black model, see VPL-FHZ101LB.
Features
Reduced maintenance: The laser light source offers up to 20,000 hours* of operation without lamp exchange, reducing maintenance needs compared with traditional projectors. (* Depending on usage environment.)
Consistent brightness: Experience consistent image brightness throughout the laser light source's 20,000 hours recommended lifespan.
Networked control and monitoring: Ideal for integration in AV environments with leading control, monitoring, and management systems such as Crestron Connected™ and Extron® XTP™ Systems. (Extron and XTP Systems are trademarks of RGB Systems Inc.)
Easy edge blending: Seamlessly join color-matched images from multiple projectors for stunning super-size displays in corporate and education environments.
Versatile lens options: There's a wide range of lens options to suit virtually any size of room and throw requirements. Quick-release bayonet mount simplifies lens exchange.
Generous lens shift range: Enjoy greater flexibility to position the projector in restricted spaces, ensuring that audience and presenters aren't distracted by the light source.
Lens position memory: Memorize and recall up to six settings for projected image size, position and aspect ratio, saving time in different environments. (Requires optional VPLL-Z4111 lens.)
Stylish blend-in design: The slim, stylish body features a flat top surface that blends discreetly into any space when the projector is ceiling mounted.
Protocol Emulation: Sony's Protocol Emulation feature allows you to control Sony projectors using other manufacturers' RS232C control protocols. This feature allows integrators to replace other manufacturers' projectors with Sony's, without re-programming the AV system.
Specifications
Display System

3 LCD system

Display Device

Size of effective display area

1" x 3 BrightEra LCD Panel, Aspect ratio: 16:10

Number of pixels

6,912,000 (1920 x 1200 x 3) pixels

Aspect ratio

16:10

Resolution

WUXGA (1920 x 1200 pixels)

Projection Lens

(see Accessories tab)
Focus

Powered/Manual (depends on lens)

Zoom

Powered/Manual (depends on lens)

Zoom Ratio

Depends on lens

Throw Ratio
D

epends on lens

Lens Shift

Powered

Horizontal Lens Shift

Depends on lens

Vertical Lens Shift
D

epends on lens

Light Source
Laser diode

Filter replacement cycle (Max.)

10,000 H (service maintenance)

Screen size

Depends on lens

Light output*1
Mode: Standard 10,000 lm*2 / 10,400 lm (Center)*3
Mode: Middle 8,800 lm
Mode: Low 7,700 lm
Color Light Output*1

Mode: Standard 10,000 lm

Contrast Ratio (full white/full black)*1

∞:1

Displayable scanning frequency

Horizontal: 15 kHz to 92 kHz

Vertical: 48 Hz to 92 Hz

Computer signal input

Maximum signal resolution: 1920 x 1200

Video signal input

480/60i, 576/50i, 480/60p, 576/50p, 720/60p, 720/50p, 1080/60i, 1080/50i


The following items are available for digital signal only: 1080/60p, 1080/50p, 1080/24p, 1080/30p*4
Keystone Correction (Max.)
Horizontal: ±30º
Vertical: ±30º

Inputs & Outputs (Computer/Video/Control)

Input A

RGB / Y PB PR input connector: 5 BNC (female)

Input B

RGB input connector: Mini D-sub 15-pin (female)

Input C

DVI input connector: DVI-D 24-pin (single link), HDCP support




HDCP: v1.4

Input D

HDMI input connector: HDMI 19-pin, HDCP support




HDCP: v1.4

Input E

HDBaseT interface connector: RJ45, 3 play

Input F

Optional adaptor slot for 3G-SDI Input Adaptor (BKM-PJ20)

Input G

HTML Viewer

Output 1

Monitor output for Input A/Input B Connector: Mini D-sub 15-pin (female)

USB-1

Type-A x 1

USB-2

Type-B x 1 (for service)

Remote

D-sub9pin male/RS232C

LAN

RJ45, 10BASE-T/100BASE-TX/1000BASE-T

Acoustic Noise*1

Light output mode: standard: 39 dB

Light output mode: middle: 39 dB

Operating Temperature & Humidity
32°F to 109°F (0°C to 45°C) / 20% to 80% (no condensation)
Storage Temperature & Humidity
14°F to +140°F (-10°C to +60°C) / 20% to 80% (no condensation)
Power Requirements

AC 100 V to 240 V, 8.4 A to 3.4 A, 50 Hz/60 Hz

Power Consumption

Power Consumption (Standby Mode)

AC 100 V to 120 V: 0.50 W (when "Standby mode" is set to "Low")

AC 220 V to 240 V: 0.50 W (when "Standby mode" is set to "Low")

Power Consumption (Networked Standby Mode)

AC 100 V to 120 V:

21.6 W (LAN)
26.5 W (HDBT)
26.6 W (ALL terminals and networks connected) (when "Standby Mode" is set to "Standard")

AC 220 V to 240 V:

21.3 W (LAN)
26.5 W (HDBT)
26.6 W (ALL terminals and networks connected) (when "Standby Mode" is set to "Standard")

Standby Mode / Networked Standby Mode Activated
Approx. 2 Minutes
Heat Dissipation

AC 100 V to 120 V:

2,866 BTU/h

AC 220 V to 240 V:

2,777 BTU/h

Dimensions (W x H x D) (without protrusions)

Approx. 21 13/32 x 8 1/16 x 22 7/32 inches




(544 x 205 x 564 mm)

Weight

Approx. 58 lb (26 kg)

Supplied Accessories
Optional Projection Lenses (see Accessories tab)

VPLL-Z4107, 4008, Z4111, Z4015, Z4019, Z4025, Z4045
Notes:
*1 The figures are approximate. They vary depending on the environment or how the projector is used.
*2 The value is in accordance with ISO 21118, and may differ depending on the actual unit. Brightness and contrast vary depending on use conditions and environments.
*3 The value is light output measured at center area of screen in Standard mode, and is an average of all products shipped.
*4 When using BKM-PJ20
Accessories
Optional Lenses
<!— Editable lens table is on VPL-FHZ91LW page—>
Other Accessories
Downloads