Epson BrightLink 685Wi
LCD Projector, 1280x800 WXGA, 3500 Lumens, Interactive, Ultra Short Throw, 2 Year Warranty
Part #: 0600-6228 Mfr #: V11H741522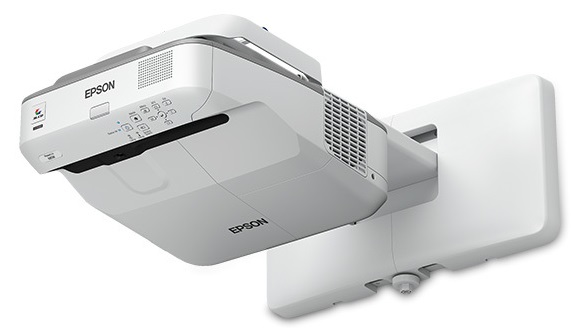 Epson BrightLink 685Wi
Features
BrightLink 685Wi WXGA 3LCD Ultra Short-throw Interactive Display
Pen-based WXGA ultra short-throw interactive display for classrooms.
Transform your classroom into a collaborative learning space with the BrightLink 685Wi ultra short-throw WXGA interactive display. Featuring 3,500 lumens of color and white brightness, the 685Wi delivers a dynamic, easy-to-read display up to 100" — from as close as 11" away. Take interactive learning to new heights with dual pen-based interactivity that lets up to two users draw and write on almost any wall or existing whiteboard. Wirelessly display content from a variety of devices — including Chromebooks — using the Epson iProjection™ App with Moderator device management software. Plus, it includes a 1-year subscription to SMART Learning Suite.
Specifications
Specifications
Projection System Epson® 3LCD, 3-chip technology
Projection Method Front/rear/wall mount/table mount
Driving Method Epson Poly-silicon TFT Active Matrix
Pixel Number 1,024,000 dots (1280 x 800) x 3
Color Brightness1 Color Light Output: 3,500 lumens
White Brightness1 White Light Output: 3,500 lumens
Interactive Color Brightness1 Color Light Output: 3,500 lumens
Interactive White Brightness1 White Light Output: 3,500 lumens
Aspect Ratio 16:10
Native Resolution 1280 x 800 (WXGA)
Lamp Type 250 W UHE
Lamp Life4 ECO Mode: Up to10,000 hoursNormal Mode: Up to 5,000 hours
Size (Projected) (4:3) 53" – 88"; (16:10) 60" – 100"; (16:9) 59" – 97"
Keystone Correction (Manual) Horizontal: ±3 degrees; Vertical: ±3 degrees
USB Plug 'n Play Mac OS® 10.7/10.8/10.9/10.10/10.11/macOS™ 10.12.x
USB Plug 'n Play for Windows® Windows Vista®/Windows 7/Windows 8/Windows 10
Contrast Ratio Up to 14,000:1
Color Reproduction Up to 1 billion colors
Projection Lens
Type Manual focus
F-number 1.6
Focal Length 3.7 mm
Throw Ratio Range (16:10) 0.28 – 0.37, (4:3) 0.33 – 0.45, (16:9) 0.28 – 0.37
Zoom Ratio Digital zoom: 1.0 – 1.35x
Other
Display Performance NTSC: 480 linesPAL: 576 lines (Depends on observation of the multi-burst pattern)
Input Signal NTSC/NTSC4.43/PAL/M-PAL/N-PAL/PAL60/SECAM
Speaker 16 W monaural
Operating Temperature 41 ˚ to 104 ˚F (5 ˚ to 40 ˚C)
Power Supply Voltage 100 – 240 V ±10%, 50/60 Hz
Power Consumption 373 W2.2 W Standby (Communication On)0.23 W Standby (Communication Off)
Fan Noise ECO Mode: 29 dBNormal Mode: 35 dB
Security Kensington lock provision, security anchor bar, Password Protection function
Interactivity
Interactive Technology Infrared, 850 nm
Interactive Area (Image Size) 60" – 100" diagonal (16:10, WXGA)
Interactive Modes Computer Interactivity/Input, PC-free with Whiteboard Annotation, Pen: Dual User
PC-free Annotation Dual user
Interactive Tools Epson Easy Interactive Tools, Dual User
PC Interactive Sources USB, HDMI, Computer 1, Computer 2, LAN
PC-free Annotation Devices Document Cameras, DVD/Blu-ray Disc® player, iPod®/iPad® devices, Chromebooks
Calibration Method Automatic or Manual
Interactive Connectivity USB cable for non-networked
Interactive Software Requirements Epson Easy Interactive Driver (Mac and PC — required for DuoLink); Windows and Linux: driver required
Mac: Mac OS X® 10.7/10.8/10.9/10.10/10.11/macOS 10.12.x
Epson Easy Interactive Tools for Windows and Mac
System Compatibility Microsoft® Windows Vista, Windows Vista SP1, Windows Vista SP2 (All editions except for Starter), Windows 8/8.1, Windows 10, Windows 7 SP1 (All editions except for Starter)Mac OS 10.7/10.8/10.9/10.10/10.11/macOS 10.12.x
SMART Learning Suite System Requirements
Supported Operating Systems Windows 7 SP1, Windows 8/8.1, Windows 10, Mac OS X 10.9, 10.10, 10.11, macOS 10.12
Minimum Processor Intel Core 2 Duo
Minimum RAM 2GB (4GB for UHD displays)
Minimum Hard Disk Space 3GB (Windows); 3GB (Mac)
Interactive Input Device
Type of Interactive Input Device Digital pen
Interactive Pen Functions Mouse Functions (left and right click), Electronic Pen, LED Battery Status Indicator
Interactive Pen Power AA battery, rechargeable
Compatible Pen Battery Types Eneloop® batteries (included), Manganese dry cell, alkaline dry cell
Interactive Pen Dimensions 6.3" x 0.94" (diameter)
Interactive Pen Weight 1.1 oz (without battery)
Dimensions (W x D x H)
14.5" x 15.8" x 5.9"
Weight 12.8 lb
Remote Control
Features Computer, Video/HDMI, USB, LAN, Source Search, Power, Aspect, Color Mode, Volume, E-Zoom, A/V Mute, Freeze, Menu, Help, Auto, Enter, ESC, Pointer, Home, Split, Pen Mode, Link Menu
Operating Angle Rear: Right/left: -55 to +55 degrees, Upper/lower: +75 to +15 degreesFront: Right/left: -30 to +30 degrees, Upper/lower: 0 to +60 degrees
Operating Distance 19.7 ft (6 m)
Eco Features
RoHS compliant
Recyclable product7
Epson America, Inc. is a SmartWay® Transport Partner8
Support
Epson ConnectionSM
Pre-sales support
U.S. and Canada: 800-463-7766www.epson.com
Service Programs 2-year projector limited warranty, Epson Road Service program, PrivateLine® dedicated toll-free support and 90-day limited lamp warranty
What's in the Box
BrightLink 685Wi ultra short-throw interactive projector, Quick Start Guide, power cable, USB A/B cable, USB extender cable, electronic user manual, interactive driver for Mac and PC, Epson Easy Interactive Tools, Network Management software, projector remote control, two (2) interactive pens, pen tray, two (2) AA batteries (for interactive pens) plus battery charger, two (2) AA batteries (for remote), SMART Learning Suite redemption code
Ordering Information
BrightLink 685Wi V11H741522
Genuine Epson Lamp V13H010L91
Air Filter V13H134A49
PowerLite® Pilot™ 2 (ELPCB02) V12H614020
Active Speakers (ELPSP02) V12H467020
Wireless 802.11b/g/n LAN Unit (ELPAP10) V12H731P02
100" Whiteboard V12H831000
Interactive Pen A (orange) V12H773010
Interactive Pen B (blue) V12H774010
Replacement Pen Tips (hard/Teflon®) V12H775010
Replacement Pen Tips (soft/felt) V12H776010
Ultra Short-throw Wall Mount (ELPMB46) V12H777020
Interfaces
2x HDMI®
1x HDMI/MHL®
Computer/Component video: 1x D-sub 15 pin
Composite video: 1x RCA (Yellow)
Audio in: 3x Mini stereo
USB connector: 1x Type B (USB display, audio interactivityand mouse control)
USB connector: 1x Type A (USB memory/document camera)
1x RJ-45
Serial: 1x RS-232c
Monitor Out/Computer 2: 1x D-sub 15 pin
Audio Out: 1x Mini stereo
Microphone: 1x Mini stereo
Wireless LAN port: 802.11 b/g/n (optional – module sold separately)
Interactive Synchronization Mini stereo In
Interactive Synchronization Mini stereo Out
Options
| | | | | | |
| --- | --- | --- | --- | --- | --- |
| | | | | | |
| PowerLite Pilot 2 | Interactive Pen (Orange) | Interactive Pen (Blue) | Wall Mount | Table Mount | Air Filter |
| V12H614020 | V12H773010 | V12H774010 | V12H777020 | V12H516020 | V13H134A49 |
Downloads
Warranty
Two-Year Projector Limited Warranty and 90-Day Lamp Limited Warranty