Barco RLM-W8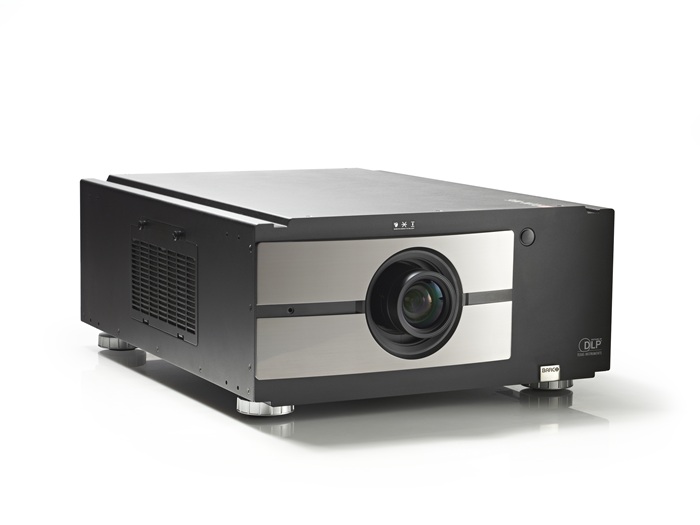 3-DLP Projector, 1920 x 1200, 8000 Lumens, Edge-Blending, Warp, 3G/HD/SD-SDI input, Dual Lamp, No Lens, 3 Year Warranty
Item #0601-1219
Model #R9006310
Introduction
Barco's RLM-W8 brings the saturated colors of 3-chip DLP™ projection to applications requiring the highest quality but at a mid-level brightness point. Featuring a sealed optical block for reduced maintenance, user replaceable lamps and flexible control options including an Android App, Barco Toolset, or wired/wireless remote.
Featuring blending and built-in warping
With an enhanced contrast, quick and creative stacking options as well as built-in warping capabilities for curved surfaces, Barco's RLM-W8 is a versatile choice for mid- to large-sized venues. In addition, it features blending technology to create seamless composite images across a canvas of any size. The RLM-W8 continues the RLM line's tradition of silence as well as low energy consumption.
Fast signal distribution
Our proprietary BarcoLink technology guarantees swift signal distribution between Barco's projectors and image processors. With BarcoLink, signals are distributed over a BNC coax cable, which is not only more durable but also enables you to lower your costs.
Specifications
| | |
| --- | --- |
| Projector type | WUXGA 3-chip DLP digital projector |
| Technology | 3 x 0.67" DMD™ |
| Resolution | 1,920 x 1,200 |
| Brightness | 8,000 center lumens / 7,300 ANSI lumens |
| Contrast ratio | 2,200:1 (standard) / 3,000:1 (CE) |
| Brightness uniformity | 95% |
| Native Aspect Ratio | 16:10 |
| ScenergiX | Horizontal and vertical edge blending |
| Lens type | RLDW |
| Lenses | Fixed: 0.77:1, 1.16:1 Zoom: 1.45-1.74, 1.74-2.17, 2.17-2.9, 2.9-4.34, 4.34-6.76 |
| Optical lens shift | Vertical: -100% to +100% / Horizontal: -35% to +35% on zoom lenses |
| Color correction | P7 |
| Lamps | 2 x 330W |
| Lamp life | 1,500 hours (typical) / 2,000 hours (maximum) |
| Transport with lamp | Yes |
| Lamp house, quick replace | Yes |
| Lamp warranty (field replace / factory replace | 120 days / 500 hours |
| Sealed DLP™ core | Yes |
| Optical dowser | Yes |
| Picture-in-picture | Up to two sources simultaneously |
| Orientation | Table / Ceiling |
| WARP | Preset and customized values |
| Integrated web server | Yes |
| 3D | Passive circular polarized (optional) |
| Inputs | 2 x HDMI (HDCP 1,3); 5-BNC (RGBHV, RGBS/RGBsB;YUV); VGA (RGBHV, RGBS/RGBsB; YUV); cinch (RGBs, YUV); Composite video; S-Video; HSDI/ 3G HDSDI /SDI/BarcoLink |
| Optional Inputs | N/A |
| Input Resolutions | From NTSC up to UXGA (1600x1200), including WUXGA (1920x1200) |
| Software tools | Projector Toolset, Android app |
| Control | Minijack + IR, RS232, 12v trigger |
| Network connection | 10/100 base-T, RJ-45 connection |
| Power requirements | 90-240V / 50-60Hz |
| Max. power consumption | 850W, Standby <2W |
| Noise level (typical at 25°C/77°F) | 39dBA |
| Operational ambient temperature | 0-40°C / 32°-104°F |
| Operational humidity | 0-80% non condensing |
| Dissipation BTU | max 2900 BTU/h |
| Dimensions (WxLxH) | 500 x 670 x 247mm / 19.69 x 26.36 x 9.72 inches |
| Weight | 26kg (57.3lbs) |
| Shipping Dimensions (WxLxH) | 820 x 660 x 380mm / 32.28 x 25.98 x 14.96 inches |
| Shipping Weight | 30kg (66.1lbs) |
| Included accessories | Power cord, wireless remote control, HDMI to DVI converter |
| Certifications | Compliant with FCC rules and regulations, part 15 Class A and CE EN55022 Class A, CE, TUV, RoHS, WEEE |
| Warranty | 3 years standard, 4th or 5th year optional |
| | |
Accessories
Optional Lenses
RLD W Lens Series
Other Accessories
Downloads