Barco RLM-W12 + Lens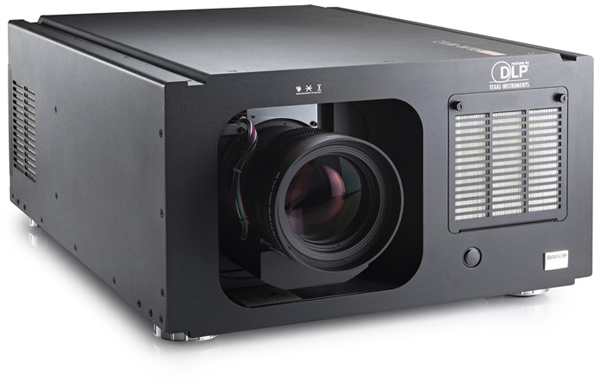 Barco RLM-W12 R9006321B1 3-DLP Projector, 1920 x 1200, 11,500 Lumens, Edge-Blending, Warp, HD-SDI, Hermetically Sealed Light Engine, Dual Lamp, Lens of your choice (except 1.16-1.49), 3 Year Warranty
Item #0601-1222
Model #R9006321B1
Introduction
This package includes:
RLM-W12 Body
Lens of your choice (except 1.16-1.49:1)
Thanks to its standard active 3D capabilities, low noise level and high light output, the cost-effective RLM-W12 is a perfect fit for fixed installation in conference auditoriums, lecture halls and infotainment applications. Geared with an optional ceiling mount or stacking frame, the RLM-W12 can also be used for events. What's more, the RLM-W12 is equipped with TLD lenses, making it fully compatible with Barco's HDF, HDX and FLM projector families.

Flawless image quality
Thanks to its 3-chip DLP image quality, the RLM generates crisp images with a better color saturation, more stability and richer contrast. Its WUXGA (1920x1200) resolution makes sure you see all important details at once.

The most silent
Barco's RLM projectors are the most silent projectors in their range. They remove the strain of working under a constant drone of projection equipment.

Low power comsumption
The RLM consumes less power than comparable projectors. Today, as energy conservation is an important consideration, the RLM benefits both your energy bill and the environment.

Fast signal distribution
Our proprietary BarcoLink technology guarantees swift signal distribution between Barco's projectors and image processors. With BarcoLink, signals are distributed over a BNC coax cable, which is not only more durable but also enables you to lower your costs.

3 Year Warranty
Features
11,500 lumens light output
3-chip DLP technology
Super silent projector
Low power consumption
WUXGA resolution
Standard active 3D
Better color stability & saturation
Perfect for fixed installations
Rental frame available
Wide range of TLD lenses, compatible with HDX & FLM projectors
Control over IP
Specs
Projector type: WUXGA 3-chip DLP digital projector
Technology: 0.96" DMD™ x3
Resolution: 1,920 x 1,200 (WUXGA)
Brightness: 11,500 center lumens / 10,500 ANSI lumens
Contrast ratio: 1,600:1 (standard) / 2,400:1 (CE)
Brightness uniformity: 90%
Aspect Ratio: 16:10
ScenergiX: Horizontal and vertical edge blending
Lens type: TLD+
Lenses: (fixed) 0.73:1; 1.2:1 ; (zoom) 1.25-1.6:1; 1.5-2.0:1; 2.0-2.8:1; 2.8-4.5:1; 4.5-7.5:1; 7.5-11.5:1
Optical lens shift: Vertical: 0% to +110% / Horizontal: -30% to +30% on zoom lenses
Color correction: P7
Lamps: 2x400W
Lamp lifetime: 1,500 hours (typical) / 2,000 hours (maximum)
Transport with lamp: Yes
Lamp house, quick replace: Yes, auto lamp select
Customer bulb replace: N/A
Lamp warranty (field replace/ factory replace): 120 days, 500 hours
Sealed DLP™ core: Standard
Optical dowser: Standard
Picture-in-picture: Up to two sources simultaneously
Orientation: table - ceiling
WARP: preset values + custom
Integrated web server: yes
CLO (constant light output): Standard
3D: Passive circular polarized (optional), active eyewear on Dual link DVI 120 Hz (standard)
Inputs: 2 x HDMI (HDCP 1,3); 5-BNC (RGBHV, RGBS/RGBsB;YUV); VGA (RGBHV, RGBS/RGBsB; YUV); cinch (RGBs, YUV); Composite video; S-Video; HSDI/3G HDSDI/SDI 3D dual link DVI/BarcoLink; 3D sync in/out BNC
Optional Inputs: N/A
Input Resolutions: From NTSC up to UXGA (1,600 x 1,200), including HDTV (1,920 x 1,200)
Max. pixel clock: 165 MHz
Software tools: Projector Toolset
Control: Mini-jack + IR, RS232, 12v trigger
Network connection: 10/100 base-T, RJ-45 connection
Power requirements: 90-240V / 50-60Hz
Max. power consumption: 1000W / Standby mode: <2W
Noise level (typical at 25°C/77°F): 43dB(A)
Operational ambient temperature: 0-40°C / 32°-104°FF
Operational humidity: 0-80% (non-condensing)
Dissipation BTU: max 3412 BTU/h
Dimensions (WxLxH): 19.69 x 24.84 x 10.63 inches
Weight: 70.54 lbs
Shipping Dimensions: 32.67 x 26.33 x 17.63 inches
Standard accessories: Lens of your choice (except 1.16-1.49), Power cord, wireless remote control, HDMI to DVI adaptor
Certifications: Compliant with FCC rules and regulations, part 15 Class A and CE EN55022 Class A, CE, TUV, RoHS, WEEE
Files
Options
Lenses
R9862000 TLD+ (0.67:1 WUXGA) (0.73:1 SXGA+)
R9840775 TLD+ (1.14:1 WUXGA) (1.23:1 SXGA+)
R9862005 TLD+ Ultra (1.16-1.49:1 WUXGA) (1.25-1.6:1 SXGA+)
R9862010 TLD+ (1.39 - 1.87:1 WUXGA) (1.5 - 2.0:1 SXGA+)
R9862020 TLD+ (1.87 - 2.56:1 WUXGA) (2.0 - 2.8:1 SXGA+)
R9862030 TLD+ (2.56 - 4.17:1 WUXGA) (2.8 - 4.5:1 SXGA+)
R9862040 TLD+ (4.17 - 6.95:1 WUXGA) (4.5 - 7.5:1 SXGA+)
R9829997 TLD+ (6.93 - 10.3:1 WUXGA) (7.5 - 11.2:1 SXGA+)

Accessories
R9899706 IR remote control for RLM-W
R9864220 RLM 3D filter frame
R852930K RLM 3D filter glass left
R852929K RLM 3D filter glass right
R9849999 Ceiling mount for CLM/RLM-W
R9899728 HDMI to DVI converter
R9899727 HD-SDI/3G to HDMI/DVI converter
R9864050 Projector adapter plate
R9850559 All-in-one remote projector management software
R9801061 RLM W-series Frame Clamps (4 pieces)
R9801079 Safety cable for TLD+ lenses
R9841261 CLM long pulley 800-1165, Ceiling mount extension bar with adjustable height.
R9841260 CLM short pulley 400-765, Ceiling mount extension bar with fixed height.

Others
R9801148 Front and rear lens cover for all TLD+ lenses (excl. 0.73 and 4.5-7.5 lenses)
R9801149 Front and rear lens cover for TLD + 4.5 -7.5 lens
R9801147 Front and rear lens cover for TLD +0.73 lens

Lamps
R9801087 RLM-W12 spare lamp

Options
R9899731 RLM flight case
R9899700 RLM W Series Rental Frame