Sony VPL-FX500L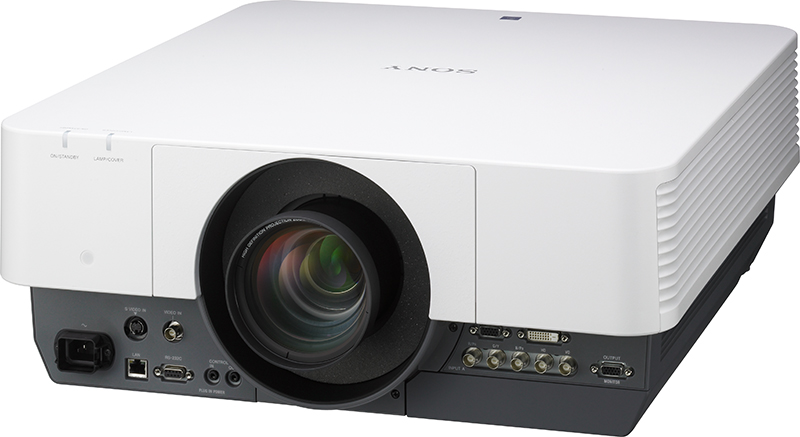 LCD Projector, 7000L, XGA, No Lens
Item #0601-1605
Model #VPLFX500L
Overview
The VPL-FX500L features native XGA resolution, high brightness at 7000 lumens color light output, a centered lens, and the widest lens shift in its class. A twin-lamp system ensures worry free, economical operation. Compatibility with current interchangeable lenses enables a wide range of options – from long distance projection in large auditoriums to short distance rear projection applications. ECO-friendly longer lamp life means less energy consumption, less cost and less time up on a ladder making replacements. The VPL-FX500L is suitable for installations supporting large-screen applications such as university lecture halls and corporate auditoriums.
7000 Lumen Projector
2500:1 Contrast Ratio
Network Capability
Native XGA Resolution: RGB: 1024x768 pixels Video: 750 TV lines
3D Gamma Correction
Wide Variety of Optional Lenses
Twin Lamp System
Installation Flexibility
Very large horizontal and vertical lens shift range
Long Lamp Life
Designed to blend in visually
Direct Power ON
Replace lamp & filter at the same time
Closed Captioning
Eco Mode for savings on energy
Features
| | |
| --- | --- |
| Wide Variety of Lenses | The VPL-FX500L ships without a lens, and offers backwards compatibility with a wide variety of existing Sony lenses – allowing easy replacement to existing projectors. |
| Twin Lamp System | For worry-free operation, a second lamp is built-in to provide automatic back-up should the primary lamp fail. Since the two lamps are alternately used, the total expected lamp life can total up to approximately 8000 hours. |
| Superior Image Quality | The VPL-FX500L offers an outstanding Color Light Output of 7000 Lm and a high contrast ratio at 2500:1. 12bit 3D Digital Gamma Correction reproduces gradation in greater detail. Film Mode technology generates high quality images through the Interlace to Progressive conversion processor. Signals of film-originated sources converted through 2-3 and 2-2 pull down process are detected, resulting in extremely accurate image reproduction. |
| Maintenance made EASY | When it's time to replace the lamp, a message will appear onscreen. Lamp replacement and filter cleaning can be performed quickly, easily and at the same time, without uninstalling the projector, since both are accessible from the side. And Sony's dust protection system makes for an advanced long filter cleaning cycle, which means less frequent filter changes. |
| Economical Benefits | Replace lamps less frequently with a long lamp life of 6000/8000H! Sony's optical engine, BrightEra with Longer Lasting Optics provides improved optical efficiency: more light is projected onto the screen at less lamp power, requiring smaller lamps – smaller lamps are less expensive, use less electricity and produce less heat. |
| Eco-Friendly Features | Save energy costs! With the push of the "Eco Mode" button on projector or Remote Commander, Lamp mode saves the consumption of lamp wattage; Power Saving mode kicks in if there is no operation for 10 minutes without any signal input; Standby mode can reduce power consumption in standby. |
| "Seamless" Design | Outfitted with a white and flat cabinet and a connector panel located on the lower face front – hiding the connectors and cables – the VPL-FX500L gives audiences the impression that the projector is blended into the ceiling when mounted. Fan noise is moderate. |
| Other Convenience Factors | Closed captioning; digital zoom; picture muting; network control and monitoring. |
Accessories
Warranty
Factory 5 Year or 12,000 Hours, whichever comes first.
Downloads