Boxlight MPWX70E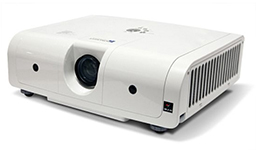 LCD Projector 4200 Lumens, 1280x800, Network
Item #0601-1991
Model #MPWX70E
Overview
The MPWX70e is as durable as it is versatile, and is especially great in smoky, dusty environments, either indoors or outdoors. An internal automatic fan sensor manages airflow and reminds users when the filter needs to be changed. Replacement lamps and filters are easily swapped in via a side panel, eliminating the need to dismount the unit for maintenance.

With two brightness levels ranging from 3800 to 4200 lumens, the MPWX70e is suitable for small and large spaces. Its auto brightness feature detects ambient light, adjusting the lamps to suit the setting and extending lamp life.

A powerful network-ready RJ-45 interface means that the MPWX70e can be managed from remote locations, which increases efficiency and maximizes control capabilities. The variable audio output automatically switches to the selected source.
Features
Up to 4200 ANSI lumens for outstanding brightness
1280 x 800 WXGA (Native) resolution
Quick start up and shut down
Downloads
Warranty
3 years parts and labor / 90 days lamp