Panasonic ET-DLE035
Ultra Short Throw Lens B-Stock
Part #: 0601-2263-UB Mfr #: ETDLE035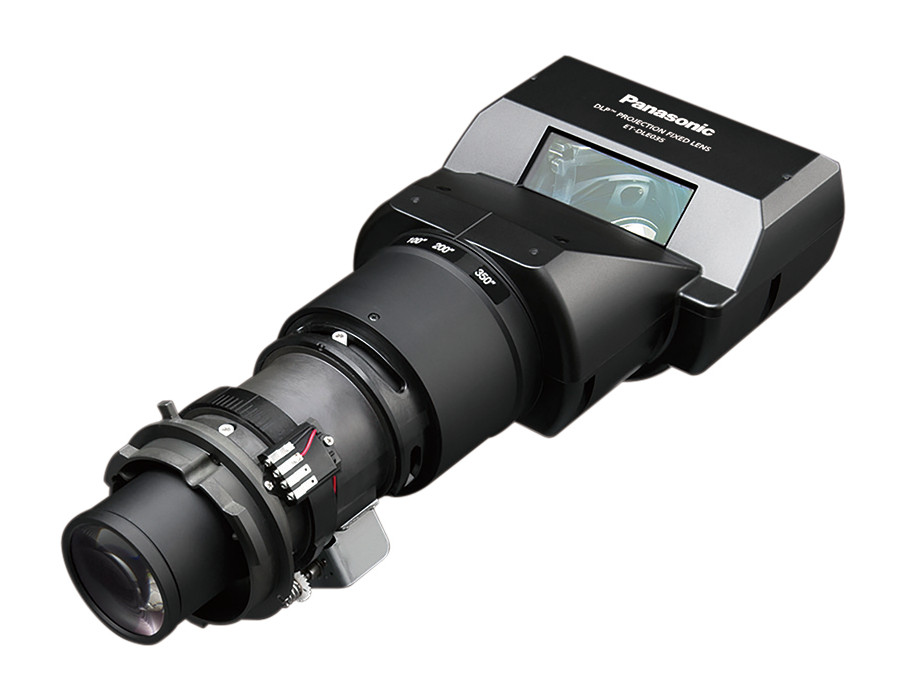 Panasonic ET-DLE035
Overview
ET-DLE035 Ultra short throw lens
The Lens with the World's Shortest Throw for 1-Chip DLP™ Projectors
Panasonic's ET-DLE035 ultra-short-throw lens enables large-screen projection from a short distance. By mounting the ET-DLE035 lens onto a compatible Panasonic 1-Chip DLP™ projector, you can shorten the projection distance by approximately 60 % compared with the ET-DLE085 and ET-DLE080 short-throw lenses.
This huge saving in space lets you project images in spots where you previously could not, such as places where the ceiling is too high, or where there is not enough front or rear space for projecting. This greatly expand applications for digital signage in show windows, stores, train stations, and other locations.
The Ultra-Short-Throw Lens Solves "Space" Issues and Adds High Brightness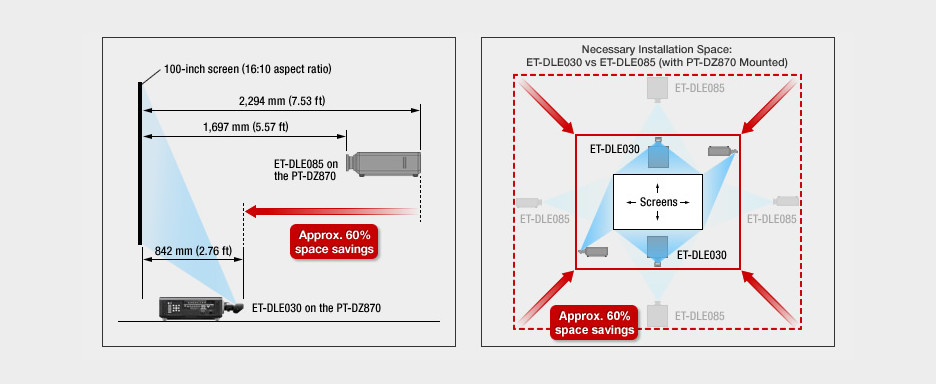 Applications
The ET-DLE035 ultra-short-throw lens makes it possible to install projectors in spaces that were never before possible. Thus applications greatly expand for digital signage in show windows, stores, train stations, and other locations.
Digital Signage for Retail Store Display
Large images can be projected onto a screen at the back of a shallow show window without blocking the view of the products on display.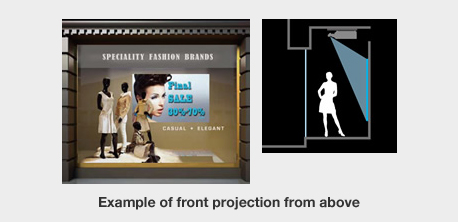 Digital Signage for Train Stations
Projection onto a large screen becomes possible even in places where there wasn't previously enough space for front projection.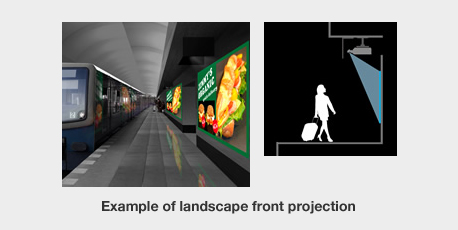 Digital Signage (Portrait Rear Projection)
Dead space, such as pillars, can be used to save space compared to conventional installations.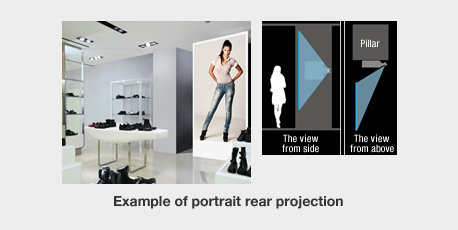 Staging
Large-screen projection becomes possible in places where the ceiling was previously too high, or the stage was too shallow.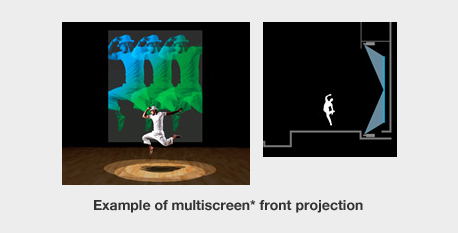 * Possible only with models equipped with the Edge Blending function.
Amusement
Advanced image content can also be displayed in facilities where there previously wasn't enough space to install a projector, greatly increasing the power of the attraction.
Also, combined with projection from under the floor onto the floor surface, or projection onto the ceiling virtually wraps visitors in the image.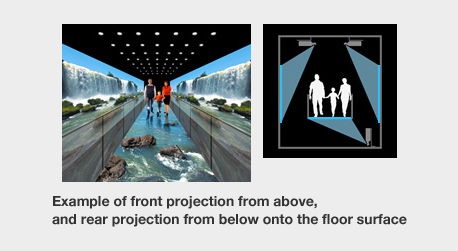 NOTE: Due to lens characteristics, some screen types may be subject to focusing problems or strong hot spots where large differences in brightness occur between the hot spots and surrounding areas. If this should occur, please ask a qualified technician or your dealer for solutions.
Specifications
Aperture (f-stop)
2.0
Focal Distance (f)
5.3 mm
Throw Ratio (D:W)
WUXGA 0.380:1 (0.67" DLP; 16:10)
WXGA 0.399:1 (

0.65" DLP;

16:10)
XGA 0.394:1 (

0.7" DLP;

4:3)
Dimensions (W x H x D)
132 x 102 x 311 mm (5-3/16˝ x 4-1/32˝ x 12-1/4˝)
Weight
Approx. 1.3 kg (2.9 lbs)
Same Series Lenses
Downloads
Compatibility
To check whether this item is compatible with your equipment, use the form below.