Panasonic PT-EX500UL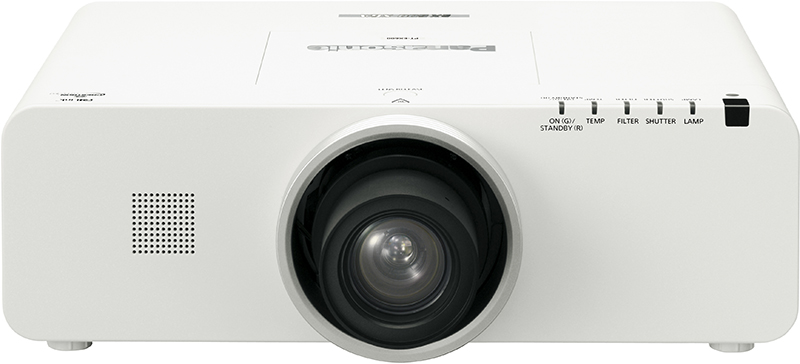 LCD Projector, XGA, 5000 Lumen, long-life Inorganic LCD panels, H & V power lens shift, network, shutter, corner keystone adjust, No Lens, 3-year warranty
Item #0601-2284
Model #PTEX500UL
Overview
Panasonic PT-EX500UL
The PT-EX500U LCD projector with XGA resolution (1,024 x 768), 5,000 lumens of brightness and a contrast ratio of 2,000:, offers a versatile solution for classrooms, lecture halls, and meeting rooms. The PT-EX500U features a highly durable optical engine with inorganic LCD panels and polarizers providing up to 10,000 hours of maintenance free service. It also offers a long lasting eco filter (up to 12,000 hours) and a long lamp replacement cycle of up to 4,000 hours. The PT-EX500U has powered lens shift and zoom and a mechanical shutter as well as a wide selection of optional lenses including short-throw, long-throw zoom and fixed-throw lenses for rear projection use.
Additional features of the PT-EX500U include a built-in 10-W speaker and a quiet design which keeps noise levels down to a quiet 31-dB which does not interrupt meetings or classes. Side-by-side and picture-in-picture functions provide effective presentations and lectures. Two different image sources can be simultaneously displayed onto a single screen. By switching to picture-in-picture mode you can display a sub-window onto the main screen and position in any of the four corners.

Ease of filter and lamp replacement make the total cost of ownership low on the PT-EX500U. The filter is easily replaced from the side and the lamp from the top of the projector allowing for ease in maintenance.
The unique Daylight View Basic function allows them to project crisp, high-resolution images without having to dim the room light.
Accessories
Optional Lenses
<!— Editable version of table is is PT-EX510LU —>
Other Accessories
Downloads
Warranty
Panasonic PT-EX600U Warranty:
3-Year PASS Limited Warranty; 90 Days Lamp