Panasonic PT-RZ670LWU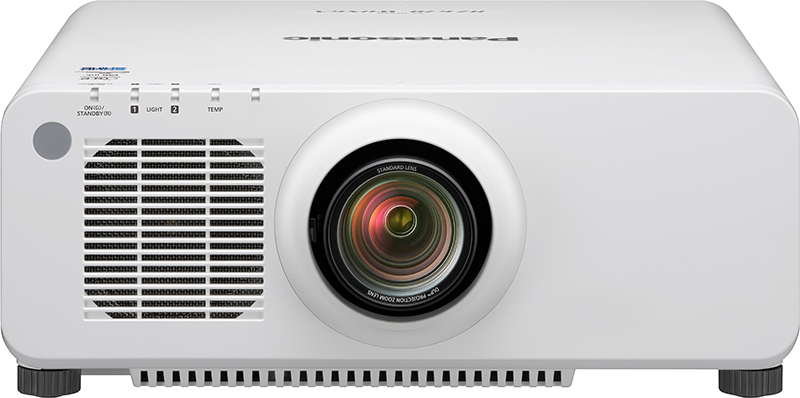 Laser 1-DLP Projector, 1920x1200, 6500 Lumens, 24/7, 3G/HD/SD-SDI, edge blending, 360 degree orientation, H&V Lens Shift, White case, No Lens, 3 year warranty
Item #0601-2653
Model #PTRZ670LWU
Overview
The PT-RZ670/RW630 peak-performing 1-chip DLP™ projectors were developed with the goal of achieving the highest possible image level as flagship models. Joining the ranks of Panasonic's SOLID SHINE projectors, The PT-RZ670 Series offers the world's first*1 6,500*2 lm of brightness in a laser light source 1-chip DLPTM projector. Panasonic's original "Quartet Color Harmonizer" reproduces optimally ef cient colors and images that approach those of high-end agship models. Plus, the unprecedented reliability of the solid-state light source maintains image quality for 20,000 hours*3 or more. Installation exibility has also entered a new dimension with the PT-RZ670 Series. In addition, starting with the professional features in our agship models for large-venue applications, a host of functions re ect the technology and know-how that Pana- sonic has accumulated over more than 30 years of projec- tor development. The PT-RZ670 Series is setting new 21st century standards for reliable, high-quality projectors that easily meet the demands of critical professionals.
Accessories
Optional Lenses
1ET-DLE030 is discontinued. Compatible with 1-Chip DLP projectors up to 10,000 lumens.
2ET-DLE080 is discontinued. Compatible with 1-Chip DLP projectors up to 8,500 lumens.
Downloads
Warranty
3 Years Parts & Labor; 10,000 Hours on Illumination Parts