Panasonic PT-JW130FWU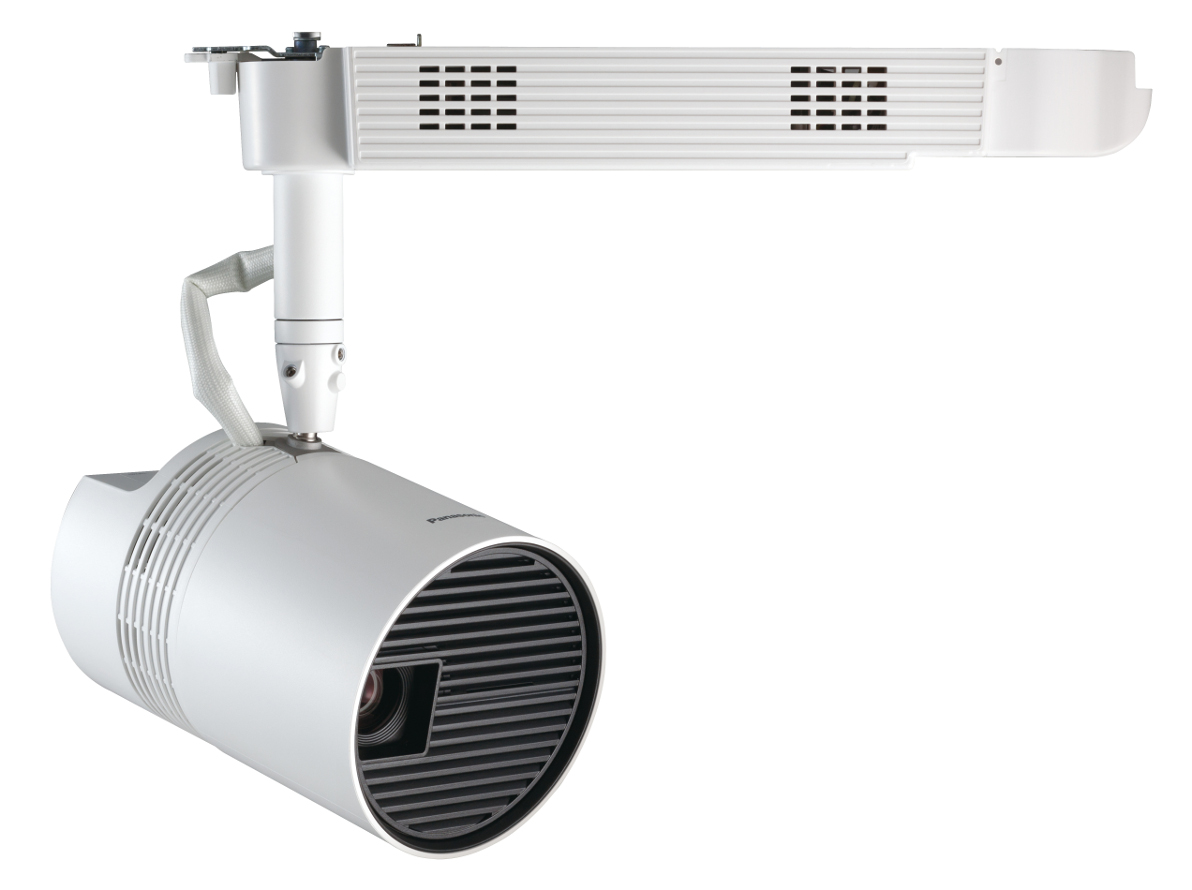 Space Player, WXGA, 1000 Lumens, Direct Mount, White
Item #0601-2670
Model #PTJW130FWU
Overview
Panasonic PT-JW130FWU
1-Chip DLP™ SOLID SHINE Laser Space Player
Projector (white model)
The PT-JW130FWU Space Player projector provides a hybrid illumination and image-projection solution to enhance displayed objects or create vivid signage in a variety of locations and applications.
The ability to combine customized spotlighting and ambient illumination, still images, and moving pictures grabs attention in retail environments, while harnessing brightness and resolution to deliver text-and-image information clearly in exhibition spaces.
With the freedom to project a variety of media, and in-browser control for networked units, it's never been easier to transform your display.
Note: Mount not included.
---
Key Features:
Projection with a laser light source (20,000 hours with limited maintenance)
Spotlight-shaped to fit any space requiring high-level design
Compact and easy to install
Automatic image/movie playing via SD memory card, Wi-Fi from a PC/tablet or using an HDMI connection
Adjustable structure to deliver light in wide direction
Features
Sleek Spotlight-type Design: Inspired industrial design results in a lighting and projection device not much larger than a conventional spotlight, but with loads of extra onboard functionality.
Easy to Install: Three setup options are available: an easily removable lighting track1

mounting, direct mounting on the ceiling, or on-floor installation.
Shoot From Almost Any Angle: Flexible mount gimbal lets you light or project onto tabletops and floors from any angle through 360° horizontal and 180° vertical, as well as in portrait orientation.
Bright and Vivid Picture Quality: The PT-JW130FWU Space Player is powered by 1-Chip DLP™ technology with original SOLID SHINE Laser light source featuring a hybrid wheel. The laser drive serves exceptionally vivid colors at 1,000 lumens brightness in XGA resolution.
20,000 Hours Maintenance-free: Filterless, dust-resistant SOLID SHINE Laser drive and optical engine means you can project for about 20,000 hours2 without downtime for maintenance.
Choice of Inputs: Space Player supports standard video and still media formats via HDMI terminal, SD Card, and wired/wireless LAN (although video playback is not supported via Wi-Fi).
Wireless Projection Capability: compatible with Panasonic wireless apps for select mobile devices and PC, which offer a variety of remote control and media casting options. The PT-JW130FWU also supports Miracast screen mirroring of certain media from compatible devices.
Playback Scheduling: Configure media to play at certain times of day, on specific days, up to 12 weeks in advance using the playback scheduling function. Content playback changes automatically as desired.
Content Manager Software: create scheduling data and media playlist on a PC and save it to one or more SD Cards. Insert the card into Space Players to execute the schedule. The software reduces complexity for temporary installations or where the device is frequently moved from place to place.
Network LAN Control: In-browser control for smart devices and support for PJ Link™ (Class 1), Crestron Roomview™ Connected, and Art-Net (DMX512) simplifies control integration into an existing AV network.
Multi Monitoring & Control Software: This free software controls up to 2,048 units over LAN network from a single PC — ideal for large AV networks, such as museums, houses of worship, and exhibition spaces. For monitoring, individual device status can be listed in groups, with more detailed information shown separately. Control functions include power ON/OFF, input switching, scheduling, and command inputs.
Keystone Screen Adjustment: Easily correct picture distortion via remote control without external equipment using vertical and horizontal independent correction or four-corner correction.
2.2x Powered Zoom Lens: Space Player's 2.2x powered zoom lens generates big pictures from close up or from far away, granting you the flexibility to adjust projection to suit venue layout with a wide range of throw distances.
Direct Playback: Cue content using buttons 1–6 on the remote controller. Playback is matched to key presses, making it easy to achieve surprise effects. (Content takes 1–3 seconds to appear.)
Simultaneous Playback: Multiple units can play the same or different content simultaneously over network for impressive spatial enhancements of larger venues.
Memory Viewer Function: offers a variety of effects, functions, and enhancements, including:

Image wipe, split, fade, and more
Power ON/Start
Sort by name, type or time stamp
Interval time setting
---
Notes:
1 Track not included. PT-JX200/JW130 Series cannot be used with lighting-track-connecting light dimmers. For information on installing a track system, please refer to manufacturer's instructions and precautions.
2 Panasonic recommends cleaning or checkup at point of purchase after 20,000 hours (approximately). Light source lifetime may be reduced depending on environmental conditions. Dustproof tests are conducted to confirm operational effectiveness under conditions with 0.15 mg/m3 of particulate matter (based on tests by the American Society of Heating, Refrigerating, and Air-Conditioning Engineers [ASHRAE], and the Japanese Building Maintenance Association). Measurements are made using acceleration tests.
Specifications
Power supply
AC 120 V, 50/60 Hz, 1.2 A
Power consumption
125 W
Standby Mode set to Eco*1: 0.3 W
Standby Mode set to Network*2: 6 W
Standby Mode set to Normal: 11 W
Panel display method
0.45 inch DLP™ chip x 1, DLP™ projection system
Pixels

1,039,680 pixels

Resolution

WXGA–comparable

Lens

2.2x Powered zoom (throw ratio 1.5–3.3:1), powered focus, F 2.0–2.7, f 15.2–32.7 mm

Electric zoom

1.5–3.3:1

Light source
Laser diode
Laser class: Class 2
Light-source life: 20,000 hours (At this time the brightness will have decreased to approximately half of its original level)
Brightness*3
1,000 lm
Center-to-corner
uniformity*3
80 %
Contrast ratio*3
1,000:1 (Full white/Full black)
Screen size
30–200 inches (0.76–5.08 m)
Scanning frequency

HDMI IN: 525p (480p), 625p (576p), 750 (720)/60p, 750 (720)/50p, 1125 (1080)/60p, 1125 (1080)/50p, VGA/60, SVGA/56, SVGA/60, XGA/60, SXGA/60, 1280 x 720/50, 1280 x 720/60, 1280 x 768/50, 1280 x 768/60, 1280 x 800/50, 1280 x 800/60, 1600 x 900/50, 1600 x 900/60

Optical axis shift
(from center of screen)
Vertical: 50 % (fixed)
Keystone correction
range
Vertical: ±40°, Horizontal: ±40°

TERMINALS

HDMI IN
HDMI 19-pin x 1, compatible with HDCP
LAN
RJ-45 x 1 for network connection, 100Base-TX, 10Base-T, compatible with PJLink™ (Class 1)
AUDIO OUTPUT

M3 x 1 (L-R x 1) for output (variable)

DC OUT
USB connector (Type A) x 1 for power supply (DC 5 V, maximum

900 mA

)
Card slot
SD Card slot*4

x 1 (Supports SDHC memory card)
Wireless LAN

IEEE802.11a/b/g/n

Cabinet materials
Molded plastic (white)
Weight*5
Approx. 7.3 lb (3.3 kg)
Operation noise*3
30 dB (Eco Mode), 36 dB (Normal Mode) [with ET-JPC100 mount]
32 dB (Eco Mode), 37 dB (Normal Mode) [with ET-JPF100 mount]

OPERATING ENVIRONMENT

Temperature*6
32–104 °F (0–40 °C)
Humidity
10% to 80% (No condensation)
Supplied accessories

Wireless remote control unit
Batteries for remote control (

R03/AAA or LR03/AAA x 2

)
Software CD-ROM (

Multi Monitoring & Control Software, Wireless Manager

)
Card slot cap
HDMI terminal cap
LAN terminal cap
Allen wrench
Connector secure lock

Compatible track
systems
—
---
Notes:
*1 When Standby Mode is set to Eco, network functionality (both wireless LAN and wired LAN) is not available.
*2 When Standby Mode is set to Network, network functions are restricted to projector operations via wired LAN using the Wake-on-LAN function.
*3 Measurement, measuring conditions, and method of notation all comply with ISO/IEC 21118:2012 international standards.
*4 Operations of the Panasonic SD memory card up to capacity of 2 GB and Panasonic SDHC memory card up to capacity of 32 GB are confirmed.
*5 Average value. May differ depending on the actual unit.
*6 The operating environment temperature should be between 0 °C (32 °F) and 35 °C (95 °F) when using the projector at elevations between 1,000 m (3,281 ft) and 2,700 m (8,858 ft) above sea level. When using the projector at elevations lower than 1,000 m (3,281 ft) above sea level, and the operating environment temperature becomes 35 °C (95 °F) or higher, the light output may be reduced to protect the projector. When using the projector at elevations between 1,000 m (3,281 ft) and 2,700 m (8,858 ft) above sea level, and the operating environment temperature becomes 30 °C (86 °F) or higher, the light output may be reduced to protect the projector.
Accessories
Downloads