Optoma UHZ65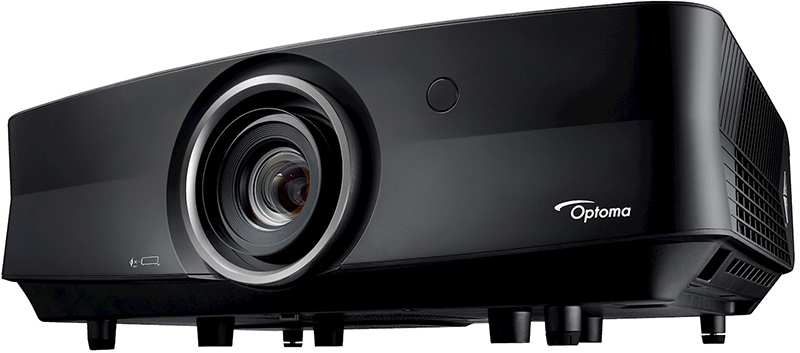 1-DLP Laser/Phosphor Projector, 3840x2160 4K UHD, 3000 Lumens, HDR10, DCI-P3, Vertical Lens Shift, D:W 1.39-2.22:1, 3 year warranty
Item #0601-3769
Model #UHZ65
Overview
The UHZ65 is a state-of-the-art 4K Ultra High Definition (UHD) projector for home cinema viewing capable of delivering incredibly sharp images with a high level of detail and breathtaking color. With 4 times the pixels of 1080p, an ultra high resolution of 3840x2160, 3000 lumens, and 2,000,000:1 contrast ratio, the UHZ65 has been engineered to deliver the ultimate 4K UHD home viewing experience. Its powerful laser phosphor light engine, High Dynamic Range in the form of HDR10, vertical lens shift and massive 1.6x Zoom, take image quality and use of the UHZ65 to world class, cinema-quality. The UHZ65 is powered by a revolutionary Texas Instruments 4K DLP UHD chipset with a high performance DMD utilizing XPR video processing technology with fast switching to display 8.3 million "distinct" pixels as mandated by the Consumer Technology Association's 4K UHD 2160p specification.
The UHZ65 can project 4K UHD images of 140+ inches, allowing viewers to sit as far a way as 11 feet from the screen and still enjoy the full 4K UHD pixel experience. The average 55-75 inch 4K UHD TV simply cannot match this, as viewers typically sit further away from their TV than the optimum viewing area of 4-6 feet. High Dynamic Range (HDR) is the true star of the 4K UHD show. HDR leverages wide color gamut with REC.2020 and DCI-P3 coverage to deliver luminous whites, deep black levels, and striking, like-life, real world color that was previously only possible at the movies.
The UHZ65's PureMotion technology dramatically enhances games, movies, and sports by eliminating noise, motion blur, and erratic movement in fast motion video, producing images that are clear, consistent, and smooth. In terms of at-home installation, a generous 15% vertical lens shift and a massive 1.6x optical zoom provide a great deal of flexibility, while dual stereo speakers generate audio that is loud and crisp. The UHZ65's light source provides a remarkable 20,000 hours, eliminating the need to replace the light source throughout the life of the projector.
Features
Larger-than-life 4K laser home viewing experience with stunning color and amazing clarity
Native 4K UHD 3840x2160 2160p, bright 3000 lumens, and a laser phosphor light source for for vibrant, vivid cinematic color and no lamps to change
HDR-compatible - HDR10 produces the brightest whites, deepest blacks, and striking, life-like colors courtesy of wide color gamut support featuring REC.2020 and DCI-P3 coverage
Dynamic Black delivers 2,000,000:1 contrast ratio for exceptional black levels
HDMI 2.0 and HDCP 2.2 deliver a full 18Gbps for the best 4K UHD video bandwidth, image quality and device compatibility
Vertical Lens Shift and 1.6x zoom for an intuitive and flexible installation
PureMotion technology eliminates noise, motion blur, and judder in fast motion video, producing clear and consistently smooth images
Stereo speakers and optical output to AV receiver delivers crisp and sharp audio
Accessories
Downloads
Warranty
3-year Optoma Express Service