Optoma EH470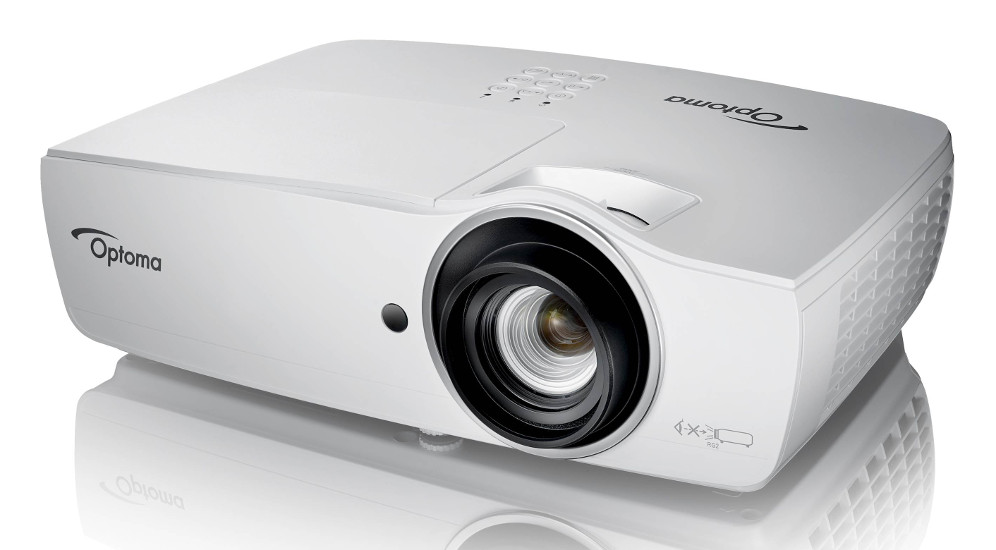 DLP Projector, 1080p, 5000 Lumens, D:W 1.39-2.09, 2-Year Warranty
Item #0601-3906
Model #EH470
Overview
Optoma EH470
Full HD 1080p, Bright and Powerful
This Full HD 1080p projector is ideal for meetings and classroom. 5,000 ANSI lumens deliver ultra-bright images for optimum visibility, and a wide range of inputs allow you to effortlessly connect to devices such as computers and tablets.
Give hassle-free and cable-free presentations from a USB stick using the built-in photo and document viewer. You can even give presentations wirelessly from a mobile device using the optional wireless dongle. Additionally, a built-in 10 W speaker enables clear and loud audio.
For ultimate control, the projector comes with RJ45 connection allowing you to monitor and control your network in multiple rooms.
Key Features:
Bright Full HD 1080p projector — 5,000 ANSI Lumens
Ultimate Control

—

Crestron, Extron, AMX, PJ-Link and Telnet LAN commands
Easy connectivity

—

2x HDMI + MHL, RJ45, USB Power, 12V Trigger
Quality audio featuring 10 W speaker
Features
Full HD 1080p: 1080p resolution gives you sharp and detailed images from HD content without downscaling or compression; perfect for watching Blu-ray movies, HD broadcasting and playing video games.
Amazing colors: Give powerful presentations and educational lessons with stunning colors. Optoma projectors provide reliable color performance suitable for any content and environment, from accurate sRGB colors for lifelike images to vibrant punchy presentations. We have a display mode to specifically meet your needs, perfect for a range of graphic and video presentations.
Superior contrast: Add more depth to your image with a high contrast projector. Compared to competing technology, Optoma DLP projectors provide brighter whites and ultra-rich blacks. Images come alive and text appears crisp and clear — ideal for business and education applications.
Native office viewer: Give presentations directly from your projector without the need of a laptop or PC using the built-in office viewer. Simply copy your Word, Excel, PowerPoint, PDF or JPEG files to a USB stick, SD card or microSD* and display them on the big screen. (*See projector specs for a full list of inputs.)

Wireless presentations: Instantly connect and present wirelessly from your PC, Mac or mobile device using the free App HDCast Pro* and optional wireless USB dongle. The app gives you the freedom to wirelessly share and present documents, photos and share images from your device's camera, creating a more connected and collaborative experience for everyone. (*Available on Windows, MacOS, Android and iOS.)

Four corner correction: Adjust the keystone in both the vertical and horizontal plane. You can individually warp each corner of the image to create a perfectly square image. Ideal for uneven walls or where projector placement is awkward and needs to be installed at an angle.
Full 3D: Optoma projectors can display true 3D content from almost any 3D source, including 3D Blu-ray players, 3D broadcasting and the latest generation game consoles.
Integrated speaker: A powerful built-in speaker provides exceptional sound quality and an easy setup without the need for costly external speakers.
USB-Power: Use the USB-A port to power an HDMI dongle, such as Google Chromecast.
MHL: Turn your projector into a smart display by connecting your smartphone or tablet with a single cable using MHL. Now you can view presentations and documents, stream videos, and share photos on the big screen.
Control: a wide range of options let you control and monitor the projector remotely:

RS232: Optoma projectors come with an extensive set of RS232 commands, making them simple and easy to manage using any control system.
AMX Compatibility: Dynamic discovery protocol is incorporated into the projector allowing for easy installation with AMX control systems.
LAN Control: Using the compatible RoomView® software, you can power on/off, monitor, manage and control up to 250 projectors at the same time from any computer. • Schedule the projectors to power on/off. • Control and alter the projector settings using the simple web browser. • Emergency text broadcast capabilities for urgent or important announcements. • Automatically receive email updates for lamp maintenance.
LAN Display: Display your PC or laptop screen on the projector via the network connection. (HDCast Pro app required on your device.)
24/7 operation: Optoma projectors have been designed to operate 24 hours a day in standard orientation. Perfect for applications where prolonged periods of use is required. Subject to 24 hour terms and conditions.

(Standard lamp warranty applies. Projector warranty is based on standard business usage hours. For optimum performance Optoma recommends that your projector is turned off or placed in standby mode for 30 minutes every 24 hours to prolonging the life of your lamp.)
Eco+ Features
Eco+ technology brings together high contrast, improved lamp life and energy saving features that are easy to use while reducing power consumption.
Energy saving: Using the specially designed lamp modes, you can reduce the power consumption by up to 70%. Each mode also has a positive effect on the lamp life, while lowering the total cost of ownership and reducing maintenance.
Auto power off: To help save energy, this feature automatically turns off the projector after a set period of time if it is not being used
Eco AV mute: Direct your audience's attention away from the screen by blanking the image when no longer needed. This also reduces the power consumption by up to 70%, further prolonging the life of your lamp.
Quick resume: This feature allows the projector to be instantly powered on again, if it is accidentally switched off.
Specifications
DISPLAY/IMAGE
Display Technology
DLP

Resolution

1080p Full HD (1920x1080)

Brightness

5,000 lumens

Contrast ratio

20,000:1

Native aspect ratio

16:9

Aspect ratio - compatible

4:3

Keystone correction

Horizontal: ±25°
Vertical: ±30°

Horizontal scan rate

15.375 ~ 91.146 Khz

Vertical scan rate

24 ~ 85 (120 for 3D) Hz

Uniformity

75%

Screen size

25.9" ~ 324.9" diagonal
LAMP INFO
| | |
| --- | --- |
| Light source type | Lamp |
| Lamp watts | 285 |
| Lamp life hours (up to) | 2500 (Bright), 4500 (Dynamic), 3500 (Eco), 4500 (Eco+) |
OPTICAL
| | |
| --- | --- |
| Throw ratio | 1.39:1 ~ 2.09:1 |
| Projection distance | 47.24" – 393.7" |
| Zoom | 1.5 |
| Zoom type | Manual |
| Focal length | 20.7 ~ 31.05 mm |
| Native offset | 115% |
CONNECTIVITY
| | |
| --- | --- |
| Inputs | 1 x HDMI 1.4a 3D support, 1 x HDMI 1.4a 3D support + MHL, 1 x VGA (YPbPr/RGB), 1 x Audio 3.5 mm, 1 x USB-A reader |
| Outputs | 1 x VGA (YPbPr/RGB), 1 x Audio 3.5 mm |
| Control | 1 x USB-A wireless, 1 x RS232, 1 x RJ45, 1 x 12V trigger, 1 x mini USB mouse/service |
GENERAL
Noise level (typical)

29 dB

Noise level (max)

31 dB

PC compatibility

FHD, UXGA, SXGA, WXGA, HD, XGA, SVGA, VGA, Mac

2D compatibility

NTSC M/J, 3.58MHz, 4.43MHz PAL B/D/G/H/I/M/N, 4,43MHz SECAM B/D/G/K/K1/L, 4.25/4.4MHz 480i/p, 576i/p, 720p(50/60Hz), 1080i(50/60Hz), 1080p(50/60Hz)

3D compatibility

Side-by-Side:1080i50 / 60, 720p50 / 60 Frame-pack: 1080p24, 720p50 / 60 Over-Under: 1080p24, 720p50 / 60

3D

Full 3D

Security

Security bar, Kensington Lock, Password protected interface

OSD / display languages

25 languages: Arabic, Czech, Danish, Dutch, English, Farsi, Finnish, French, German, Greek, Hungarian, Indonesian, Italian, Japanese, Norwegian, Polish, Portuguese, Romanian, Russian, Chinese (simplified), Spanish, Swedish, Chinese (traditional), Turkish, Vietnamese

Operating conditions

5°C ~ 40°C / 41°F ~ 104°F, Max. Humidity 85%, Max. Altitude 3000 m

Remote control

Data remote with laser and mouse function

Speaker count

1

Watts per speaker

10 W

In the box

AC power cord




Remote control


2x AA batteries


Basic user manual

Optional wireless models

QuickCast Bundle, QuickCast starter kit, WHD200, WUSB
NETWORKING
| | |
| --- | --- |
| LAN - control | Yes |
| LAN - display | Yes |
| LAN - wireless networking | Yes - optional |
POWER
| | |
| --- | --- |
| Power supply | 100 ~ 240 V, 50 ~ 60 Hz |
| Power consumption (standby) | 0.5 W |
| Power consumption (min) | 290 W |
| Power consumption (max) | 350 W |
WEIGHT AND DIMENSIONS
Dimensions
(W x D x H)

13.58" x 8.5" x 4.29" (345 x 216 x 109 mm)

Gross weight

9.11 lb (4.13 kg)

Net weight

6.5 lb (2.94 kg)
Accessories
Downloads
Warranty
Optoma 2-Year Limited Projector Extended Warranty
The terms and conditions are applicable to the Optoma 2 year limited projector warranty purchased for Optoma projectors product sold by Optoma Technology, Inc. in the United States and Canada.
Optoma products sourced outside of these regions are not covered by this warranty.
A list of projector models to which this warranty can be applied is available on the warranty page in the support section of the Optoma website: www.optoma.com/us/
Please note that the Projectors are designed to have a life of more than 2 years provided that the Projector is operated in accordance with the instructions in the User Manual.
Warranty and Warranty Period Optoma Technology, Inc. ("Optoma") provides the Projectors are free from defects in materials, design and workmanship for two years from the date of purchase or 12,000 operational hours of the Projector, whichever comes first ("Warranty").
This Warranty applies to you being the purchaser or end-user of the Projector.
Optoma warrants to you that if during the first two years from the date of purchase or 12,000 operational hours of the Projector, whichever comes first ("Warranty Period") the Projector does not comply with the Warranty, Optoma or an Optoma authorized service company will, in a commercially reasonable time, remedy defects in materials, design and workmanship free of charge by repairing, or should Optoma in its discretion deem it necessary, replacing the Projector in accordance with this Warranty (unless otherwise required by law). This Warranty is only valid and enforceable in the country where you have purchased both the Warranty and the Projector provided that Optoma has intended the Warranty is for sale in that country and applies only to the Warranty distributed by Optoma or its authorized dealers. Optoma will process each valid claim as quickly as practicable within the constraints of operational procedures. Optoma shall not be held responsible or liable for any loss, financial, consequential or otherwise, howsoever caused due to any delay whatsoever in the supply of a refurbished or replacement Projector under this Warranty.
The Warranty must be purchased within 90 days from the Projector purchase date. The Warranty Period starts at the time of the Projector's original purchase by the first end-user.
This Warranty extends any Projector warranty terms or warranty period in the Optoma limited warranty document applicable to the original Projector.
The Warranty Period will not be extended or renewed or otherwise affected due to:
a. Subsequent resale; or
b. Optoma authorized repair; or
c. Optoma authorized replacement of the Projector
Product failure within 30 days of purchase Should the Projector fail due to a manufacturing fault within 30 days from the date of purchase, please immediately return the unit to the point of purchase for replacement with a new unit. This is to protect your consumer rights.
It is your responsibility to return the unit in its original "new" condition, with no cosmetic marking or damage and with all packaging and all accessories included.
Should you prefer a warranty repair, please follow the warranty procedure mentioned below.
How to get warranty service The Warranty service is subject to notifying Optoma or an Optoma authorized service company of your complaint within one (1) month of it having come to your attention and in any event no later than the expiration date of the Warranty Period. To notify Optoma or an Optoma authorized service company, contact Customer Service in the Support section of the Optoma Website: www.optoma.com/us/support/warranty-and-return-policy.
When making a claim under this Warranty you will be required to provide:
a. The Projector.
b. The original proof of purchase of the Projector and the Warranty, which clearly indicates the name and address of the seller, the date and place of purchase, the product type and the serial number of both the Warranty and the Projector.
If Optoma deems warranty service of the Projector or warranty replacement of the Lamp is required, Optoma will issue a Return Material Authorization (RMA) number. You must fill in a RMA form and submit, using the Support / RMA Procedure section on our website: https://www.optoma.com/us/support/rma-procedure/
You must ship the Projector back to Optoma in the original or equivalent packaging, prepay shipping charges (unless you are advised otherwise) and insure the shipment or accept the risk of loss or damage during shipment. On receipt, Optoma will test the Projector and if it is deemed to be faulty will repair or replace the Projector. Optoma will dispose of the defective Projector parts or if a replacement is made, the complete Projector in an environmentally friendly manner and will ship the refurbished or replacement Projector to you freight prepaid.
What is not covered?
Projectors and products that are not genuine Optoma products.

This Warranty does not cover a) defects caused by rough handling (including, without limitation, defects caused by sharp items, by bending, striking compressing or dropping, etc.), or b) defects or damage caused by misuse of the Projector, including use that is contrary to the user manual instructions provided by Optoma.

This Warranty is invalid if the either Projector or Lamp have been opened, modified or repaired by anyone other than an Optoma authorized service center, if it is repaired using unauthorized spare parts or if the Projector/Lamp serial number or date code has been removed, erased, defaced, altered, modified or are illegible in any way and this shall be determined at the sole discretion of Optoma.

This Warranty is invalid if the Projector and/or Lamp has been exposed to moisture, to dampness or to extreme thermal or environmental conditions or to rapid changes in such conditions, to corrosion, to oxidation, to spillage of food or liquid or to influence from chemical products.

This Warranty is invalid if the Projector is operated in an excessively dirty or dusty environment or if it has not been regularly maintained to keep the air intakes free of obstruction.

This Warranty is invalid if the Projector is shut down incorrectly thereby not allowing the Projector to be shut down in a predetermined, controlled manner. Some Projector models that support a feature called "Direct power off" are excluded from this clause. Projector models to which this applies are identified in the product specifications.

This Warranty is invalid if damage was caused by negligence or failing to carry out appropriate maintenance by the buyer, his customer, the end user, or in case of an act of God, natural occurrences or during transport.

Installing a non "Optoma genuine lamp module" in an Optoma Projector may invalidate this Warranty. Repairs resulting from damage done by a copy or counterfeit lamp module will not be covered under your Optoma warrant.
Other important notices This Warranty applies exclusively to complete failure of the Projector and is not applicable to normal wear and tear such as reduced brightness over time.
The user is advised that Lamps are classed as consumable items. Optoma gives no guarantee that the expected life will always be achieved.
Optoma reserves the right, at its absolute discretion, to determine the validity of any Warranty claim. Optoma's decision will be final.
All parts of the Projector or other equipment that Optoma has replaced shall become the property of Optoma. If the Projector is found not to be covered by the terms and conditions of this Warranty, Optoma and its authorized service companies reserve the right to charge a handling fee.
Statutory Rights - Optoma makes no other warranty, guarantee or like statement other than as explicitly stated above and this Warranty is given in place of all other warranties whatsoever, to the fullest extent permitted by law. In the absence of applicable legislation, this Warranty will be the end user's sole and exclusive remedy against Optoma and Optoma shall not under any circumstances be liable, either expressly or impliedly, for any other indirect or consequential loss arising from negligence, breach of contract, or howsoever.
This Warranty does not impair or affect mandatory statutory rights of the end user against and/or any rights resulting from other contracts concluded by the end user with Optoma and/or any other seller.
Optoma is not responsible or liable for any technical, projector, software, server, website or other failures or damage of any kind to the extent that this prevents the end-user from, or otherwise obstructs in, exercising a claim under this Warranty.
Optoma will at all times adhere to the applicable laws and regulations when processing any personal data received pursuant to this Warranty.
Optoma reserves the right to audit all claims to ensure that these terms and conditions have been met and to request additional information or supporting documents regarding any claims.
Optoma will not provide warranty repair for Projector outside its warranty period. However, the Projector requiring repair that is outside the Warranty Period can be repaired by an Optoma authorized service center. This work will be chargeable.
Limitation of Liability - It is understood and agreed that Optoma's liability whether in contract, in tort, under any warranty, in negligence or otherwise shall not exceed the return of the amount of the purchase price paid by the end-user and under no circumstances shall Optoma be liable for special, indirect, financial, incidental or consequential damages or lost profits, lost revenues or lost savings. The price stated for the products is a consideration in limiting Optoma's liability.