Casio XJ-M241
DLP Laser/LED Hybrid Projector, 1280x800 WXGA, 2500 Lumens, 3D, 5W Audio, V Keystone, D:W 1.32-1.93:1, 3 Year Warranty
Part #: 0601-4339 Mfr #: XJM241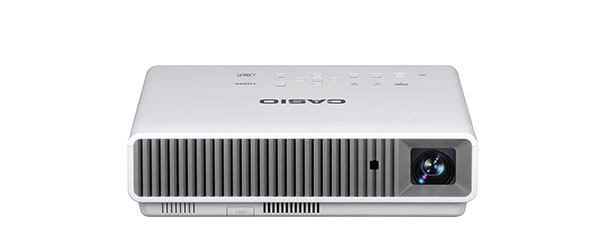 Overview
The Casio Signature Model Projectors have increased I/O connectivity, are DLP 3D-ready and have auto brightness adjustment to save power and reduce eye fatigue.

The USB models allow Wi-Fi connectivity so users can display wireless presentations from a laptop or by using MobiShow, a smart phone application where presentations can be made using a mobile device.
Features
Laser & LED hybrid light source supporting high-brightness projection without mercury

Casio has applied its unique new laser & LED hybrid light source to achieve breakthrough development of a mercury-free high-brightness projector. Adopting a new semiconductor-based light source system combining a blue laser, phosphor, and a red LED, we have achieved both high-brightness performance enabling projection in well-lit rooms and environmental friendliness with mercury eliminated from the light source.

Approximately 20,000-hour long-life light source with less brightness degradation

The light source's life of approximately 20,000 hours far outshines that of conventional projectors that require mercury lamp replacement. It saves maintenance labor and contributes to a significant reduction in operating costs. Moreover, since brightness degradation is more gradual than with mercury lamps, it maintains vivid image quality through long-term use.

Enhanced beauty and realism: a further leap forward in color reproduction

The dramatic improvement in color purity achieved by the new light source has significantly improved color reproduction. Not only are the colors clearer and more beautiful, but the projected images also look brighter due to the visual effects of the high-purity colors. Users benefit from clearer, more powerful images than conventional projectors can achieve.

Vertical positioning expands the scope of use

The projector's ability to project images straight up or down facilitates creation of visual presentations with high-impact advertising effects, such as promotions projected onto the floor of a conference hall or presentations using a showroom ceiling.

Smart wireless presentations (C-Assist)

Wireless communication from a smartphone or tablet with the C-Assist dedicated app enables control of projected images, real-time projection of images from a camera, projection of browser pages, and remote PC operation. The scope of available presentation styles is broadened dramatically.

Centralized control and remote operation functions

The projector can be controlled from a PC using an RS-232C connection or wired LAN, with centralized control of all terminals on the network enabled. The main projector unit is equipped with a key lock that disables all operations except power ON/OFF to prevent unauthorized use and improper operation.

Internal memory for PC-free presentations

Presentation materials stored in the (2GB) internal memory can be projected without a PC. Operators can project still or moving images as well as files in PDF (and other) formats without conversion. Operation can be conducted with the bundled remote controller or a smartphone.
Specifications
Native Resolution — WXGA (1200 x 800)
Native Aspect Ratio — 16:10
Brightness — 2500 Lumens
Display Device — 0.65-inch DLP® chip
Contrast Ratio — 1800:1
Light Source — Casio laser & LED hybrid
Estimated light source life — up to 20,000 hours
Throw Ratio — 1.32-1.93:1
Inputs — (1) composite, (1) HD-DB15/component, (1) HDMI
Keystone Correction — auto +30° vertical; manual +/-30° vertical
Dimensions (WxDxH) — 12.24" x 9.61" x 3.31" (incl. projections); 12.24" x 9.61" x 3.23" (excl. projections)
Weight — 8.6 lbs
Downloads
Warranty
3-year warranty on the projector and 3 years (or 6,000-hour usage) on the light source.