Panasonic PT-RZ16KU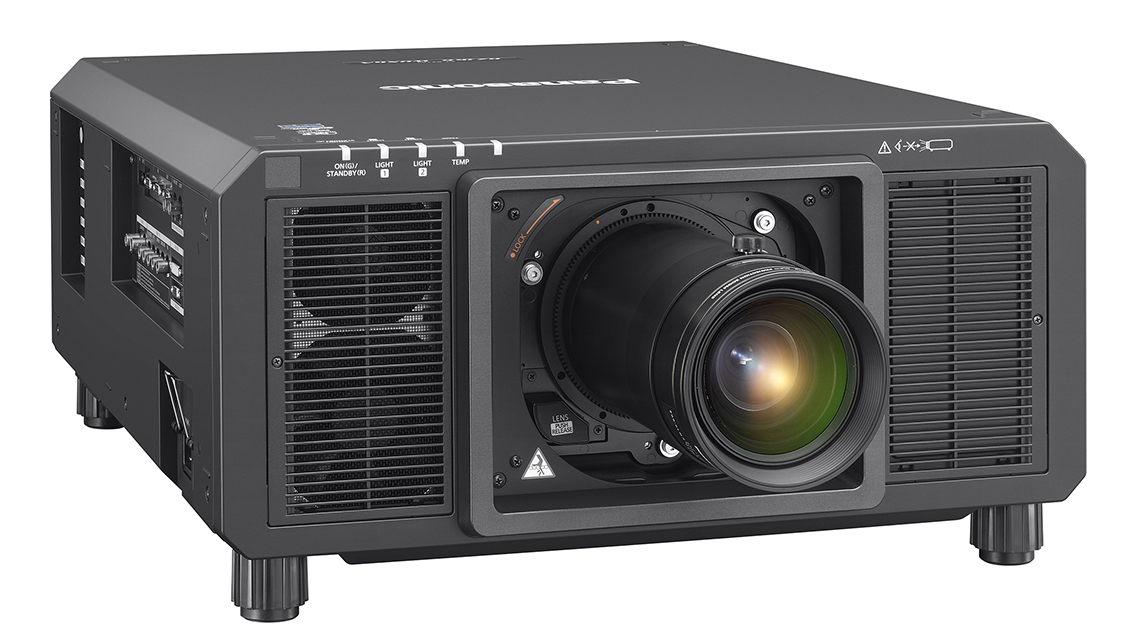 Laser 3-DLP Projector, WUXGA, 16K Lumens, No Lens, 3 year warranty
Item #0600-7176
Model #PTRZ16KU
Overview
Panasonic PT-RZ16KU
Unparalleled flexibility and professional 3-Chip DLP™ projection for almost any venue
Project at a full 16,000 lumens brightness on standard AC 100–120 V power and unlock 3-Chip DLP™ imaging performance at your venue. Smart Projector Control app, Free Grid, and optional upgrade kits for Geo Pro smooth the way to a stress-free installation.
With DLP™ chips reproducing R/G/B independently and stable brightness from dual laser-phosphor drives, colors are deep, accurate, and uniform. Image quality is striking with precise Dynamic Contrast modulation. The PT-RZ16KU successfully emulates BT.2020 for lifelike HDR.
Filterless cooling and hermetically sealed optical engine contribute to 20,000 hours of maintenance-free projection while laser failover circuitry, Multi Monitoring & Control Software, and backup input add insurance against unexpected interruptions.
Features
Streamlined Installation with AC 100–120 V
Full-Brightness Projection on AC 100–120 V Power: Most 3-Chip DLP™ projectors need AC 200–240 V to operate at full brightness, limiting opportunities for installation in venues where commercial voltages are unavailable. PT-RZ16KU changes the game by supporting projection at full brightness on standard AC 100–120 V power, bringing deep 3-Chip DLP™ color to houses of worship, banquet halls, and exhibitions. There is no need to rewire the venue or install other specialized infrastructure, saving time, resources, and hassle.
Smart Projector Control App: a remote application for iOS and Android™ devices that can be used to adjust, control, and monitor up to 64 projectors individually or simultaneously from anywhere within range of the wireless network. You can use the app to switch the unit on or off, select an input signal, and adjust the projector's OSD menu settings via your device's touchscreen while the projector is in standby or powered up with the shutter on. Installers can avoid setup delays by adjusting settings via smartphone whenever OSD menu projection is inconvenient, such as immediately before a presentation starts. As well as enabling OSD menu operations, the app can be used to adjust lens settings, select test patterns, and focus the projection using your phone camera*1

from distances of up to 30 m*2

(98 ft) away.
*1 Some devices do not support projector autofocus function.
*2 When projecting a 300-inch image. Maximum distance is 3 m (10 ft) for a 100-inch image.
Built-in Geometric Adjustment Functions: a suite of functions built into the projector that are operated via the projector remote control. The projectionist can easily correct distortion when images are projected at an angle, onto curved screens, uneven surfaces, or over wall obstructions. Correction extends to spherical, cylindrical, and other complex screen shapes without need of a connected PC. Maintain Aspect Ratio and independent Corner Adjustment simplify correction while the ability to save image-adjustment data is invaluable whenever correction settings needs to be disabled and reapplied, and for saving work progress as an adjustment profile is created.
Free Grid Function: simplifies operation of Geometric Adjustment. Using only the projector remote control, installers can correct image distortion caused by uneven surfaces or irregular objects on flat or curved screens. A grid is overlaid on the projected image, allowing users to reshape distorted areas by adjusting the position of node or V/H line control-points. Grids of between 2 x 2 and 17 x 17 lines are selectable according to required granularity, and work progress is saved automatically so you can move freely between grid resolutions. Adjustment speed can be altered by tapping or holding the remote keys. Grid and control-point colors are selectable to ensure clear visibility over the projected image. Free Grid approaches the precision and convenience of software-based solutions in situations where PC connection isn't practical.
Geometry Manager Pro software for Windows® PC: You can control and calibrate the projector from your laptop via Ethernet. The software expands built-in Geometric Adjustment functions and makes complex correction easy with Free Grid. Software-based tools for multi-screen calibration include color-matching, brightness control, color uniformity, black-level, and input-signal adjustment. Expanded and additional functions unlock with optional upgrade kits. Geometry Manager Pro Software Upgrade Kit (ET-UK20) extends the adjustment range of key functions and offers finer grid resolutions. It adds creative line- and bitmap-masking capabilities. Auto Screen Adjustment Upgrade Kit (ET-CUK10) automates the multi-screen calibration process via camera. Geometry Manager Pro supports limited control commands and OSD menu operations via PC. It can perform lens adjustments and can save three complete image-adjustment data-profiles.
Multi-Screen Support System: Optimally adjusts multiple screens with edge blending, color matching, and digital image enlargement.

Edge Blending: Edges of adjacent screens can be blended and their brightness controlled.
Color Matching: Corrects color reproduction variations of each projector via PC control software.
Digital Image Enlarging: Digital zoom up to 10X (H/V*). Up to 100 images (10 x 10) can be edge-blended to create a large multi-screen image.
* While input resolution will not change, maintaining image quality is not possible for images enlarged horizontally and vertically via the digital zoom function.
Data-Cloning Function: allows various settings and configuration data*1

to be copied from a main projector to up to 99 sub projectors*2. Alternatively, the data can be cloned to sub projectors via LAN. This feature simplifies and expedites the setup process for multi-unit projection applications.
*1 Excludes passwords, projector name/ID, and network settings.
*2 Data-cloning function supported on identical projectors only.
Quick Start and Quick Off: Laser light-source doesn't require time to warm up, so images appear almost instantly. There's no cool-down required when turning the power off at the mains or room breaker.
7-Segment LED for Easy Setup: A convenient 7-segment LED panel adjacent to the projector's controls streamlines setup. You can use it when entering the projector's IP address while the projector is on or in standby, or to confirm AC voltage. It also displays error codes for swift diagnosis of trouble.
Compatible with the Panasonic 3-Chip DLP™ Projector Lens Lineup: Share optional lenses between Panasonic 3-Chip DLP™ projectors in your inventory. Our wide selection comprises fixed and zoom lenses covering throw-ratios between 0.364:1 and 13.8:1 for seamless adaption to venues of any scale. Lens lineup includes our groundbreaking ET-D3LEF70 Fisheye Lens for dome projection, new ET-D3LEU100 Ultra-Short-Throw Lens (0.370:1, WUXGA), and ET-D3LEW200 Short-Throw Zoom Lens (0.645–0.850:1, WUXGA). Glass lenses produce spectacular images from short throw-distances with zero offset, eliminating the gap between the edge of the image and projector's mounting surface. Both equip wide-range powered Vertical and Horizontal Lens Shift, while the ET-D3LEW200 increases location flexibility with powered optical zoom. (See Accessories tab.)
Superior Color Accuracy with High Contrast
Accurate 3-Chip DLP™ Imaging is Ideal for Multi-Screen Applications: Discrete DLP™ chips reproduce each R/G/B color channel independently, eliminating need of a color-wheel and delivering superior color accuracy with requisite uniformity for professional multi-screen projection. Get an edge in vibrancy, depth, and contrast over alternative projection solutions in this brightness category. Manufacturing processes assure higher consistency between imaging devices. Color reproduction differences between projectors of the same model are virtually indistinguishable. Uniform colors on individual screens and among multiple screens in a system makes it easier to blend overlaps for a seamless widescreen image across all screen surfaces.
90% Brightness Uniformity: Experience superior brightness uniformity thanks to accurate white balance control. Uniformity is greater than 90% when measured at screen corners, edges, and center.
Wide-Gamut Color Reproduction: SOLID SHINE Laser projectors with 3-Chip DLP™ imaging technology capture a wider color space than alternative laser projection technologies. Wide color gamut reproduction improves white-balance precision for more accurate color.
Dynamic Contrast: analyzes the input signal frame-by-frame and directly adjusts the amount of light produced by the light source according to the contrast requirements of each scene. As well as increasing precision, Dynamic Contrast more accurately reproduces scenes where light and dark images frequently interchange. The amount of adjustment applied can be set via OSD menu to suit projection application, environment, and content. Contrast parameters can also be customized and saved as a USER preset, or Dynamic Contrast disabled.
Contrast Sync and Shutter Sync Function: Contrast Sync synchronizes Dynamic Contrast among multiple projectors via BNC or RS-232C for consistent picture quality across multiple screens. Shutter Sync, meanwhile, synchronizes shutter on/off timing for professional fade-in/fade-out effects.
Noise-Reduction for Optimal HDR Reproduction: PT-RZ16KU successfully emulates BT.2020 color-space for accurate reproduction of High Dynamic Range (HDR) video content. The projector equips a new noise-reduction technology targeting dark areas of HDR images which are susceptible to noise if inferior projection equipment is used. The processor effectively eliminates noise without decreasing highlight brightness so viewers can experience spectacular HDR video unspoiled by noisy blacks.
Detail Clarity Processor 5: Proprietary circuitry analyzes individual video frames to identify and clarify areas of the image that contain fine details and textures. Algorithms pull information from super-high to low frequency bands to sharpen outlines, correct contours, and reduce ringing noise.
System Daylight View 3: premium implementation of Panasonic's System Daylight View technology that supports six levels of user-selectable adjustment. It combats the effect of ambient light on the projected image, preventing washout, and boosts color impact in projection-mapping applications. Sharpness, gamma curves, color, and brightness are all optimized to suit on-site conditions.
Multi-Unit Brightness and Color Control: The projector can be configured to automatically measure and correct color and brightness apparent on screen at periodic intervals, maintaining multi-screen image uniformity and saving resources by eliminating need for manual recalibration.
Flexible Black-Level Adjustment (NEW!): Edge-blend uniformity on curved screens is difficult to achieve with line-based black-level border adjustment. Warped image-edges result in unequal blend-widths, and a lack of uniformity in overlapping areas is exposed when dark scenes are projected. PT-RZ16KU gains new black-level calibration that allows black borders to be reshaped to suit screen curvature using up to 17 control points in much the same way as our Free Grid function. Adjacent images can be matched within a 0.5-dot margin — ideal for 4K video projection — while a wider range of adjustment in finer increments is also enabled.
High Reliability for Interruption-free Projection
Lasting Picture Quality: SOLID SHINE Laser delivers consistently stable brightness over extended periods of operation. As well as being an uncommonly reliable light source, lasers do not degrade at the same rate as lamps, and don't need maintenance for 20,000 hours*. While brightness from lamp-based projection systems typically degrades exponentially before flattening out, SOLID SHINE Laser's brightness ramp is flat and linear with out-of-the-box brightness lasting longer. Brightness and color uniformity are outstanding thanks to hermetically sealed optical block engineered to exceed the industry's toughest dustproofing guidelines.
* Around this time, light output will have decreased by approximately 50%. IEC62087: 2008 Broadcast Contents, Normal Mode, Dynamic Contrast [3], temperature 35 °C (95 °F), elevation 700 m (2,297 ft) with 0.15 mg/m3 of airborne particulate matter. Estimated time until light output decreases to 50% will vary depending on environment.

Dual Laser Drive with Failover Circuitry: Dual Laser Drive groups laser diodes into two discrete modules. When a single diode fails in some competitive laser projector models, the circuit supplying electricity to other diodes in the module is broken and the whole module fails, resulting in a dramatic loss of brightness on screen. If the same problem occurs on the PT-RZ16KU, Panasonic's original Failover Circuitry confines the problem to the affected series of diodes and keeps the module up and running. Brightness loss is imperceptible. Module redundancy allows projection to continue in the unlikely event a whole module fails. These technologies provide peace of mind in mission-critical situations when image display cannot be interrupted.
Filterless Cooling for 20,000-hour Maintenance-free Operation: PT-RZ16KU does not need a filter, contributing to 20,000 hours* of maintenance-free operation. Filterless design is possible with hermetically sealed optical block and refined heat-pipe-based cooling system featuring an optimized one-way airflow path. The projector can operate continuously 24/7 even in dusty, high-traffic environments such as banquet halls and houses of worship, significantly reducing TCO and the need to stock inventories of consumable parts.
* Around this time, light output will have decreased by approximately 50%. IEC62087: 2008 Broadcast Contents, Normal Mode, Dynamic Contrast [3], temperature 35 °C (95 °F), elevation 700 m (2,297 ft) with 0.15 mg/m3 of airborne particulate matter. Estimated time until light output decreases to 50% will vary depending on environment.
Backup Input Guarantees Image Display: This projector is equipped with an automatic backup input-switching function. If signal transmission to a preassigned primary input fails, the projector switches to a fixed backup input automatically without screen-blanking. When communication is restored, the projector switches back to the primary input. This feature is invaluable when uninterrupted projection is of critical importance, such as for multi-screen applications.
Note: input signals to both primary and backup inputs must be identical.
Multi Monitoring & Control Software: This management software for Windows®

allows operators to monitor and control up to 2,048 Panasonic or PJLink™-compatible display endpoints of any brand effortlessly from a laptop via Ethernet. The software supports playlist delivery, device monitoring with system-map visualization, and control of individual or grouped devices in real time or automatically to a set schedule.
Early Warning Software: this software is bundled with your Multi Monitoring & Control Software download and is available to trial free for 90 days before optional activation with a paid license key. Administrators can monitor the status of display endpoints connected to the local network in real time via laptop and monitor assets while offsite via smartphone or tablet and a VPN. Early Warning software immediately notifies the operator when a playback or device error is detected, minimizing downtime and enhancing display reliability. It can also detect early symptoms of trouble and alert the operator before a problem can develop, and sends reminder alerts when scheduled maintenance is due. Screen monitoring with a compatible IP camera is supported. Data is visualized in an intuitive UI and the software can also automatically generate and export operational history reports as a text file. The software reduces maintenance and simplifies management of A/V networks of any scale.
Other Features
Frame Interpolation for 120 fps Motion Reproduction: Real Motion Processor increases native 60 fps footage via dual SDI or DVI-D/HDMI® simultaneous input to 120 fps for smooth and realistic motion rendering. This sophisticated frame interpolation technology enables lifelike reproduction of action sequences without motion blurring or stuttering through slow-panning shots. Refined optics further enhance focusing precision, retaining very high levels of detail.

Free 360° Installation: PT-RZ16KU can be installed at any vertical and horizontal angle — including straight up and straight down. Mount the projector at any angle required to achieve maximum coverage over complex screen surfaces in projection-mapping applications. Use Portrait Mode to fill narrower spaces that can't accommodate an image in landscape orientation.

Single-Cable DIGITAL LINK Solution: DIGITAL LINK is based on HDBaseT™ and can transmit uncompressed Full HD video and control commands through a CAT 5e or higher STP cable for distances of up to 150 m (492 ft)*. Optional ET-YFB200G DIGITAL LINK Switcher or ET-YFB100G Digital Interface Box simplify installation, reduce cabling and associated costs, and enhance reliability.

* 150 m (492 ft) transmission available only with ET-YFB200G DIGITAL LINK Switcher for signals up to 1080p.

3D Projection Capability: This projector is compatible with active 3D projection technology.
Additional Features
Laser Safety Guaranteed
Art-Net DMX, Crestron Connected™, and PJLink™
DICOM Simulation Mode
Waveform Monitor Function
Power management system
Specifications
Projector type

3-Chip DLP™ projector

DLP™ CHIP

Panel size

24.4 mm (0.96 in) diagonal (16:10 aspect ratio)

Display method

DLP™ chip x 3, DLP™ projection system

Number of pixels
2,304,000 (1920 x 1200 pixels) x 3
Light source
Laser diode
Light output

16,000 lm

*1

/16,800 lm (Center)

*2
Time until light output declines to 50 %*3

20,000 hours (Normal), 24,000 hours (Eco)

Resolution

WUXGA (1920 x 1200 pixels)

Contrast ratio*1

20,000:1 (Full On/Full Off, Dynamic Contrast [3])

Screen size (diagonal)

1.78–25.4 m (70–1,000 in), 1.78–15.24 m (70–600 in) with ET-D75LE8/ET-D3LET80, 3.05–15.24 m (120–600 in) with ET-D75LE95, 5.08–15.24 m (200–600 in) with ET-D3LEU100/ET-D3LEW200

Center-to-corner zone ratio*1
90%
Lens

Optional (no lens included with this model)

LENS SHIFT*4 (From the origin point of the lens mounter)
Vertical

±55% (+68 to +78% with ET-D75LE95, ±48% with ET-D3LEW200, ±44% with ET-D75LE6/ET-D3LEW60) (powered)

Horizontal

±20% (±15% with ET-D75LE6/ET-D3LEW60/ET-D3LEW200, ±12% with ET-D75LE95, 0 to +25% with ET-D3LEU100) (powered)

Keystone correction range

Vertical: ±40° (±28° with ET-D75LE6/ET-D3LEW60, ±22° with ET-D3LEW50, ±15° with ET-D3LEW200, ±8° with ET-D3LEU100, +5° with ET-D75LE95),
Horizontal: ±15° (±5° with ET-D3LEU100/ET-D3LEW200, 0° with ET-D75LE95)

Keystone correction range with optional upgrade kit (ET-UK20)

Vertical: ±45° (± 40° with ET-D75LE10/ET-D3LEW10/ET-D75LE20/ET-D3LES20, ±28° with ET-D75LE6/ET-D3LEW60, ±22° with ET-D3LEW50, ±15° with ET-D3LEW200, ±8° with ET-D3LEU100, +5° with ET-D75LE95),




Horizontal: ±40° (±15° with ET-D3LEW50/ET-D75LE6/ET-D3LEW60, ±5° with ET-D3LEU100/ET-D3LEW200, 0° with ET-D75LE95)




When [VERTICAL KEYSTONE] and [HORIZONTAL KEYSTONE] are used simultaneously, correction cannot be made exceeding a total of 55°.

Installation

Ceiling/floor, front/rear, free 360-degree installation

TERMINALS

SDI 1 IN

BNC x 1: 3G/HD/SD-SDI input, Dual-link HD-SDI (Link A), Dual-link 3G-SDI (Link 1)

SDI 2 IN

BNC x 1: 3G/HD/SD-SDI input, Dual-link HD-SDI (Link B), Dual-link 3G-SDI (Link 2)

HDMI IN

HDMI x 1 (Deep Color, compatible with HDCP)

DVI-D IN

DVI-D 24-pin x 1 (DVI 1.0 compliant, compatible with HDCP) (Single-link only)

RGB 1 IN

RGB x 1 (BNC x 5): RGB/YP

B

P

R

/YC

B

C

R

/YC/VIDEO

RGB 2 IN

D-sub 15-pin (female) x 1: RGB/YP

B

P

R

MULTI PROJECTOR SYNC IN / 3D SYNC 1 IN/OUT

BNC x 1

MULTI PROJECTOR SYNC OUT / 3D SYNC 2 OUT

BNC x 1

SERIAL IN

D-sub 9-pin (female) x 1 for external control (RS-232C compliant)

SERIAL OUT

D-sub 9-pin (male) x 1 for link control (RS-232C compliant)

REMOTE 1 IN

M3 stereo mini-jack x 1 for wired remote control

REMOTE 1 OUT

M3 stereo mini-jack x 1 for link control

REMOTE 2 IN

D-sub 9-pin (female) x 1 for external control (parallel)

DIGITAL LINK/LAN

RJ-45 x 1 for network and DIGITAL LINK connection (HDBaseT™ compliant), 100Base-TX, compatible with Art-Net, PJLink™ (Class 2), Deep Color, HDCP

DC OUT

USB Type A x 2 (for power supply, DC 5 V total of 2 A)

Power supply

AC 100 V–120 V/AC 200 V–240 V, 50 Hz/60 Hz

Power consumption

1,100 W

Cabinet materials
Molded plastic
Operation noise*1

42 dB

Dimensions (WxHxD)

600 mm x 307 mm

*5

x 745 mm (23 5/8" x 12 3/32"*5

x 29 11/32") (including protruding parts);


598 mm x 270 mm

*6

x 725 mm (23 17/32" x 10 5/8"*6

x 28 17/32") (not including protruding parts)
Weight*7

49.0 kg (108 lb)

Operating environment

Operating temperature: 0–50°C (32–122°F)

*8

; Operating humidity: 10–80% (no condensation)

Applicable software

Logo Transfer Software, Multi Monitoring & Control Software, Early Warning Software, Geometry Manager Pro (ET-UK20 Upgrade Kit, ET-CUK10 Auto Screen Adjustment Kit), Smart Projector Control for iOS/Android™
Notes:
*1 Measurement, measuring conditions, and method of notation all comply with ISO/IEC 21118: 2020 international standards. Value is average of all products when shipped.
*2 Average light-output value of all shipped products measured at center of screen in Normal Mode.
*3 Around this time, light output will have decreased by approximately 50%. IEC62087: 2008 Broadcast Contents, Normal Mode, Dynamic Contrast [3], temperature 35°C (95°F), elevation 700 m (2,297 ft) with 0.15 mg/m3 of airborne particulate matter. Estimated time until light output declines to 50% varies depending on environment.
*4 Lens shift is not supported on the ET-D3LEW50.
*5 With legs at shortest position.
*6 Excluding legs.
*7 Average value. May differ depending on the actual unit.
*8 Operating temperature is 0–45°C (32–113°F) when used in locations from 1,400 m to 4,200 m (4,593 ft to 13,779 ft) above sea level. When operating in Eco or Normal mode at elevations between 0–2,700 m (0–8,858 ft) in ambient temperatures exceeding 35°C (95°F), or at elevations between 2,700–4,200 m (8,858–13,780 ft) in ambient temperatures exceeding 25°C (77°F), light output may be reduced to protect the projector.
Accessories
Optional Lenses
<!— Editable version of lens tables is on PT-RZ34KU page —>
D75 Series
D3 Series
This series supports lens memory when used with a projector that also supports this feature. Lens identification is also supported, so that the projector can read the model lens that is installed on it.
* Fish-eye lens
Discontinued Lenses
Model
ET-D75LE90
ET-D75LE5
ET-D75LE50
ET-D75LE1
ET-D75LE2
ET-D75LE3
ET-D75LE4
D:W WUXGA
0.36:1
0.69:1
1.4

–

1.8:1
1.8

– 2.7

:1
2.8

– 4.6

:1

4.63 – 7.38:1

f/stop:
2.5
2.5
2.5
2.5
2.5
2.5
Other Accessories
| | | |
| --- | --- | --- |
| | Stacking Frame (ET-PFD565) | |
| | Truss Gimbal Mount Hardware (ET-PFD550TMS2) | |
| | Digital Interface Box (ET-YFB100G) | |
| | Digital LINK Switcher (ET-YFB200G) | |
| | Stepping Motor Kit (ET-D75MKS10) | |
Downloads