NEC NP-PX2201UL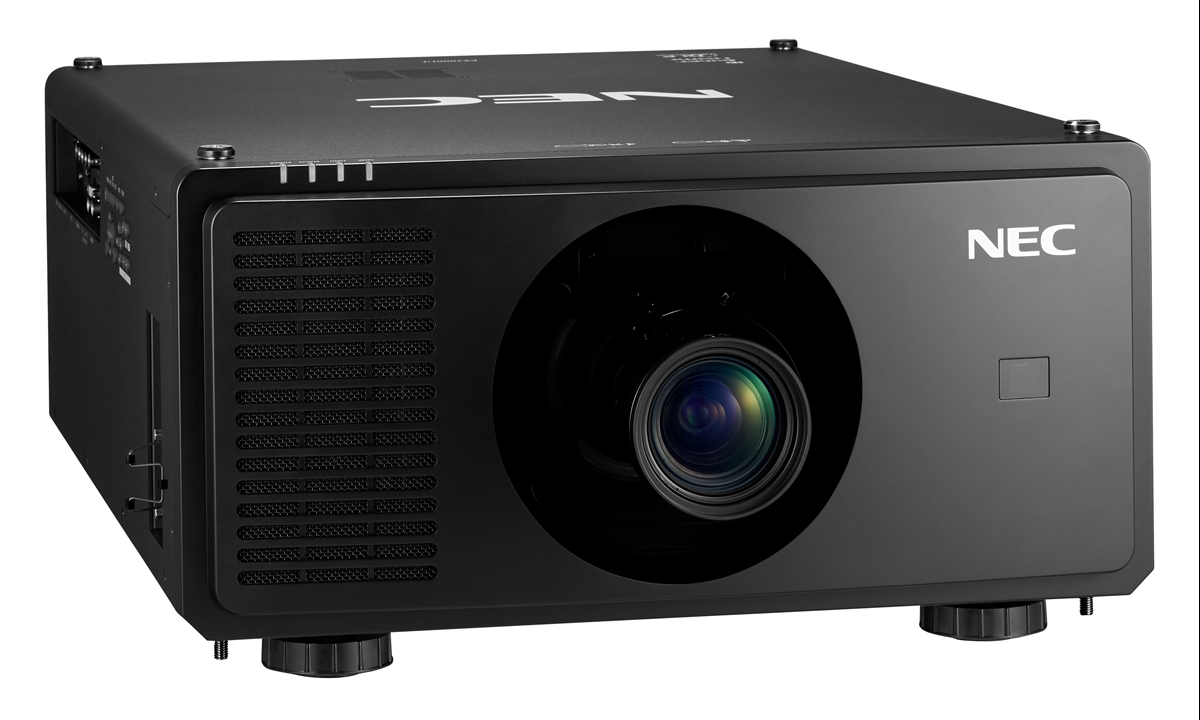 Laser 1-DLP Projector, WUXGA, 21.5K Center Lumens, No Lens, 5-Year Warranty
Item #0601-0011
Model #NPPX2201UL
Overview
NEC NP-PX2201UL
21,500-Lumen Professional Installation Projector (No Lens)
Think about projection technology in a whole new light! The NEC PX2201UL is a powerful installation projector with an RB laser light source that makes it perfect for all-new applications.
With more consistent brightness of 21.5K center lumens, improved color fidelity, and roll-free capabilities, this projector is a workhorse with a relatively small form factor. It is suited to a variety of high brightness, high-demand applications such as theme parks, simulation, retail, worship, higher education, museums, and corporate auditoriums.
Furthermore, the laser module delivers 20,000 hours of virtually maintenance-free operations, reducing your total cost of ownership.
Note: Lens is sold separately (see Accessories tab).
Features
Main Features
High-brightness, lower power consumption enhance always-on capabilities of laser projection
Ideal for new applications such as digital signage
Lamp-less operation reduces total-cost-of-ownership (TCO)
Eco-friendly features, minimal maintenance and cost savings mean these projectors are still great for demanding integration applications such as higher education and corporate
Breathe new life into older installations with 21,500 center lumens of brightness
Seamlessly blend multiple images with integrated edge blending capabilities
Built-in HDBaseT enables simplified installations with a single cable for video, audio, and control signals.
Additional Features
Motorized Lenses
Manual Keystone Correction
Geometric Correction
Quick power on
ECO Mode Technology
DiCom Simulation
Edge Blending
Virtual Remote
NaViSet Administrator 2
Quick power-off
Advanced AccuBlend
AutoSense
Technologies
Advanced AccuBlend™: Ensures detailed images when non-native resolution sources are connected to the projector.
ECO Mode™: Extends light source life, lowers audible noise and reduces total cost of ownership.
Extended Use: For use in applications up to and including 24x7 operation.
Geometric Correction: Allows you to project on spheres, cylinders, corner angles and more.
Landscape/Portrait Capable: Allows for distortion-free display of content in various orientations, creating new application opportunities.
Tilt-Free Installation: Allows the projector to be rotated freely (360°) in order to point up or down depending on the installation requirements.
Variable Audio Out: Adjusts the volume of an external speaker system using the projector's remote control.
Portrait Mode: Ability to install a projector on its side to create a 10:16 portrait image
Virtual Remote: Used over the VGA cable to control the projector directly from a computer without the need for additional control cables.
Crestron Roomview: Provides unified management, including the ability to switch the power on and off for multiple projectors connected to a network.
DLP Technology: High contrast images (10,000:1) from the latest Texas Instruments DLP engine featuring BrilliantColor™ technology with improved color accuracy
Dual Computer Inputs: Ensures quick switching between presentations.
Edge Blending: Blend multiple projectors together to create non-standard images
Picture by Picture (PBP) mode: Displays either a second video source or the same video source in an window beside the main video source.
PIP/POP/Side-by-Side: Picture-in-picture (PIP) allows for a second frame within the screen area. Picture-on-picture (POP) surrounds the standard frame with multiple frames. Side-by-side places two sources adjacent to one another.
Motorized Zoom and Focus: Simplifies installation and operation by easily adjusting the lens through the remote control.
Quick Startup and Quick Power-Off: Allows users to begin presenting within 3 to 4 seconds and allows immediate power off with no cooling required after shutdown to ensure efficient energy usage.
VORTEX Technology Plus: Improves white level, color accuracy, dynamic range and varying levels of black in an image.
Built-in Wall Color Correction: Presets provide for adaptive color tone correction to display properly on non-white surfaces.
Custom DMD shielding: Protects the projector from dust/oil contaminates and provides optimal picture quality.
Dual HDMI inputs (with HDCP): Ensure quick switching between presentations and allows for simultaneous digital connections of high-definition sources, such as Blu-ray players, cable boxes, satellite receivers and computers
Lens Shift: Vertical and horizontal lens shift enables flexible projector placement.
Power Management: Enables projector to automatically turn off when an incoming signal is not detected from any of the inputs.
Specifications
Display
| | |
| --- | --- |
| Aspect Ratio | 16:10 |
| Native Resolution | WUXGA (1920x1200) |
| Maximum Resolution | WQXGA (2560 x 1600) |
| Contrast Ratio (typical) | 10,000:1 with Dynamic Black |
| DMD Specifications | DLP (0.96" DMD) |
Synchronization Range
| | |
| --- | --- |
| Horizontal | Analog: 15–100 kHz, Digital: 15–153 kHz |
| Vertical | Analog: 48–120 Hz, Digital: 24–120 Hz |
Signal Compatibility/Connectivity
Supported Video Standards

NTSC, NTSC4.43, PAL, PAL-60, PAL-M, PAL-N, SECAM

SD/HD Video Signal Compatibility

480i, 480p, 576i, 576p, 720p, 1080i, 1080p

PC Signal Compatibility

VGA, SVGA, XGA, SXGA, SXGA+, UXGA, WUXGA

Macintosh Signal Compatibility
Yes
Sync Compatibility

Separate Sync / Composite Sync / Sync on G

External Control

RS-232, IR, HDBaseT, DDC/CI, RJ-45, USB (USB 2.0)

Input Terminals

RGB1(analog): VGA 15 pin D-sub, Component video using ADP-CV1E adapter

RGB2(analog): 5BNC

RGB2(digital): HDMI (V2.0) w/HDCP (V1.4/2.2)

RGB3(digital): HDMI (V2.0) w/HDCP (V1.4/2.2)

RGB4(digital): DisplayPort w/HDCP (V1.4)

RGB5(digital): DVI-D w/HDCP (V1.4/2.2)

RGB6(digital): HDBaseT w/HDCP (V1.4/2.2)
Power Consumption (typical)
| | |
| --- | --- |
| On | 1775 W / 1343 W / 6.0 W / 0.5 W |
| Power Consumption (max) | 1775 W |
| Input Current | 9.7 A |
| Power Requirements | 200-240V AC, 50/60 Hz |
| Power Supply Voltage | 200-240V AC, 50/60 Hz |
Physical Specifications
| | |
| --- | --- |
| Dimensions (WxHxD) | 20.9 x 29.4 x 9.8 in. / 530 x 748 x 248 mm |
| Weight | 112.4 lb / 51 kg |
Environmental Conditions
| | |
| --- | --- |
| Operating Temperature | 32–104°F / 0–40°C |
| Operating Humidity | 10 to 85% Humidity (Non-Condensing) |
| Operating Altitude | 0 to 13,780 ft (0 to 4200 m) above sea level |
| Storage Temperature | -4–140°F / -20–60°C |
| Storage Humidity | 10 to 85% (non-condensing) |
| Storage Altitude | 0 to 13,780 ft (0 to 4200 m) above sea level |
Optical
Light Output

21,500 Center Lumens

Light Source Life

20,000 hours

Optional Lenses (not included) — See Accessories tab.

Zoom: Motorized

Focus: Motorized

F/stop, Focal Distance (f):

NP45ZL: F=2.2 to 2.53, f= 13.3 to 18.6 mm

NP46ZL: F=2.18 to 2.66, f= 21.8 to 49.8 mm

NP47ZL: F=2.17 to 2.65, f= 49.7 to 99.8 mm

NP48ZL: F=2.17 to 2.65, f= 49.7 to 99.8 mm

NP49ZL: F=2.2 to 2.57, f= 49.7 to 99.8 mm

Throw Ratio

0.9 to 1.2:1 ultra wide zoom lens (NP45ZL)

1.2 to 1.56:1 short throw zoom lens (NP46ZL)

1.5 to 2.0 standard zoom lens (NP47ZL)

2.0 to 4.0:1 long throw zoom lens (NP48ZL)

4.0 to 7.0 ultra long throw zoom lens (NP49ZL

Lens Adjustment Functions

Motorized focus and zoom

Horizontal/vertical shift

Light shutter (dowser)

Lens memory stores lens setting (shift/zoom/focus)

Range of shift is dependent on lens

Projection Distance

2.5 to 68.5 ft. / 0.74 to 20.9 m

Projector Angle

10.3 to 10.8° tele / 13.7 to 14.5° wide

Keystone Correction
±60° horizontal


±40

° vertical
Supported Screen Size (Maximum)

40 to 500 in. / 1.02 to 12.7 m
Mechanical
Installation Orientation

Floor/Front, Floor/Rear, Ceiling/Front, Ceiling/Rear

Fan Noise

48 dB normal / 46 dB eco

Regulations
USA: UL60950-1: 2nd edition,2014, FCC Part15 Subpart B(ANSI C63.4.2014)
Canada: CAN/CSA C22.2 No.62368-1-14,2nd Edition,2014, ICES-003 Issue6(ANSI C63.4:2014)
Limited Warranty (parts & labor)
Registered owners receive a 5-year or 20,000-hour parts and labor warranty including InstaCare next business day exchange.
What's in the Box
Remote control
Batteries
Power cord
Cable cover
Lens hole cap
User manual
Quick Start Guide
Product registration card
Lens anti-theft screw
Security Sticker
Accessories
Optional Lenses
Model
NP45ZL
NP46ZL
NP47ZL
NP48ZL
Std Lens
NP49ZL
D:W
WUXGA
0.9 – 1.2
1.2 – 1.56
1.5 – 2.0
2.0 – 4.0
4.0 – 7.0
f/stop

2.2 – 2.53

2.18

– 2.66

2.18 – 2.66

2.18

– 2.66

2.18

– 2.66
Other Accessories
Downloads