Barco CNHD-81B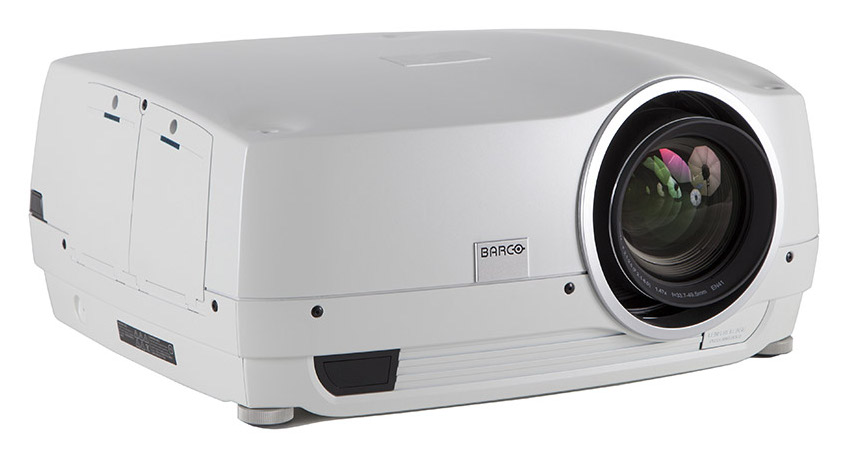 1-DLP Projector, 1080p, 7500 Lumens, No Lens, B Stock, 3-year warranty
Item #0601-0921-UA
Model #R9023257
Overview
Barco CNHD-81B
7,500 lumens, Full HD, single-chip DLP projector
The CNHD-81B is perfectly suited for installation in meeting rooms, boardrooms, conference rooms and small to medium-sized auditoriums.
Razor-sharp images with vibrant colors
Large lens-shift range for flexible installation
Compact design
24/7 reliability
Features
Excellent image quality:
The CNHD-81B is a single-chip DLP® projector that combines a brightness level of 7,500 ANSI lumens with Full HD (1,920 x 1,080) resolution. Geared with DLP technology, this high-brightness projector ensures constant and reliable images over time. And its brightness uniformity of more than 90% guarantees stable images with uniform brightness levels across your entire screen.
Easy to install:
Because of its compact form factor and low weight of merely 27.8 lbs – exceptional for a projector in this brightness class – the CNHD-81B is easy to install and operate. Moreover, its lens shift offers you the flexibility to install your projector at various distances from the screen, while you can easily shift the lens to get your image on screen in the right way.
Built to last:
The CNHD-81B features a filter-free design and reliable DLP® technology for unmatched picture accuracy and low total cost of ownership. Designed for unlimited use, it also comes with a 3-year warranty, for true peace of mind.
Specifications
Projector type

Single-chip DLP projector

Technology

LVDC DMD™ with DarkChip3™

Resolution

1,920 x 1,080 (Full HD)

Brightness

7,500 ANSI lumens

Contrast ratio

6,500:1

Brightness uniformity

> 90%

Aspect ratio

16:9

Lens type

All pure glass lenses

Lenses

Ultra wide EN12 (0.74:1)
Ultra wide zoom lens EN46 (0.75-1.13:1)
Wide angle Lens EN15 (1.16:1)
Wide angle zoom lens EN13 (1.24-1.6:1)
Standard zoom lens EN11 (1.6-2.32:1)
Long throw zoom Lens EN14 (2.37-3.79.1)
Extra Long throw zoom EN16 (3.8-6.5:1)

Optical lens shift
Vertical: -134% to +134%
Horizontal: -68% to +68% (on zoom lenses)
Color correction

RealColor™

Lamps

2 x 300 W UHP Vidi

Lamp lifetime

Up to 2,000 hours (full power) / Up to 2,500 hours (eco mode)

Lamp house, quick replace

Yes

Lamp warranty

500 hours or 90 days

Orientation

table - ceiling

Sealed DLP™ core
Yes
Inputs

1 x DVI-D; 1 x HDMI 1.3a; 1 x VGA; 1 x 5-BNC; 1 x HMDI 1.3a; 1x YPbPr; 1 x S-video; 1 x composite

Input resolutions

1,920 x 1,200 – 640 x 480 pixel resolution; RGBHV, RGBS, RGsB; custom formats available; HDTV (1080p, 1080i, 720p); NTSC, PAL, SECAM

Software tools

Projector Toolset, ProNet

Control

Minijack + IR, RS232, Network, 12v trigger

Network connection

10/100 base-T, RJ-45 connection

Power requirements

100–240 V / 50–60 Hz

Power consumption

850 W

Noise level

34 dB

Operational ambient temperature

10–40°C / 50–104°F

Operational humidity

20-80% RH

Dissipation BTU

max 2,900 BTU/h

Dimensions
(W x L x H)

20.08 x 14.80 x 9.17 inches / 510 x 376 x 233 mm

Weight

27.8 lbs (12.6 kg)

Standard accessories

Power cord, wireless remote control

Certifications

Compliant with FCC, part 15 Class A and CCC, cCSAus, cUL, UL and CE

Warranty

Limited 3 years parts and labor. Extendable up to 5.
Accessories
Optional Lenses
Other Accessories
Downloads