Panasonic PT-EX12KU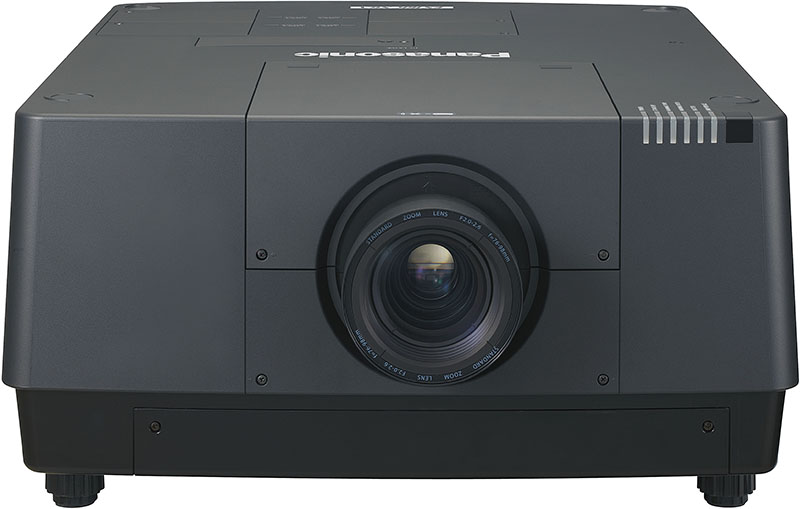 4-LCD Projector, XGA, 13,000 Lumens, 4000:1 Contrast, H & V Lens Shift, Edge Blending, No Lens, 3 year warranty
Item #0601-2106
Model #PTEX12KU
Overview
Balancing factors required to fill large spaces with breathtaking images. Remarkable 13,000 lm brightness ensures sharp, crisp large-screen projection. Pure Color Control, which independently controls yellow brightness to improve color reproduction, attains this superb brightness with optimal coloring. The 2-Lamp Optical System maintains high reliability. And system expansion functions include horizontal/vertical lens shift and a Multi-Screen Support System. These and other features enable flexible installation for a wide variety of applications.
This projector can be rotated 360 degrees vertically (lens up, down or in-between) for flexible installation possibilities.
Corner keystone correction for easy geometric correction.
Direct power off protects the lamps in the event of a sudden power loss.
Accessories
| | | | | | | | | | |
| --- | --- | --- | --- | --- | --- | --- | --- | --- | --- |
| | | | | | | | | | |
| | | | | | | | | | |
| | | | | | | | | | |
| Model | ET-ELW03 | ET-ELW06 | ET-ELW02 | ET-ELW04 | ET-ELS02 | ET-ELS03 | ET-ELM01 | ET-ELT02E | ET-ELT03 |
| D:W | 0.8:1 | 1.2-1.5:1 | 1.4-1.8:1 | 1.5-2.0:1 | 2.0-2.6:1 | 2.6-3.5:1 | 3.5-4.5:1 | 4.4-6.2:1 | 6.3-9.0:1 |
| f/stop | 2.6 | 2.3-2.8 | 2.5-2.9 | 1.7-2.3 | 2.0-2.3 | 1.7-2.2 | 2.0-2.6 | 2.0-2.6 | 2.2-2.5 |
Downloads
B-stock
Panasonic PT-EX12KU 4-LCD Projector, XGA, 13,000 Lumens, 4000:1 Contrast, H & V Lens Shift, Edge Blending, No Lens, B Stock, 1 Year Warranty
Item #0601-2106-UB
Model #PTEX12KU
S/N
(Last Digits)
Usage Hours
Condition Notes
Price
60001
0 Runtime, 0 Lamp
No Cosmetic Defects
$7,900.00
Add to Cart