Panasonic PT-DZ870ULK
1-DLP Projector, 1920x1200, 8500 Lumens, 3D, 3G-SDI, Geometric Adj, Rec. 709 Mode, Portrait Mode Opt, Charcoal Case, No Lens, 3 year warranty, Price includes a $300 instant rebate.
Part #: 0601-2622 Mfr #: PTDZ870ULK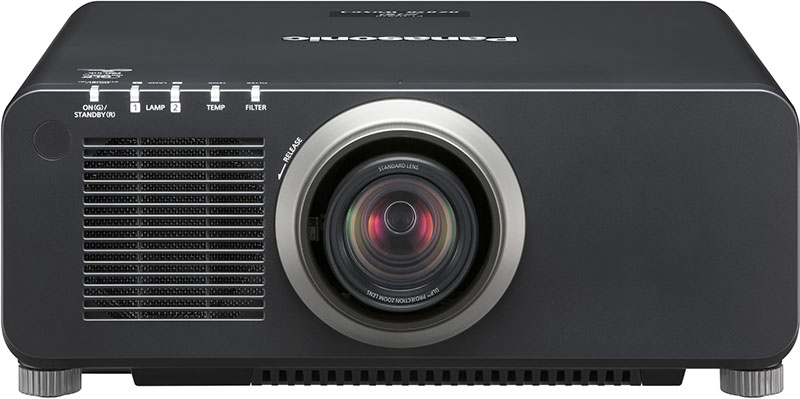 Panasonic PT-DZ870ULK
Overview
Panasonic PT-DZ870ULK
Panasonic has raised the level of its top-end 1-chip DLPTM projector even further with the new PT-DZ870 Series. It features many of the advanced functions that are found in our flagship 3-chip DLPTM projector. It also includes the Dynamic RGB Booster, which achieves stunning image quality with high levels of color reproduction and brightness, and an optical block with dust-resistant structure. These features enable a degree of color reproduction that approaches our highest level projectors, and a raised level of reliability. It satisfies professional users' demands for higher return on investment (ROI), lower total cost of ownership (TCO), superior performance, and expanded application flexibility. Geometric adjustment, portrait projection, 3D projection, and multi-screen projection further increase flexibility in use. If you want truly creative imaging, you'll find it in the PT-DZ870 Series.
Accessories
Optional Lenses
1ET-DLE030 is discontinued. Compatible with 1-Chip DLP projectors up to 10,000 lumens.
2ET-DLE080 is discontinued. Compatible with 1-Chip DLP projectors up to 8,500 lumens.
Downloads
Warranty
Panasonic PT-DZ870ULK Warranty:
3-Year PASS Limited Warranty; 90 Days Lamp