Panasonic ET-UW100
USB Wireless Transmitter for Laptop/PC/Mac, for use with any Panasonic wireless projector
Part #: 0601-2877 Mfr #: ETUW100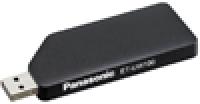 Panasonic ET-UW100
Features
The ET-UW100 is used to provide a wireless link between a computer and a compatible wireless projector. If the computing device already has a Wi-Fi adapter, that may be used instead but a driver is needed.
When used with the PT-DZ570U, PT-DW530U, PT-DX500U, PT-FW430U, and PT-FX400U the ET-WM200 is required to be installed in the projector.
Compatibility
To check whether this item is compatible with your equipment, use the form below.