Panasonic PT-RS11KU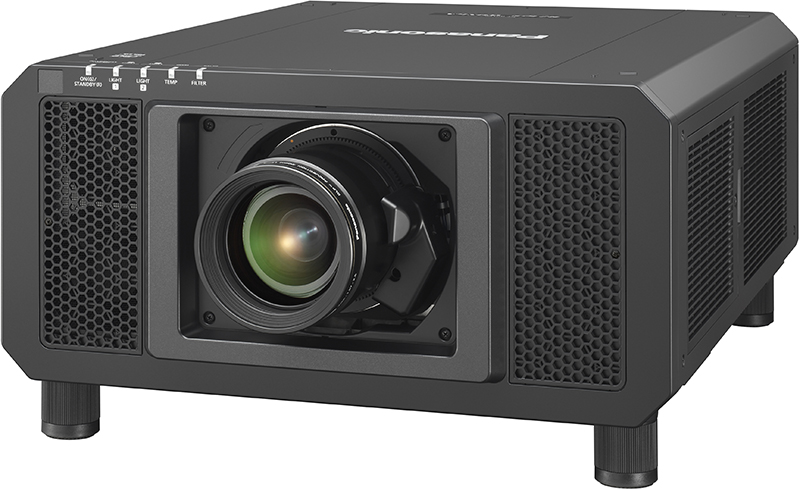 3-DLP Laser Projector, 1400x1050 SXGA+, 12,000 Lumens, No Lens, 3-Year Warranty
Item #0601-2992
Model #PTRS11KU
Overview
Panasonic PT-RS11KU
Combining 3-Chip DLP™ imaging with original SOLID SHINE Laser Phosphor technology, Panasonic 3-Chip DLP™ SOLID SHINE Laser Series produces vividly colored pictures rich in detail with excellent brightness. Solid-state laser light sources and specially engineered heat-resistant phosphor wheels work together with three discrete DLP™ modules (R/G/B) for high brightness, true color accuracy, and high contrast in large venues.
3-Chip DLP™ SOLID SHINE Laser projectors capture a more accurate color space than comparable laser projectors. Blue lasers ensure greater precision while an expanded color gamut improves white-balance accuracy.
Projector delivers up to 20,000 hours maintenance-free service at full power with no filters to clean or replace thanks to a fully sealed optical block and redesigned air intake. Energy consumption has also been reduced.
Dual-Laser Optical Engine Assures Failsafe Reliability. Dual-Drive Laser Optical Engine groups laser diodes into two discrete modules. A redundancy circuit works to minimize brightness- and color-uniformity loss should a laser diode fail, making supported products ideal for applications where picture presentation must be maintained.
Dustproof Optics Extend Longevity. Hermetically sealed laser modules and a refined air-intake system work to extend life and maintain picture quality in dusty locations.
Efficient Cooling System Enhances Reliability. A liquid cooling system for the light source features a new air intake and solid aluminum radiator to suppress temperature rises, allowing stable operation in high temperatures while reducing noise.
Accessories
Optional Lenses
D75 Series
Discontinued Lenses
Model
ET-D75LE90
ET-D75LE5
ET-D75LE50
ET-D75LE1
ET-D75LE2
ET-D75LE3
ET-D75LE4
D:W SXGA+
0.39:1
0.74:1
1.5

–

1.9:1
1.9

– 2.9

:1
3.0

– 4.9

:1

5.0 – 7.9:1

f/stop:
2.5
2.5
2.5
2.5
2.5
2.5
Other Accessories
Downloads
Warranty
3-Year PASS Limited Warranty; 90 Days Lamp