Optoma WU1500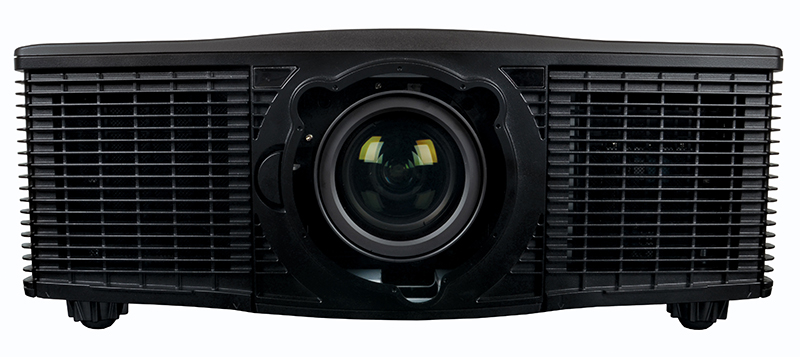 1-DLP Projector, 1920x1200 WUXGA, 11,000 Lumens, 3G-SDI, Dual-Lamp, No Lens, 3 Year Warranty
Item #0601-3710
Model #WU1500
Overview
The Optoma ProScene WU1500 is a fully-featured installation projector, built for demanding professional applications where image quality, performance and reliability are paramount. Native WUXGA resolution, 11,000 ANSI lumens brightness, and 5000:1 contrast deliver vivid, crystal-clear images, while dual lamps with lamp relay and 24/7 operation provide ultimate reliability,
ensuring that this is a projector in which you can have complete confidence.
The dust-sealed, filter-free design prevents dust and dirt from affecting the optical system, ensuring optimal image quality with minimal maintenance requirements. Motorized lens shift, zoom and focus combined with 360° operation and interchangeable color wheels provide total flexibility for simple, trouble-free installation. A choice of six premium-quality lenses, from wide focus through to extra-long zoom means that the WU1500 can be adapted to cover almost any projection distance.
An array of advanced connectivity options are provided as standard, including HDMI, DVI-D, 5 BNC, HDBaseT and 3G-SDI. Every aspect of the WU1500 has been carefully designed and built to suit the requirements of the professional installer – from the dependable lens mounting system, through to the backlit remote control keypad and operation panel.
The Optoma ProScene WU1500 represents the ultimate in professional image projection.
[Compare to Similar Projectors]

Features
WUXGA
11,000 ANSI lumens
Motorized lens shift
Six lens options
Dual lamps with lamp relay and 24/7 operation
HDBaseT and 3G-SDI
360° operation with portrait mode
Options
Downloads
Warranty
3-Year Optoma Express Service.