Panasonic PT-FRQ50BU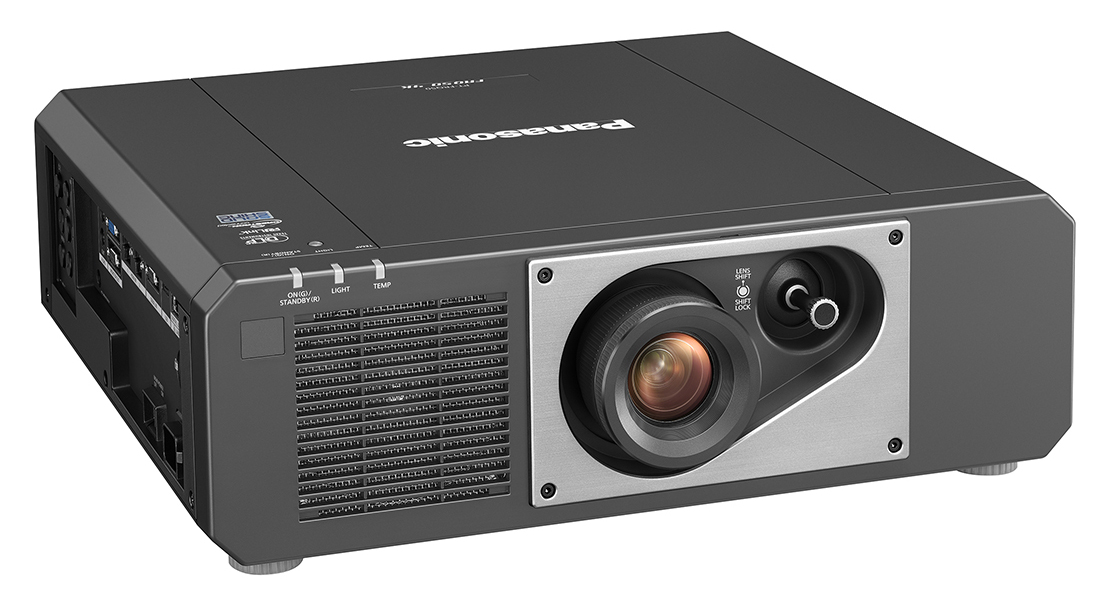 Laser DLP Projector, 4K UHD, 5200 Lumens, V/H Lens shift, 3-Year Warranty
Item #0600-7225
Model #PTFRQ50BU7
Overview
Panasonic
PT-FRQ50BU
5200 Lumens 1-Chip DLP™ 4K Projector (Black)
The PT-FRQ50BU delivers smooth, detailed images for an insightful visual experience.
Quad Pixel Drive creates sharp, detailed 4K images with Rich Color Enhancer achieving vivid, accurate color. High-speed processing supports 240 Hz/1080p frame rates with latency of 8 ms or less for smooth, grid-less images.
V/H Lens-Shift and 2.0x zoom enhance installation flexibility while two CEC-compatible HDMI® inputs and DIGITAL LINK integrate into 4K infrastructure. Pre-activated upgrade kits for Geo Pro and Remote Preview Lite secure an effortless 4K experience.
Filterless heat-pipe-based cooling and hermetically sealed optical block support 20,000-hour maintenance-free projection. Optional Early Warning functions streamline management and enhance reliability in museums, classrooms, and offices.

Note: This is a black projector. For a white model, see PT-FRQ50WU.
Features
Smooth and Detailed 4K Image Quality
Quad Pixel Drive for Detail-rich 4K Images with High Frame Rates: Panasonic's original 2-axis pixel-quadrupling technology, rapidly shifts each pixel vertically and horizontally to produce sharp, clear, and detail-rich 4K images for a maximum resolution of 3840 x 2160 pixels (16:9). Combined with the DMD's high pixel-density and narrow aperture ratio, Quad Pixel Drive creates smooth, film-like images with a superior sense of depth and definition, allowing viewers to retain complex information.
Rich Color Enhancer Produces Vivid, Accurate Colors: this original Panasonic color optimization technology for 1-Chip DLP™ projectors offers two selectable modes. Dynamic Mode balances brightness and color for clear image visibility in well-lit environments. Standard/Graphic Mode optimizes color reproduction performance by adjusting color-wheel timing to expand red-channel output, leading to more naturally vibrant red expression. Colors are deep, rich, and accurate, faithfully reflecting the content creator's artistic intent.
Smooth Playback of 240 Hz Content: The projector smoothly plays 240 Hz/1080p video content with a minimal input-to-output latency of just 8 ms or less1, perfect in any application where fast response and fluid motion are important. PT-FRQ60 Series also works with Panasonic's optional ET-SWR102 Real-Time Tracking Projection-Mapping System, a ready-to-use Software Development Kit (SDK) that enables image projection onto fast-moving objects at up to 240 fps, making it easy to add lifelike interactivity to your museum exhibit.
Dynamic Contrast Elevates Image Realism: by directly modulating light output to achieve high contrast with less power consumption. Digitally controlled frame-by-frame scene-linking modulation ensures precise light output adjustment for accurate contrast even when bright and dark scenes frequently interchange.
Flexible, Simple to Use, and Easy to Integrate
Versatile 2.0x Zoom Lens with Wide-Range V/H Lens Shift: expands throw-distance flexibility, giving you more freedom to choose a mounting position for the projector. Wide-range V/H Lens-Shift (Vertical: +71 %, -48 % and Horizontal: +34 %, -27 %) locates the image as desired when the ideal projector placement isn't possible, such as in rooms with high ceilings or for projection at an angle. Adjustments are easily performed via joystick on the front panel.
Geometric Adjustment with Free Grid for Screen Adjustment via Remote Control: Free Grid simplifies operation of select Geometric Adjustment functions built into the projector. Using only the projector remote control, with no need of a connected PC, installers can correct image distortion caused by uneven surfaces or irregular objects on flat or curved screens. A grid is overlaid on the projected image, allowing the installer to reshape distorted areas by adjusting the position of node or V/H line control-points. Grids of 2 x 2, 4 x 4, 8 x 8, or 16 x 16 lines are selectable according to required granularity, and work progress is saved automatically. Grid and control-point colors are selectable to ensure clear visibility over the image.
Pre-activated Upgrade Kits for Geometry Manager Pro Software: Geometry Manager Pro upgrade kits usually require activation on the projector or software side with a paid license key. The PT-FRQ60 Series however, ships pre-activated and ready for use with these upgrade kits at no extra cost. ET-UK20 Geometry Manager Pro Software Upgrade Kit adds sophisticated creative masking capabilities to an expanded set of software-based geometric adjustment functions. ET-CUK10 Auto Screen Adjustment Upgrade Kit automatically calibrates edge-blended areas of adjoining screens by adjusting their brightness, color, and black-level via a camera, creating a uniform multi-screen image in far less time.

Visit the Panasonic Geometry Manager Functions

webpage

for more information. (Note: Some features only available after August 2022.)
Remote Preview

Lite

3: lets the projectionist check signal connectivity and evaluate changes to the image when selected projector image adjustment settings are changed by previewing input video on a laptop screen. Remote Preview Lite works even when the projector is in Standby Mode and eliminates the need for on-screen projection immediately before the presentation commences. It reduces chance of display issues before the performance, and if an error is detected, helps narrow down the possible cause to the input signal chain.
Two HDMI® CEC-Compatible Inputs for Easy Operation: Two 4K-ready HDMI inputs support CEC commands from compatible devices, allowing the projector to turn ON/OFF with the source device. Add optional Wireless Presentation System PressIT4

and share content from almost any device with a single press of a button. As with other compatible streaming devices, PressIT can be powered via built-in 5 V/2 A USB-DC terminal for self-contained on-ceiling installation. Compatibility with HDCP 2.3-protected 4K/60p video promotes smooth integration into your existing 4K-ready system infrastructure.
4K DIGITAL LINK Connection and Separate LAN Terminal:

4K DIGITAL LINK transmits uncompressed 4K/60p (4.2.0) video

5

, audio

6

, and control commands through a single CAT 5e or higher STP cable for distances of up to 50 m

7

. Optional ET-YFB200G DIGITAL LINK Switcher

8

or ET-YFB100G Digital Interface Box8

simplify installation, reduce cabling and associated cost, and enhance system reliability. Alternatively, you can transmit 100Base-TX or 10Base-T compatible control signals via a separate LAN terminal, freeing up the 4K DIGITAL LINK connection for video-signal transmission.
Highly Reliable Low-Maintenance Projection
Multi-Laser Drive Engine with Unique Failover Circuitry: Failover Circuitry9

limits brightness loss in the unlikely event of a single diode failure. Multi Laser Drive Engine10

features redundant laser modules that maintain image display even if a laser module fails. Failover Circuitry provides an invaluable layer of insurance in situations where image display must not be interrupted.
20,000 Hours of Maintenance-Free Operation: To assure stable and reliable continuous operation, Panasonic implements a refined heat-pipe-based cooling system within the projector's compact, easy-to-manage body dimensions. This filterless cooling system draws heat away from the optical block, which is hermetically sealed to prevent dust ingress in compliance with the industry's toughest dust-proofing guidelines. Low-degradation laser modules, inorganic phosphor wheel, and filterless cooling system design contribute to 20,000 hours11

of maintenance-free projection.
24/7 Continuous Operation: Supported by high-efficiency liquid cooling system, hermetically sealed and dust-resistant optical block, and low-degradation diodes grouped into multiple modules, SOLID SHINE Laser projectors can operate reliably 24 hours a day. These projectors are suited to continuous projection in exhibition and public display applications.
Multi Monitoring & Control Software with Optional Early Warning Functions: Panasonic's free AV management software for Windows®

PC lets you monitor and control up to 2,048 compatible display devices of any brand via LAN to reduce maintenance hassle within display networks of any scale. The software enables status monitoring, control-command execution, content playlist delivery, playback scheduling, and system map visualization. A free 90-day trial of optional Early Warning functions is included and adds extra functionality. It notifies the operator in the event of a playback or device error, and sends alerts when symptoms of trouble are detected. Maintenance reminders streamline device management. Operational reports can be generated and exported as a text file. The software links with compatible network cameras for live screen-monitoring, and you can also monitor device status remotely from a tablet via VPN. Software data can be acquired via Web API and installed onto an existing control application.
Other Features
Reduces Distractions for Better Focus and Immersion: When background noise must be kept to a minimum, Quiet Mode supports almost indiscernible 31 dB12

operation, limiting distractions in immersive projection environments as well as in office meeting spaces, boardrooms, and classrooms where audience attention must stay focused on the projected content.
System Daylight View 3: premium implementation of Panasonic's System Daylight View technology that supports six levels of user-selectable adjustment. To combat the effect of ambient light on the projected image and boost color impact in projection-mapping applications, sharpness, gamma curves, color, and brightness are all optimized to suit on-site conditions.
Multi-Unit Brightness and Color Control: Sensors detect color and brightness apparent on screen. Projectors automatically calibrate for a uniform multi-screen image, adding a layer of convenience and cost saving for long-term deployments.
Multi-Screen Support System: Optimally adjusts multiple screens with edge blending, color matching, and digital image enlargement.
Quick Start and Quick Off: Since the laser light-source doesn't require time to warm up, images appear almost instantly. There's also no safe cool-down required when disconnecting power—the projector can be turned on and off any time as necessary.
Data-Cloning Function13: allows various settings and configuration data to be copied from a main projector to up to 99 sub projectors via LAN. This simplifies and expedites the setup process for multi-unit projection applications.
Additional Features
Detail Clarity Processor 4
Crestron Connected™, Art-Net DMX, AMX DD, and PJLink™
DICOM Simulation Mode
Free 360° installation
Laser Safety Guaranteed
---
Notes:
1 Display frame rate corresponds to the input signal frame rate. Geometric adjustment features must be disabled.
2 ET-SWR10 is used in conjunction with third-party devices (sold separately). Compatibility with third-party devices cannot be guaranteed. Other limitations apply. For more information, visit the ET-SWR10 webpage.
3 Requires Multi Monitoring & Control Software Version 3.2 or later.
4 Availability may vary by country or region. Accessories sold separately. Operation with third-party devices cannot be guaranteed.
5 4K input signals are resized to the projector's resolution.
6 Audio transmission depends on model's audio capability.
7 150 m (492 ft) transmission available with ET-YFB200G DIGITAL LINK Switcher for signals up to 1080p.
8 Optional ET-YFB200G DIGITAL LINK Switcher and ET-YFB100G Digital Interface Box are not compatible with 4K signals.
9 Specifications vary depending on projector model.
10 Rate of brightness decrease varies depending on projector model.
11 Around this time, light output will have decreased to approximately 50 % of its original level ([PICTURE MODE]: [DYNAMIC], [DYNAMIC CONTRAST] set to [2], temperature 30 °C (86 °F), elevation 700 m (2,297 ft) with 0.15 mg/m3 of particulate matter).
12 Operating noise is 36 dB in NORMAL/ECO Mode. Brightness is reduced when operating the projector in ECO Mode.
13 Cloneable data excludes passwords, projector name/ID, and network settings. Data-cloning function is supported among identical projectors only.
Specifications
Projector type
1-Chip DLP™ projector

DLP™ CHIP

Panel size
16.5 mm (0.65 in) diagonal (16:9 aspect ratio)
Display method
DLP™ chip x 1, DLP™ projection system
Number of pixels1
1920 x 1080 pixels
(If a signal other than 120 Hz/240 Hz is input, it cannot be displayed at this resolution.)
Light source
Laser diodes
Light output2,3

5,200 lumens / 5,400 lumens (Center)4

Time until light output declines to 50 %5
20,000 hours (NORMAL/QUIET) / 24,000 hours (ECO)
Resolution
4K (3840 x 2160 pixels) (With Quad Pixel Drive)
Contrast ratio2
20,000:1 (Full On/Full Off)
(When [PICTURE MODE] is set to [DYNAMIC] and [DYNAMIC CONTRAST] is set to [1]. HDMI signal input)
Screen size (diagonal)
1.02–7.62 m (40–300 in), 16:9 aspect ratio
Center-to-corner zone ratio2
90 %
Lens
2.0x manual zoom (throw ratio: 1.46–2.93:1), manual focus, F 2.0–3.4, f 21.5–43.0 mm

LENS SHIFT


(From the origin point of the lens mounter)
Vertical
+71 %, -48 % (manual)
Horizontal
+34 %, -27 % (manual)
Keystone correction range
Vertical: ±40 °, Horizontal: ±20 °
Installation
Ceiling/floor, front/rear, free 360-degree installation

TERMINALS

HDMI IN 1/2
HDMI 19-pin x 2 (Compatible with HDCP 2.3, Deep Color, 4K/60p signal input6), CEC supported
COMPUTER IN
D-sub HD 15-pin (female) x 1 (RGB/YPBPR/YCBCR)
MONITOR OUT
D-sub HD 15-pin (female) x 1 (RGB/YPBPR/YCBCR)
AUDIO IN/OUT
M3 stereo mini-jack x 2
SERIAL IN
D-sub 9-pin (female) x 1 for external control (RS-232C compliant)
DIGITAL LINK/
LAN
RJ-45 x 1 for network and DIGITAL LINK connection (video/network/serial control) (HDBaseT™ compliant), 100Base-TX (Compatible with PJLink™ [Class 2], Art-Net, HDCP 2.3, Deep Color, 4K/60p signal input7)
LAN
RJ-45 x 1 for network connection, 10Base-T, 100Base-TX (Compatible with PJLink™ [Class 2], Art-Net)
USB
USB connector (Type A) x 1 for optional AJ-WM50 Series Wireless Module, for USB memory,
and for power supply (DC 5 V, maximum 2 A)
Power supply
AC 100–240 V, 50/60 Hz
Power consumption

480 W (5.0–2.2 A) (500 VA)

Cabinet materials
Molded plastic
Operation noise2
35 dB (NORMAL/ECO) / 28 dB (QUIET)
Dimensions
(W x H x D)8
498 x 168 x 492 mm (19 5/8" x 6 5/8" x 19 3/8")
Weight9
Approx. 16.1 kg (35.5 lb)
Operating environment
Operating temperature: 0–45 °C (32–113 °F10), operating humidity: 10–80 % (no condensation)
Applicable software
Logo Transfer Software, Multi Monitoring & Control Software, Early Warning Software, Geometry Manager Pro11
---
Notes:
1 If a signal other than 120 Hz/240 Hz is input, it cannot be displayed at this resolution.
2 Measurement, measuring conditions, and method of notation all comply with ISO/IEC 21118: 2020 international standards. Value is average of all products when shipped.
3 When [PICTURE MODE] is set to [DYNAMIC] and [LIGHT POWER] is set to [NORMAL].
4 Average light-output value of all shipped products measured at center of screen in NORMAL Mode.
5 Around this time, light output will have decreased to approximately 50 % of its original level ([PICTURE MODE]: [DYNAMIC], [DYNAMIC CONTRAST] set to [2], temperature 30 °C (86 °F), elevation 700 m (2,297 ft) with 0.15 mg/m3 of particulate matter). Estimated time until light output declines to 50 % varies depending on environment.
6 4K/60p signals are converted to the projector's resolution upon projection.
7 4K/60p signal input is converted to projector's resolution, supports YPBPR 4:2:0 format only.
8 With legs fully retracted.
9 Average value. May differ depending on the actual unit.
10 When optional AJ-WM50 Series wireless module is attached, operating temperature range becomes 0–40 °C (32–104 °F).
11 Some features only available after August 2022.
Accessories
Downloads