Panasonic PT-RZ120LBU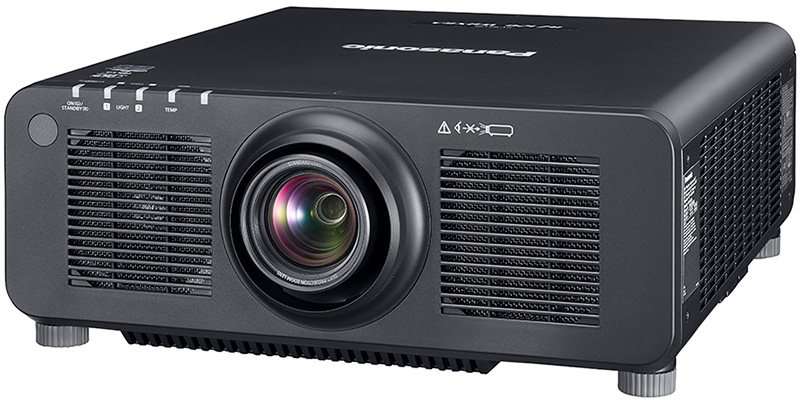 1-DLP Laser Projector, 1920x1200 WUXGA, 12,000 Lumens, No Lens, Black, 3 year warranty
Item #0600-7113
Model #PTRZ120LBU7
Overview
How the Game-Changing PT-RZ120 Can Revitalize Your Success
The 12,000-lumen Panasonic PT-RZ120LBU is a first among 1-Chip DLP™ projectors. Further refinements to our high-quality imaging technology and filterless cooling system result in uncommonly high brightness from this Panasonic projector's compact body.
Expect vibrant, high-contrast pictures and consistent color uniformity across multiple screens from this Panasonic laser projector, courtesy of 1-Chip DLP™ technology, dual solid-state laser light engines and WUXGA resolution. Hermetically sealed optics contribute to 20,000 hours of maintenance-free projection, enhancing installation flexibility in elevated positions such as museums, auditoriums, university halls, and even larger, brighter environments.
Features
High-Quality Pictures and Long-Lasting Reliability
Combines 1-Chip DLP™ imaging with proprietary SOLID SHINE Laser technology for accurate and immersive pictures at 12,000 lumens
Dynamic Contrast realizes high 10,000:1 contrast without losing brightness
Detail Clarity Processor 3 clarifies and enhances the finest details
System Daylight View 3 optimization for sharp and vivid images in bright environments
Consistently Stable and Reliable Performance
Dust-resistant projector structure with airtight optical block
Dual-drive laser optical engine with dual phosphor wheels assures reliable 24/7 operation with light-source failover protection
Up to 20,000 hours of continuous maintenance-free operation
Efficient cooling system for stable operation in ambient temperatures of up to

113 °F

(45 °C)
Seamless backup signal input switching if primary signal transmission is interrupted
Versatile System Adaptability and Flexible Installation
Shares optional lenses with Panasonic 1-Chip DLP™ projector family
Compact body and free 360-degree installation (vertical and horizontal)
DIGITAL LINK / HDMI® support transmission of 4K signals
Built-in Geometric Adjustment for projection onto specially-shaped screens
Supports Geometry Manager Pro and optional Upgrade Kit (ET-UK20)
Data-cloning function copies configuration data from master projector to slave projectors via LAN, saving time and labor
Accessories
Optional Lenses
1ET-DLE030 is discontinued. Compatible with 1-Chip DLP projectors up to 10,000 lumens.
2ET-DLE080 is discontinued. Compatible with 1-Chip DLP projectors up to 8,500 lumens.
Other Accessories
Downloads