Panasonic PT-D12000U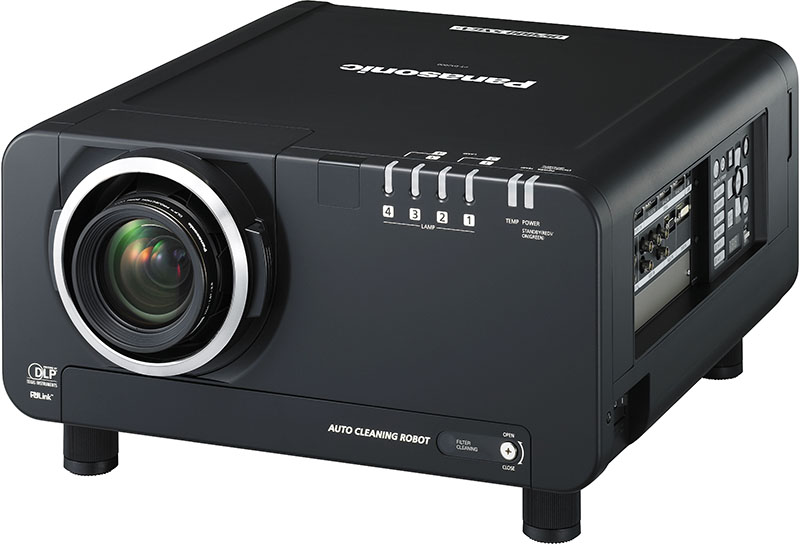 3-DLP Projector, 1400x1050 SXGA+, 12K Lumens, 3-year warranty
Item #0601-2039
Model #PTD12000U
Overview
Panasonic PT-D12000U
SXGA+ Large Venue Projector
A 3-chip DLP® Projector with High Reliability and Excellent System Expandability
The PT-D12000U boasts Panasonic's innovative 4-lamp optical system, with its 12,000-lumen brightness, native resolution of 1400x1050, and outstanding reliability. It also incorporates Panasonic's Detail Clarity Processor to give images extremely realistic textures, as well as the DLP® system, which touts higher contrast, less visible pixels, more portability, and is resistant to image degradation over time.
With the PT-D12000U, Panasonic has brought together a host of technologies to create a projector that delivers big in features, image performance and reliability.
The unique projector lens (not included) has the ability to be shifted to allow greater flexibility in positioning the projector relative to the screen.
Features
Incredible Brightness and High Picture Quality
New AC Lamp and Multi-Lamp System: Panasonic's innovative 4-lamp optical system uses 300-watt AC lamps to deliver remarkable 12,000-lumen brightness.
Detail Clarity Processor: analyzes the video signal frequency range for each scene by extracting data on the distribution of high, mid, and low-frequency components, and brings out fine details accordingly. The resulting images have a more natural, three dimensional appearance with crisp, clear detail.
System Daylight View: compensates for brighter environments during daylight hours or in a room with lights on, so that images are crisp, clear and easy to see no matter what the conditions are.
Dynamic Iris: uses a scene-linking aperture mechanism to achieve a remarkable 5,000:1 contrast without lowering the 12,000-lumen brightness. It helps reproduce deeper, richer blacks and gives images more detailed textures.
3D Color Management System: At close range, the colors perceived by the human eye tend to differ slightly from the original colors. This system solves this problem by enabling fine adjustment of colors so they appear faithful to the originals when projected onto a large screen.
Full 10-Bit Processing: helps achieve smooth tonal expression. Complexions and other flesh tones look natural and true-to-life, with accurate gradation.
Dual Link HD-SDI Signal Support (Optional): Just add an ET-MD100SD4 expansion board and the projector supports Dual Link HD-SDI signals. HD-SDI signals use two cables to achieve twice the color resolution of the conventional single link system.
High Reliability and Stability
Auto Cleaning Robot: automatically cleans the air filter to help keep the projector running smoothly.
Liquid Cooling System: uses a pump to circulate a cooling liquid behind the DLP® chips to absorb heat.
Lamp LED Indicator and Self-Diagnosis Function: The projector body is equipped with a temperature alarm LED and a burnt-lamp alarm LED (for lamps 1 to 4).
Made in Japan: The PT-D12000U projector is carefully manufactured at the Panasonic factory in Japan under strict quality control.
Network Functions
Web Browser Control: The PT-D12000U can be easily operated remotely over a LAN network through a computer's web browser.
PJLink™ Compatibility: The LAN terminals support PJLink™ class 1 connection. Control with the same specifications is also possible when used in a multi-projector system with projectors of another brand.
Multi Projector Monitoring & Control Software: allows the user to control and monitor multiple projectors at the same time via LAN. When a problem occurs, an alarm message is sent to the monitoring/controlling PC.
Excellent System Functions
Geometric Adjustment: enables adjustment of images for projection onto spherical, cylindrical and other specially shaped screens. You can make the adjustment easily using just the remote control.
Lens Shift: The optical axis can be adjusted both vertically and horizontally by remote control, for greater setup ease and flexibility
Small Size and 120-VAC Convenience: Despite its 12,000-lumen power, the projector is compact, weighs only 77.1 lb (35 kg) and runs on ordinary 120-VAC power.
A Wide Selection of Lenses: Choose from a wide lineup of lenses for your system, including short-throw, long-throw zoom and fixed-throw lenses for rear projection use.
Built-in Multi-screen Support System:

Edge blending: The edges of adjacent screens can be blended and their luminance controlled.
Color matching: When several units are used together, this function corrects for slight variations in the color reproduction range of individual projectors.
Multi-screen processor: project large, multi-screen images without any additional equipment. Up to 100 units (10 x 10) can be edge-blended at a time.
Multiple Terminal Including DVI-D and LAN Slot: The projector also features an array of terminals, including two RGB inputs and D-sub HD 15-pin, a 5-BNC connector, serial in/out, S-video input, two remote inputs, and one remote out. It is also HDCP-compliant and thus meets a broad range of projection needs.
Universal Design
Easy Lamp Replacement: Removing a single screw is all it takes to open the rear cover, making it easy to replace a lamp while the projector is still in the mounting bracket.
Remote Control with Blind Touch Operation: Contoured surfaces let you operate the control keys by touch. Connection terminals and controls are illuminated by LEDs, and the remote control is fully backlit for sure, easy operation in the dark.
4 Direction Grip: Grooves on all four sides of the projector's bottom let you get a firm, comfortable grip on the unit so that it can be moved safely
Other Features
Mechanical lens shutter
Picture in picture (The picture in picture function cannot be used with some input signals and selected inputs.)
Anti-theft features with chain opening
ID assignment for up to 64 units
Built-in test pattern
Selectable 9-language on-screen menu (English, German, French, Spanish, Italian, Russian, Japanese, Chinese, Korean)
---
Note: See the Specifications and Brochure documents on the Downloads tab for additional details.
Accessories
Optional Lenses
D75 Series
D3 Series
This series supports lens memory when used with a projector that also supports this feature. Lens identification is also supported, so that the projector can read the model lens that is installed on it.
* Fish-eye lens
Discontinued Lenses
Model
ET-D75LE90
ET-D75LE5
ET-D75LE50
ET-D75LE1
ET-D75LE2
ET-D75LE3
ET-D75LE4
D:W SXGA+
0.39:1
0.74:1
1.5

–

1.9:1
1.9

– 2.9

:1
3.0

– 4.9

:1

5.0 – 7.9:1

f/stop:
2.5
2.5
2.5
2.5
2.5
2.5
Downloads