Panasonic PT-RQ35KU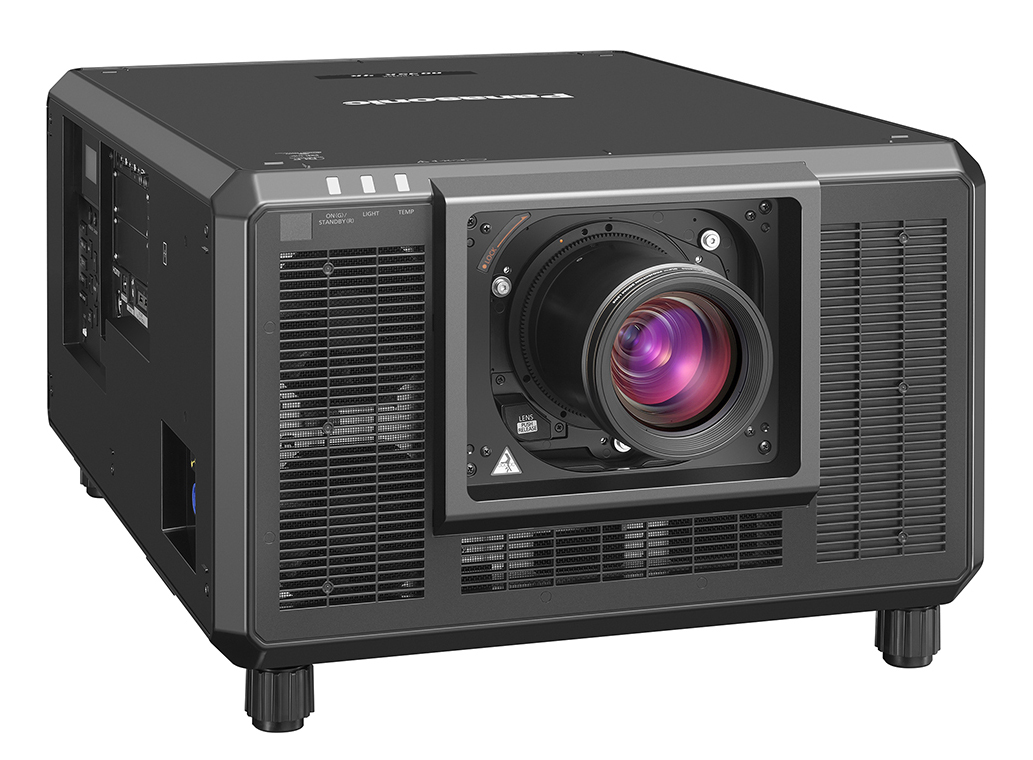 Laser 3DLP Projector, 4K, 31K Lumens, No Lens, 3 year warranty
Item #0600-7175
Model #PTRQ35KU
Overview
Panasonic PT-RQ35KU
World's smallest and lightest 30,000 lumens 3-chip DLP 4K projector
Despite its high brightness and jaw-dropping image quality, the Panasonic PT-RQ35KU is the smallest and lightest 3-Chip DLP™ 4K projector in its class and can be transported and installed by just two people. Save on labor costs and enjoy greater convenience when backyard space is limited with this 30,000-lumen projector.
A combination of two blue and one red laser expands color-space reproduction by 114 % over the PT-RQ32K. Vivid red and pure blue reproduction heightens realism for an immersive experience, allowing this Panasonic laser projector to take high-resolution content to the next level.
Redesigned airflow path, cooling system, and finless radiator reinforce reliability. Dynamic Digital Control regulates red laser output and cooling for consistent image quality. From this 3-chip DLP projector, expect 20,000 hours of maintenance-free projection, with backup input and laser failover circuitry offering peace of mind when projection can't be interrupted.
Features
Flexible Features Revolutionize Projection with Streamlined Workflow
World's Smallest and Lightest 30,000-lumen-class 3-Chip DLP™ 4K Projector*1: Save on labor and enjoy greater convenience when storage space is limited. PT-RQ35KU is 40%*2

smaller than the current PT-RQ32K, and its footprint is almost equivalent to the PT-RQ22K. Its manageable size and weight create exciting opportunities for high-brightness projection in venues where installation space is limited.
*1 Based on publicly available dimensions and weight for 3-Chip DLP™ WUXGA laser projectors with 26,000–35,000 lm brightness as of December 2020.
*2 By cabinet volume according to internal research.
Smart Projector Control App: Remote app for iOS and Android™ devices

that can adjust and control up to 64 projectors individually or simultaneously from anywhere within range of the wireless network.

(Check device and OS compatibility at the App Store or Google Play.)
NFC Function: projector can be paired with your smartphone via NFC (Near Field Communication) when the projector is off and disconnected from AC power, by touching the device against the projector's NFC touchpoint. Adjust selected projector settings using Smart Projector Control app, such as Projector ID and IP address, while waiting for power to be connected and setup to begin. Fleets of projectors can be prepped for immediate network connection and setup the moment power rolls out on the installation site, saving time and resources. After the event, projectors can be reset to factory defaults while unplugged and ready for crating, an action that used to require OSD menu projection.
Remote Preview for a Smooth Start to Your Event: Remote Preview lets projectionists confirm video-signal integrity by viewing thumbnails of the input signal on a laptop prior to projection. Accessed via software or web browser, Remote Preview works with the projector in Standby or with the shutter on.
Pre-activated Upgrade Kits for Geometry Manager Pro Software: As well as bitmap masking, the kits save installers time by automatically and simultaneously calibrating edge-blends using an external camera*. This task otherwise requires manual brightness, color, and black-level calibration of each projector.
* Compatible cameras: Nikon D5200/D5300/D5500/D5600. Installation of free software plug-in required before camera connection.
Information Monitor: To simplify setup, the PT-RQ35KU features an Information Monitor near the control panel. The high-visibility screen provides a convenient way to configure network settings such as Projector ID without projecting the OSD menu. During operation, it shows projector status including temperature, runtime, error codes, and input signal information.
Supports AC 100–120 V and AC 200–240 V Power (Japan/U.S. Only): supports AC 200–240 V for full-brightness projection and AC 100–120 V for setup and calibration at reduced brightness. (Brightness is limited to one-third maximum when operating on 100‒120 V power.)
Compatible with Our 3-Chip DLP™ Projector Lens Lineup: Share optional lenses between Panasonic 3-Chip DLP™ projectors in your inventory (e

xcluding dedicated lenses for the PT-RQ50K)

and the new PT-RQ35KU. Our lineup of 18 lenses comprises fixed and zoom lenses that adapt to venues of any scale: a groundbreaking ET-D3LEF70 Fisheye Lens for dome projection in planetariums, the new ET-D3LEU100 Ultra-Short-Throw Lens (0.370:1, WUXGA) and ET-D3LEW200 Short-Throw Zoom Lens (0.645–0.850:1, WUXGA). These glass lenses produce spectacular images from short throw-distances with zero offset (eliminating the gap between the edge of the image and projector's mounting surface) and are ideal for theme parks, museums, performance venues, and other experiential applications. Both equip wide-range powered Vertical and Horizontal Lens Shift, while the ET-D3LEW200 increases location flexibility with powered optical zoom. (See Accessories tab for lens specifications.)
Quiet Mode Reduces Projection Noise: For venues such as museums and theaters where full brightness isn't necessary and background noise must be kept to a minimum, the PT-RQ35KU includes a Quiet Mode. Operating noise is reduced by 3 dB in comparison to projection in Normal Mode. (Operating noise in Quiet Mode is 46 dB with brightness limited to 20,000 lm.)
Spellbinding Picture Quality
Red and Blue Lasers for Deep, Accurate Color: A combination of two blue and one red laser module expands color-gamut reproduction to 114% of the PT-RQ32K with 91% DCI coverage, saturating the screen in lavish color. Optimized blue-laser wavelengths achieve truer blue while the red laser intensifies red expression for a greater sense of realism.
Gradation Smoother Function Reduces Banding: this original Panasonic function reduces banding noise in gradients of shaded color evident in content that lacks the optimal color bit-depth. Operators can select three levels of image correction appropriate to the severity of the problem, or disable the function when it's not needed.
Flexible Black-Level Adjustment: New black-level calibration allows black borders to be reshaped to suit screen curvature using up to 17 control points in much the same way as our Free Grid function. Adjacent images can be matched within a 0.5-dot margin—ideal for 4K video projection—while a wider range of adjustment in finer increments is also enabled.
Quad Pixel Drive: original Panasonic technology based on 1920 x 1200-pixel (WUXGA) DMD chips. It rapidly shifts each pixel vertically and horizontally to produce an image with a maximum physical resolution of 3840 x 2400 pixels (4K/16:10). Working in concert with 240 Hz high-speed frame-processing, Quad Pixel Drive smoothly reproduces 4K content losing none of its film-like detail to motion blur, even when tracking fast-moving action or during slow-panning shots.
Original Cooling System Secures Projection Stability
Dynamic Digital Control for Stable Color Performance: Dynamic Digital Control modulates red-laser output frame-by-frame to achieve optimal RGB balance according to color requirements and operating temperature, which is managed by a discrete cooling system.
Shielded Laser Drive with Finless Radiator: Hermetically sealed DMDs, shielded laser drive, and separate filterless cooling systems for each light source are reinforced by a new finless radiator that's about 30% more effective than previous designs. Expect 20,000 hours of maintenance-free projection at full brightness with high color uniformity.
Backup Input Guarantees Picture Display: Maintain image display in situations when projection must not be interrupted.
Multi-Laser Drive Engine with Failover Redundancy Circuits: If a single laser diode fails, only diodes in the affected series are bypassed rather than all of the diodes in the module, as is the case with some competitive laser projectors. Projection continues uninterrupted with imperceptible loss in brightness.
Other Features
Dynamic Contrast Function for High 20,000:1 Contrast: Direct laser power output modulation achieves high contrast with less power consumption. Digitally controlled frame-by-frame scene-linking modulation ensures precise output adjustment, while accurate 20,000:1 contrast is delivered even when bright and dark scenes frequently interchange.
Contrast Sync and Shutter Sync Function: Contrast Sync allows Dynamic Contrast Control to be synchronized for consistent picture quality across multiple screens. Shutter Sync, meanwhile, synchronizes shutter on/off timing.
BT.2020 Emulation and HDR (High Dynamic Range): can emulate the BT.2020 color-space standard, reproducing a significantly wider color gamut than conventional standards. The projector also supports HDR for dynamic image expression, from deepest black to brightest white.
Auto Gamma and Color Space Select Functions: When an HDR video signal is delivered via HDMI®

or DIGITAL LINK input, the projector reads its EDID data and automatically selects the optimal gamma- and color-space modes for the most natural HDR image projection. When this function is enabled, video is projected at best possible quality without the hassle of manual selection.
90% Brightness Uniformity: SOLID SHINE Laser delivers superior screen brightness uniformity thanks to highly accurate white balance control. Brightness uniformity is greater than 90% when measured at the corners, edges, and center of the screen.
Geometric Adjustment with Free Grid Correction: Free Grid simplifies operation of Geometric Adjustment. Using only the projector remote control, installers can correct image distortion caused by uneven surfaces or irregular objects on flat or curved screens.
Free 360-degree Installation: SOLID SHINE Laser enables free 360-degree installation through any axis. Together with powered lens shift and wide range of optional lenses, this projector can project images from any orientation without picture distortion.
Additional Features
Quick Start and Quick Off
Laser Safety Guaranteed
Multi-screen Support System
Multi-Unit Brightness and Color Control
Data-cloning Function
Art-Net DMX, Crestron Connected™, and PJLink™
DICOM Simulation Mode
Waveform Monitor Function
Power Management Reduces Downtime
Specifications
Projector type

3-Chip DLP™ projector

DLP™ CHIP

Panel size

24.4 mm (0.96 in) diagonal (16:10 aspect ratio)

Display method

DLP™ chip x 3, DLP™ projection system

Number of pixels
2,304,000 (1920 x 1200 pixels) x 3
Light source
Laser diodes

(Blue LD, Red LD)

Light output

30,500 Lumens (ISO/IEC 21118: 2020)

*1


32,000 Center Lumens

*2
Time until light output declines to 50 %*3

20,000 hours (Normal), 24,000 hours (Eco), 26,000 hours (Quiet)

Resolution

4K (3840x2400 pixels) (Quad Pixel Drive: ON)

Contrast ratio*1

20,000:1 (Full On/Full Off, Dynamic Contrast [3])

Screen size (diagonal)

1.78–25.4 m (70–1,000 in), 1.78–15.24 m (70–600 in) with ET-D75LE8/ET-D3LET80, 3.05–15.24 m (120–600 in) with ET-D75LE95, 5.08–15.24 m (200–600 in) with ET-D3LEU100/ET-D3LEW200

Center-to-corner zone ratio*1
90 %
Lens

Optional (no lens included with this model)

LENS SHIFT*4 (From the origin point of the lens mounter)
Vertical

±55% (+78%, +68% with ET-D75LE95, ±48% with ET-D3LEW200, ±44% with ET-D75LE6/ET-D3LEW60) (powered)

Horizontal

±20% (±15% with ET-D75LE6/ET-D3LEW60/ET-D3LEW200, ±12% with ET-D75LE95, +25%, 0% with ET-D3LEU100) (powered)

Keystone correction range

Vertical: ±45° (± 40° with ET-D75LE10/ET-D3LEW10/ET-D75LE20/ET-D3LES20, ±28° with ET-D75LE6/ET-D3LEW60, ±22° with ET-D3LEW50, ±15° with ET-D3LEW200, ±8° with ET-D3LEU100, +5° with ET-D75LE95),




Horizontal: ±40° (±15° with ET-D3LEW50/ET-D75LE6/ET-D3LEW60, ±5° with ET-D3LEU100/ET-D3LEW200, 0° with ET-D75LE95)




When [VERTICAL KEYSTONE] and [HORIZONTAL KEYSTONE] are used simultaneously, correction cannot be made exceeding a total of 55°.

Installation

Ceiling/floor, front/rear, free 360-degree installation

TERMINALS

SDI IN

Optional
HDMI IN

HDMI x 1 (Deep Color, compatible with HDCP 2.2, 4K/60p signal input

*5

)

DVI-D IN

Optional

MULTI PROJECTOR SYNC IN

BNC x 1

MULTI PROJECTOR SYNC OUT

BNC x 1

SERIAL IN

D-sub 9-pin (female) x 1 for external control (RS-232C compliant)

SERIAL OUT

D-sub 9-pin (male) x 1 for link control (RS-232C compliant)

REMOTE 1 IN

M3 stereo mini-jack x 1 for wired remote control

REMOTE 1 OUT

M3 stereo mini-jack x 1 for link control

REMOTE 2 IN

D-sub 9-pin (female) x 1 for external control (parallel)

DIGITAL LINK

RJ-45 x 1 for network and DIGITAL LINK connection (HDBaseT™ compliant), 100Base-TX, compatible with Art-Net, PJLink™ (Class 2), Deep Color, HDCP 2.2, 4K/60p signal input

*5
LAN

RJ-45 x 1 for network connection, PJLink™ (Class 2) compatible, 10Base-T/100Base-TX, Art-Net compatible

USB

USB connector (Type A) x 1 for optional Wireless Module (AJ-WM50 Series)/USB Memory Stick

DC OUT

USB Type A x 2 (for power supply, DC 5 V total of 2 A)

Expansion slot

SLOT 1/SLOT 2 (total two terminals, vacant) for interface boards, SLOT NX compatible

Power supply

AC 200 V–240 V (Light output will decrease when using the projector with AC 100 V to AC 120 V)

Power consumption

2,550 W (Standby: 14 W)

Cabinet materials
Molded plastic
Operation noise*1

49 dB (Normal), 46 dB (Quiet)

Dimensions (WxHxD)

Approx. 598 x 353 x 780 mm (23 17/32˝ x 13 29/32˝ x 30 23/32˝) (not including protruding parts)

Weight*6

69.8 kg (153.9 lb)

Operating environment

Operating temperature: 0–45 °C (32–113 °F)

*7

, operating humidity: 10–80 % (no condensation)

Applicable software

Logo Transfer Software, Multi Monitoring & Control Software, Early Warning Software, Smart Projector Control for iOS/Android™
Notes:
*1 Measurement, measuring conditions, and method of notation all comply with ISO/IEC 21118: 2020 international standards. Value is average of all products when shipped.
*2 Average light-output value of all shipped products measured at center of screen in Normal Mode.
*3 Around this time, light output will have decreased by approximately 50 %. IEC62087: 2008 Broadcast Contents, Normal Mode, Dynamic Contrast [3], temperature 35 °C (95 °F), elevation 700 m (2,297 ft) with 0.15 mg/m3 of airborne particulate matter. Estimated time until light output declines to 50 % varies depending on environment.
*4 Lens shift is not supported on the ET-D3LEW50.
*5 4K signals are converted to WUXGA (1920 x 1200 pixels) only for the PT-RZ34K.
*6 Average value. May differ depending on the actual unit.
*7 When optional AJ-WM50 wireless module is attached, operating temperature range becomes 0–40 °C (32–104 °F). The operating environment temperature should be between 0 °C (32 °F) and 40 °C (104 °F) if the projector is used at an altitude between 1,400 m (4,593 ft) and 4,200 m (13,780 ft).
Accessories
Optional Lenses
<!— Editable version of lens tables is on PT-RZ34KU page —>
D75 Series
D3 Series
This series supports lens memory when used with a projector that also supports this feature. Lens identification is also supported, so that the projector can read the model lens that is installed on it.
* Fish-eye lens
Discontinued Lenses
Model
ET-D75LE90
ET-D75LE5
ET-D75LE50
ET-D75LE1
ET-D75LE2
ET-D75LE3
ET-D75LE4
D:W WUXGA
0.36:1
0.69:1
1.4

–

1.8:1
1.8

– 2.7

:1
2.8

– 4.6

:1

4.63 – 7.38:1

f/stop:
2.5
2.5
2.5
2.5
2.5
2.5
Other Accessories
Stacking Frame (ET-PFD765)
Truss Gimbal Mount Hardware (ET-PFD550TMS2)
Digital Interface Box (ET-YFB100G)
Digital LINK Switcher (ET-YFB200G)
Dual Band Wireless Module (AJ-WM50P)
DVI-D Input Board (ET-MDNDV10)
HDMI Input Board (ET-MDNHM10)
Display Port Input Board (ET-MDNDP10)
12G SDI Interface Board (ET-MDN12G10)
12G SDI Optical Interface Board
(ET-MDNFB10)
Stepping Motor Kit (ET-D75MKS10)
Downloads